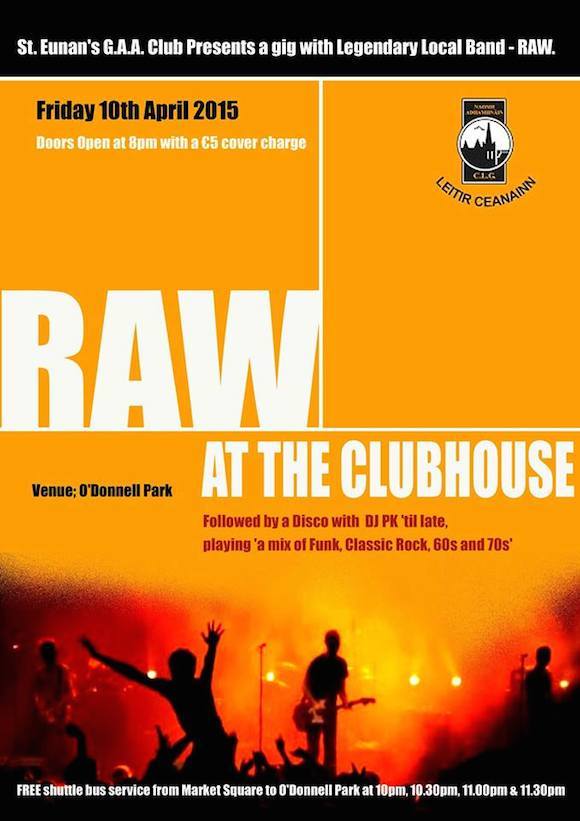 DONEGAL Daily has had to remove an advert for an event being staged to raise money for underage teams.
Donegal Daily has consistently helped to advertise events by GAA clubs across the county for the past five years, whether that has been curry events in Moville, cake sales in Gaoth Dobhair or, in this case, a concert at St Eunan's GAA club house to raise money for the clubs underage girls and boys football, camogie and hurling teams.
The local band RAW will play at St Eunan's GAA club house next Friday evening, April 10 (doors open 8pm!).
However a complaint has been made to gardai – from an unknown person – that the advertising of licensed events to non-club members is against the law.
As the legislation was written in 1988 it does not cover advertisements online. However until we have a second legal opinion, we have removed the advert…for now.
St Eunan's GAA club treasurer Niall Doherty said this evening: "I am very disappointed that a specific third party has taken it upon themselves to complain to the Vintners Federation about a club organised event, that was organised to generate much needed cash resources for the St. Eunan's GAA Club underage structure.
"It is really dishearteningly, that after incurring significant expenditure on the renovation of our clubhouse, that a member of our community would decide that to curtail our ability to raise funds for our underage structure, is an honourable and justifiable move.
"Whilst I will give a commitment to revisit this issue in due course, for now, I have no further comment to make on the matter."
The display advert for this event has been removed.
The legislation does not cover, thankfully, cover news articles.
So here are the details again:
RAW will play at the St Eunan's GAA clubhouse on Friday, April 10, with a €5 cover charge, followed by a disco.
The club is also providing a free shuttle bus to and from the park and Market Square in Letterkenny.
Doors open on the night at 8pm.
IMPORTANT NOTE TO ALL SPORTS CLUBS AND CHARITIES:
Every sports club or charity running events to raise money for their organisation can do so by emailing info@donegaldaily.com with the details. Include a picture if you can.
Tags: