Five teachers and 35 students from St Eunans College in Letterkenny made the arduous long journey to the wonderful Chinese Capital Beijing and its environs at the beginning of the Easter School Holidays.
The entire trip included two bus journeys, two stop overs in Dubai and a total four long-haul flights with Emirates Airlines.
The group were also accompanied by a local and national guide ; Regina and Gene; who imparted knowledge of Chinese history, culture, customs and language to the 40-stong group.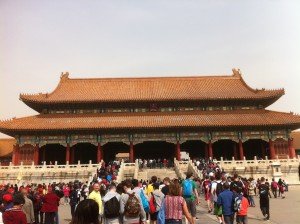 The 35 lads, spread across several year groups, and their five teachers: Mr. Kevin Bowden, Mrs. Martina Gormley, Mr. Gareth Nee, Mr. John Fox and Mr. Shaun McGinley visited The Great Wall, Ming Tombs, Tiananmen Square, Forbidden City, Summer Palace, Temple of Heaven and Wangfujing Night Food Market, Beijing's Hutongs' Homes, Traditional Chinese Tea rooms and a stop-off at the Bird's Nest Olympic Stadium.
The trip also included shopping trips to the Silk and Pearl Markets where students and teachers earned a reputation among staff there for their ingenious and shrewd haggling techniques with all bagging bargains galore!
An unforgettable trip that will remained etched in the memories for a life-time.
Tags: