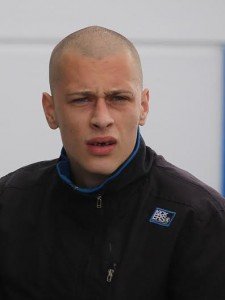 THE trial of three Polish men on charges of aggravated assault collapsed at Letterkenny Circuit Court after the alleged victim refused to give evidence against them, telling a judge: "I will sort this out myself when I get back."
Before the court in a trial before a jury were Przemeek Kieloch, 44A Glencar Park, Letterkenny, Arkadiusz Laskowski, 29 Whitethorn Grove, Letterkenny and Wojcieck Loiskowski, pictured, 60 Cnockard Park, Letterkenny.
The prosecution alleged the men were part of a gang which burst into a house in the town in March 2012 and beat Jaroslav Lupinski.
DPP lawyer Patricia McLaughlin, outlining the case to the jury, said the assault case was serious in that the victim had been the subject to an attack which involved him being hit with an iron bar as well as being repeatedly punched.
But there was shock in court No 2 in Letterkenny when Mr Lupinski was asked to give evidence via video link from Poland where he is serving a prison sentence.
He repeatedly told Ms McLaughlin that he was assaulted but that he would not be giving evidence against the men.
His view – translated by an interpreter in the Letterkenny court room – was that he wanted to return to Ireland to give his evidence. He is due to be released in just six weeks.
"Nothing was done in my case for two years and now suddenly everyone wants to do something," complained the father of two.
He told Ms McLaughlin: "You can throw this (the case) in the bin."
Judge Comerford told Mr Lupinski that under Irish law he had to answer questions put to him.
But the alleged victim said: "I will sort this out myself when I get back (to Ireland)."
The judge warned that Mr Lupinski had just committed a "very serious criminal offence".
"The Polish authorities should be contacted and told what has happened with this witness," he said.
However he agreed Mr Lupinski was not in contempt of court because he was appearing from a Polish court room.
The judge asked the interpreter to tell the alleged victim that the prosecution had been brought and that he was obliged to cooperate.
"I have no time for this sillyness – the court can put it into the bin," replied Mr Lupinski.
"That might be Irish law, but it's not Polish law. I will just deal it with myself."
The three accused men sat in court watching the exchanges.
Defence lawyers asked for the case to be thrown out, on the grounds they would be unable to cross-examine Mr Lupinski who was refusing to give evidence.
Ms McLaughlin asked for an adjournment whilst she sought the opinion of the Director of Public Prosecutions (DPP).
When the case resumed she told the judge that the DPP had advised that a Nolle prosequi be entered in all three cases – effectively dropping the case against the three men.
It's understood Mr Lupinski is due back in Letterkenny in mid-June.
Tags: