Milford GAA News: 
Bank Holiday Draw*
Congratulations to winners in our Bank Holiday Draw draw. The club would like to thank all who bought and sold these tickets to make it a great success. The winners were: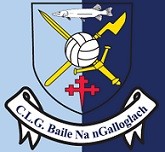 1st. €2,000, Hugh Whoriskey, Milford Rd, Ramelton.
2nd. 500 Lts oil. Maria Afxention, Cratlagh, Milford.
3rd. All Ireland tickets. Bridie Bradley, Bomany, Letterkenny.
4th. 32″ TV. Lauren Mc Bride, Golan, Milford.
5th. Gym Membership. Roxy Gallagher, Cranford.
6th. €100 Voucher Travellers Inn. Shane Sandilands, Kerrykeel.
7th. €100 Voucher Arena Seven. Terence Doherty, The Quay, Milford.
8th. Digital Camera. Jim Burges, Meenreagh, Kilmacrennan.
9th. Coffee Machine. Ava Wilkie Murray, Carnasaul, Termon.
10th. C.D. Player. Roisin Mc Cormack, Drumacloghan, Ramelton.
11th. Digital Camera. Enda Cambell, Ramelton
12th. Donegal Jacket. Paul Curran, Ramelton.
*Donegal v Tyrone Tickets*
Ticket orders for Donegal V Tyrone on 17th May are to be with Kathleen @ 9153160 or Joe @ 9153291 before Sunday 10th at 6pm. Tickets are limited and the club will only seek tickets for paid up members. (Club allocation: 4 stand and 116 terrace)
Prices:
Adult Stand €25.
OAP Stand €15
Adult Terrace €15
Student Terrace €10
OAP Terrace€10
U16 Terrace €5.
*CLG Dhun na nGall Strategic Plan 2015 – 2019*
The consultation ​process in advance of the development​ of Donegal GAAs new Strategic Plan for the years 2015 – 2019 has now commenced. We are seeking the views of as wide a range of people as possible over the next 4 weeks so I if anyone, both home and abroad, with an interest in how Donegal GAA is to progress could fill out the questionnaire below.
https://docs.google.com/forms/d/1vAJQqJNF2bWfuhhTk_Dm6ltYXx2wWlDQvGutE3DWOVo/viewform?usp=send_form
The consultation process will then close at 11.00pm on Sunday May 10th.
*Donegal Senior Ladies*
Good luck to Amber Barrett and the rest of the Donegal Senior Ladies team who take on Armagh in the Division 2 Final this weekend. Throw in in Parnell Park on Saturday is at 2pm and we wish Amber and all the squad the very best of luck.
*Sympathies*
The club would like to extend sympathy to the family of Dymphna and Pat Barrett on the death of Dymphna's father, Pat English. May he rest in peace
*Seniors*
CLG BnaG 1-7 Aodh Ruadh 1-14
The Seniors unbeaten run came to an end today against an ultra defensive Aodh Ruadh. Na Galloglaigh started brightly with Cathal Mc Gettigan having a goal chance early on and then scoring a free but this was to be the only time the boys were in the lead. Kieran Sheridan was black carded after 13 minutes with the boys 0-3 to 0-1 down which seen Dylan Hegartys introduced in his place. The boys struggled to make it stick up front against a very defensive outfit who brought a lot of numbers back, but they got scores from Kane Barrett, Cathal McGettigan and Christopher Barrett to leave the half time score 0-4 to 0-7. Aodh Ruadh scored immediately after the restart but Na Galloglaigh got a boost after a great catch by Darragh Black saw him start a move involving Kyle Black, and Kane Barrett before Dylan Hegarty stuck it in the back of the net to put just one between the sides.There was a huge turning point moments later when another sweeping move saw Tj Evesson clean through but unfortunately his effort came back off the post and wide, had this gone in it could have been a different game. Disaster struck halfway through the second half when Aodh Ruadh were awarded and scored a penalty, which put them 6 clear, 1-4 to 1-10. Kyle Black had another good goal chance well saved but Aodh Ruadh were very clinical in attack and caused bother each time they came forward. Yet another top drawer save prevented Cathal McGettigan getting a late score while Aodh Ruadh kept getting their scores a little easier at the other end. The very defensive Aodh Ruadh tackled very well and made life difficult for our forwards and in the end up the lads had no answer. Pauric Curley added a late point to make the full time score 1-7 to 1-14. Next up is a derby game against Downings in which the lads will be hoping to get back to winning ways.
Team: Sean Gallagher, Kieran Sheridan, Sean Black, Kieran Mc Laughlin, Jonny Logue, Enda McHugh, TJ Evesson, Luc O Bairead, Joey Cullen, Darragh Black, Christopher Barrett (0-1), Kyle Black (0-1), Kane Barrett (0-1), Cathal McGettigan (0-3), Pauric Curley (0-1). Subs: Dylan Hegarty (1-0) for Sheridan (13m, BC), Anthony Fisher, Caolan Mc Gettigan, Conor McNulty, Paul Grier, Ryan Ferry
*Reserves*
CLG BnaG 1-8 Aodh Ruadh 1-8
The Reserves had to make do with a point this evening but they still maintained their unbeaten start to the season. They kicked away a lot of ball in the first half and are capable of playing a lot better than they have today. Aodh Ruadh were a dogged outfit and came back from 3 points down in the final few minutes to level. Next up for the Reserves is a derby match against Downings.
Team: Gavin McFadden, Dean Boyce, Cormac Friel, Tony McGettigan, Conor McNulty (0-1), Paul Grier, Emmet Conaghan (0-1), Kieran Gorman, Anthony Fisher (0-2), Jamie Heena, Ryan Ferry, Caolan Bolton, Adam Serrinha (1-1), Paul Fisher, Hugh Mc Menamin (0-1). Subs: Dylan Hegarty (0-1) for Serrinha (HT), Gearoid Horkan for McNulty (HT), James Whelan for Bolton (HT), Connor Jason Meakin for McGettigan (40m), Paddy Mc Carron for McMenamin (45m)
*Lucozade Sport Kit Out Project*
Thank you to everyone who helped out the Club in the recent Lucozade Sport Kit Out Project. 383 codes were donated to the Club which will go towards training equipment for the underage and Senior teams.
*Gaelic 4 Mothers & Others*
Gaelic 4 Mothers & Others resumes training next Monday, 9th March at 8.15pm. Open to all newcomers and past players who are over 18 and not currently playing competitive football. These trainings are fun orientated with the focus on learning the skills of the game and interacting with other women/mothers in the community and providing opportunity to be physically active.
*Topaz Cash for Clubs Scheme*
Club ID: 10187
For any of our members or supporters who clock up a lot of miles Topaz have a 'Cash for Clubs' scheme. Collect a card at your local Topaz and each time you top up by €40 get it stamped. When you have your card completed hold on to them and hand them to Barry McNulty to be entered into the draw.
*2015 Membership*
The 2015 membership rates were decided at Decembers AGM and are as follows:
€200 – Database members (3 panels on weekly lotto). Entitled to 2 full adults and juvenile membership for all children up to 18yrs.
€100 – Database members (1 panel on weekly lotto). Entitled to 2 full adults and juvenile membership for all children up to 18yrs.
€70 – Family Membership. Entitled to 2 full adult membership and juvenile membership for all children up to 18yrs.
€50 – Senior Ladies (Players). Entitled to one full adult membership.
€40 – Adult membership. Entitled to one full adult membership.
€30 – Juvenile membership.
As well as full family membership database members are:
– Entered into every draw every week
– Automatically in Christmas hamper draw (One for database members only)
– Receive 11 weeks free entry to lotto draw
Membership must be paid by St Patricks Day, 17th March 2015. The Club will only be able to source Donegal tickets for fully paid up members. Membership can be paid to any team manager or member of the Executive Committee, or very easily through our Team App on your mobile phone. This extremely useful app (Team App) can be downloaded from the app store. Complete your registration on download and search for CLG BnaG. Membership can be paid via the 'Shop/Play Lotto' option.
*Training Schedules*
Seniors – Tues & Thurs @ 7pm (Pitch)
Senior Ladies – Mon & Wed @ 7pm, Sat @ 10am (Pitch)
Minors – Fri @ 8pm, Sun @ 10am (Pitch)
U16s – Fridays @ 7pm (Pitch)
U16 Ladies – Mon & Wed @ 7pm, Sat @ 10am (Pitch)
U14 Ladies – Mon @ 5pm (Pitch).
U12 Mixed – Wed @ 6pm (Convent Gym)
*Lotto*
This weeks lotto numbers were 7-13-18-22. No jackpot winner, 2 match 3 winners win €35 each. Aidan McHugh, Milford, & Ann Marie McGettigan, Carrigart. Next weeks Jackpot is €780. Don't forget you can enter the lotto from the comfort of your own home by playing through our own FREE Club App. Usual rules apply, pick 4 numbers per box, €2 and €5 options available. Numbers must be entered before 10pm or else they roll over to the next week. Perfect way for our many supporters and exiles overseas who would like to continue to support their Club.
*Underage Coaching*
Anyone interested in getting involved in the coaching of underage teams are asked to contact Shaun Paul Barrett on 086-6052169
*Lotto Database*
Lotto database players are reminded that end of year payments are now due. Anyone wishing to join the lotto database in 2014 can download the standing order form from the Club website or contact Joe McNulty. The benefits of joining the database are:
– Full family membership for 2014 included
– Entered into every draw evey week
– Automatically in Christmas hamper draw (One for database members only)
– 11 weeks free entry to lotto draw
*Lotto Sellers Required*
The Club is seeking lotto sellers in the Milford, Ramelton and Rathmullan areas. If you are interested contact Joe McNulty on 086-8547114
*Contact Us*
For all information and queries contact MilfordDonegalGAA@Gmail.com, follow us on Twitter on @CLGBnaG, and on Facebook on www.facebook.com/clgbaile.nangalloglach or see our website www.clgbnag.com
*CLG BnaG Club Gear*
A selection of club gear is available to order. Photos and prices of these items are on the club website and on the new Team App. Orders can be placed with Agnes Ryan 0868194751
Tags: