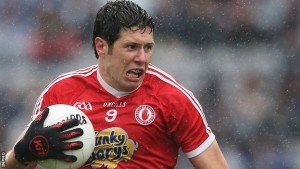 Three-time All-Ireland winner Sean Cavanagh has said Sunday's Ulster SFC clash between Tyrone and Donegal was not a good advertisement for the GAA.
Cavanagh was red carded during an ill-tempered clash between two counties that seem to have a genuine dislike towards each other.
Cavanagh one of the finest players Tyrone have ever produced felt the game wasn't a good advertisement for the GAA and sais that 'sledging' between players has now become 'nasty' and 'malicious'.
Cavanagh admitted both sides were guilty but said some of the bile directed at players went over the edge and some of the personal stuff regarding players families and girlfriends was pre-calculated and malicious.
Cavanagh told The Irish Independent, "With the intensity of the game and the hype and probably the tightness of the game as well, everyone was probably a bit on the edge I think. Players probably did overstep the mark to a certain extent."
"I've had it before, it can be very, very personal and I know there was certain players, you will probably know that play for us that have been through tough times, and they were getting a fair bit of personal abuse.
"Look, it's disappointing to see and it's not just all one side. It's both sides. I don't know how you can change it, I don't know how you can stop somebody whispering in somebody's ear because I don't think you're ever going to be able to police that.
"I think it's part and parcel. Referees and officials will obviously try and clamp down on it but I'm not sure how they can do that because there's so many different ways it can be done."
Cavanagh also said that in comparison to other sports like Rugby and Soccer the GAA falls behind in terms of respect shown.
"It certainly wouldn't be a good advertisement for younger players coming into the game and if they were thinking of whether they wanted to go play soccer or whether they wanted to go play rugby, there's probably an awful lot more respect in that game than there is in GAA at the moment."
Tags: