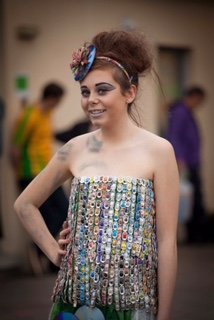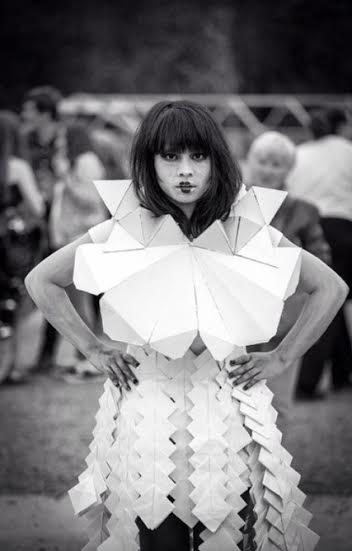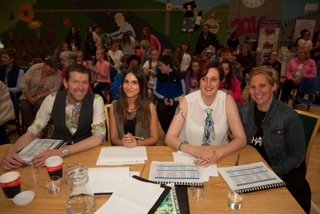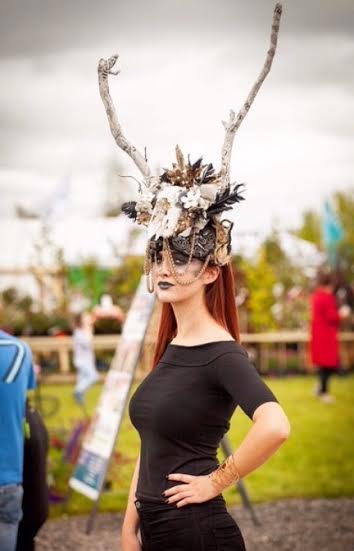 NORTHWEST GARDEN SHOW 2015: A secondary schools fashion competition was heralded as a fantastic success at this year's Northwest Garden Show.
Schools competed in the glitzy event called  'Trash N Fashion' where students used old exam papers to design dresses.
Using old exam papers manipulated by the Japanese art of folding paper into decorative shapes, recognisable or functional forms, and in this case, a very wearable fashion creation –" Minimal" by The Royal & Prior Comprehensive School Raphoe.
They received 1st prize in Trash N' Fashion at the Northwest Garden Show Castlefinn on Saturday May 23rd.
"Minimal" was designed and created by Charlene Rodriguez, Mitchell Goudie, Odhran Shields and Louise Laird.
The ancient paper craft of origami was used to create the outfit, with each individual section meticulously folded by the team.
The sections that make up the bottom half of the creation were then hand-stitched together while the top half created from recycled cardboard, was folded, glued and spray painted.
The students wanted to combine traditional craft with contemporary media to create a modern, edgy look.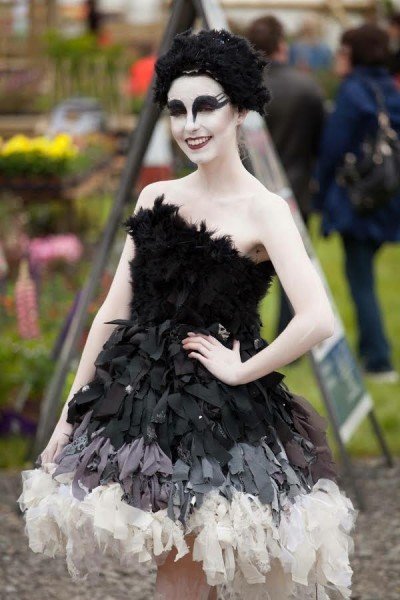 The outfit has a distinctive, geometric quality and combined with the striking make-up and memorable performance by model Charlene, created a lasting impression on the stage. (Teacher Laura Ferguson).
The runner up prizes in this category was Deele College with their creation "The Golden Hero" designed by Sarah-Jane Kelly and Chloe Toner (Teacher Patrice Gallagher) and "Intertwined" Carndonagh Community School (Teacher Pauline Mc Dermott and Michelle Mc Gee).
The Trash N Fashion Accessories competition was won by Carndonagh Community School and this creation "Aesthetic Death" was a headpiece designed by Niall Kelly and Hannah Doherty (Teachers Michelle Mc Gee and Pauline Mc Dermott).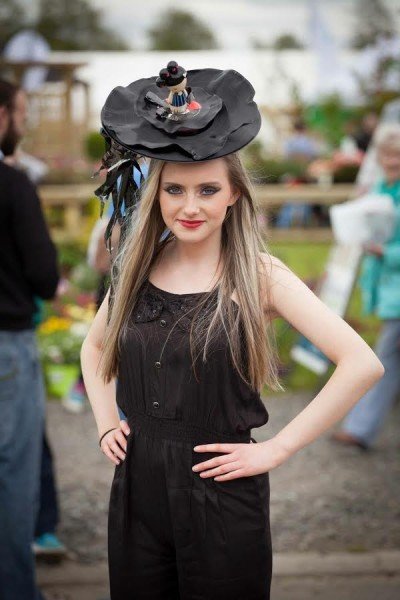 They wanted to create something that was risky and intriguing. They wanted to make something that was once not pleasing to the eye, beautiful.
The runner up prizes in this category was "Chaine de Peches Argent" Deele College designer Ceejay Griffin (Teacher Patrice Gallagher) and "Hair Raiser" Carndonagh Community School (Teachers Michelle Mc Gee and Pauline Mc Dermott).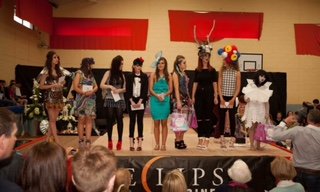 The Trash N Fashion Up Cycling competition was won by "All tied up" Carndonagh Community School, Shauna Murray Gallagher and Michelle Lynch designers. The girls sourced ties from second-hand shops to create their dress. They experimented with over-lapping and folding the ties into an intriguing design.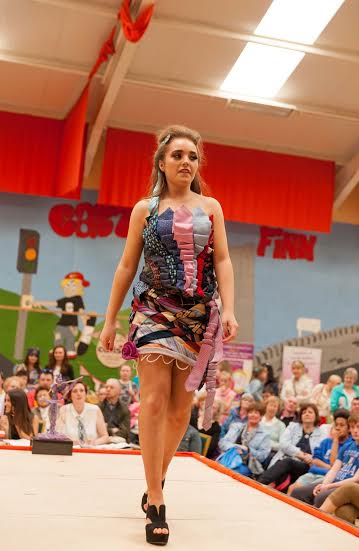 The runner up prizes in this category was "Suited & Booted" Deele College designed by Brittnay Page, Zoe Quinn, Caitlin Ross (Teacher Patrice Gallagher)  and "Ocean Spray" Loreto Convent Letterkenny designed by Chloe Tinney and Sarah Duffy, (Teacher Amelia Sweeney).
The Trash N Fashion Team Karen Murphy, Maria Coll, Sarah King, Lauren Mullins, Sabrina Keane & The Northwest Garden Show would like to thank all the teachers and students for participating. They would also like to thank most sincerely all their sponsors without whom this competition would not be feasible.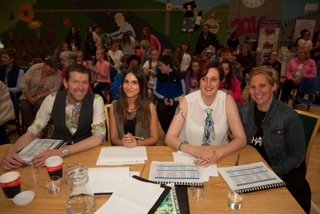 Hegartys Ford  , Four Lanterns, Greenes Shoes R Mc Cullagh Jewellers, Mount Errigal Hotel, Silver Tassie Hotel, Siobhan Boyle Sculpt Studio, Patrick Tinney Teenage Grill, Pine Hill Industrial Estate, Mark Doherty Century Cinema, Les O Donnell & Dessy Ferry, Tara Art Supplies, Safetech Consulting & Training,  Swing Room, Donegal Stationery Company. Tetra Pak Ireland, Embankment plastics, Kelly's Diner, Patrick Gildea Hairdressing, Stateside American Diner, Donegal Cartoons, Kids – b – Artists, Crafty Kids, Rushe Fitness, "Titanic" on the Catwalk LYIT, Pinehill Studio.
Our thanks also to Paddy Friel for looking after sound and our MC Larry Doherty. To our wonderful supportive judges, Karen O Kane Kokodesigns,  Liam Grier, Zara Mc Daid, and Sheila Clancy O Donnell.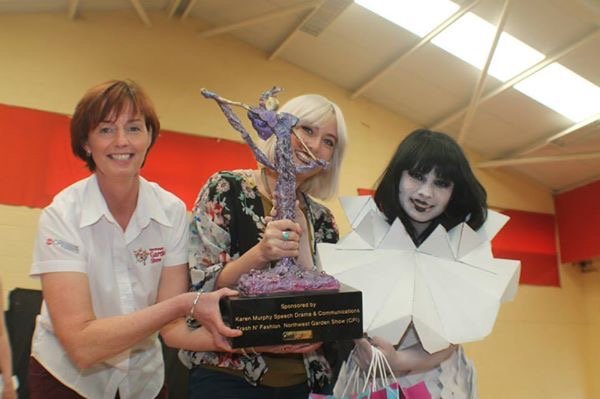 Trash N Fashion 2015 was a huge success bringing together Donegal Schools in a fun and vibrant way.
Speaking with Karen Murphy on this the 4th staging of Trash N Fashion, she commented on the fact "Trash N Fashion" is now well established across Donegal and both Teachers and students in September begin their planning and designing and look forward to their annual trip to The Northwest Garden Show each Summer.
The weather was kind to our participants on Saturday May 23rd while students not only showcased their designs on the catwalk but walking around the other attractions at the show and enjoyed the attention and admirers as they chatted and explained how they made their pieces.
As a Speech & Drama Teacher Karen believes this is a wonderful way of building self-esteem and confidence, and improving communication skills for life and work.
Tags: