Getting plants for free – with Horticulturist Gareth Austin:
There are two ways a plant can propagate, Sexually and Asexually. Sexually is where pollination has occurred and Asexually is where the plant propagates from vegetative means.
Vegetative is where you grow a new plant from part of the plant, as opposed to Sexual propagation where seeds are sown/dispersed.
Some plants naturally propagate through vegetative means, if you think of Strawberry plants producing the wee runners (Remember the previous Its Your Duty to be Fruity feature) or Gladiola through corms or the way Blackberries root when the tips of the stems arch over and touch the ground.
In Horticulture we can perform vegetative propagation through various means, Division, Stem Cuttings, Layering, Root Cuttings and Grafting. Stem Cuttings are perhaps the most common method used for vegetative production, this is largely due to the fact that you can take different types of cuttings at different times of the year- Softwood, Greenwood, Semi-Ripe, Hardwood,  (these correspond to the time of year from Summer to Winter). 
Now is softwood season as there is lots of fresh growth coming on plants, and I'll be demonstrating this technique regularly on Saturday at the Kees Garden Centre Plant Fair on Saturday in Laghey.
There are plus sides to this type of propagation: Cheap, can produce established plants quicker than seeds, offspring are exact clones of parent. And there are down sides: You'll need access to the parent plant, there is a degree of skill involved, virus & disease can be spread, lack of genetic diversity.
The process of taking any type of cutting is roughly the same, just tweaked a bit for the time of year. For softwood cuttings you'll need a plastic bag, compost, perlite, hormone rooting powder, sharp knife/secretors, label & pencil.
Step 1: Potting mix.
Prepare a mix of Perlite and Multi-Purpose Compost. 30/70 and fill some small pots, firming the compost into the pot and water the compost. The perlite is a semi-specialised ingredient which encourages air flow in the potting mix, and helps to retain heat, thus giving you a better rooted cutting.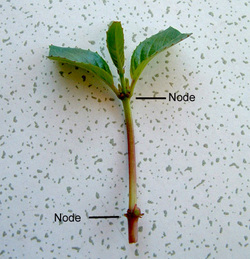 Step 2: Identifying plant
Success rates from cuttings taken at different times of the year vary from plant to plant, so experience will tell you what works best for the plants in your garden, but also a great book such as the 'RHS Propagating Plants' is a must have for any gardener.
However, largely what I do is take some at different times of year and see what roots best/quicket/fastest and then follow that each time I want to produce more plants. It's important that the identified 'stock' plant is free from diseases, virus, pests and other undesirable.
Step 3: Gathering the material
There are a few simple steps to follow here: Gather your material early in the morning – these will have a better success rate than material gathered during the middle of the day. You're looking to gather shoots from whatever plant that don't have any flowers on them, these will root quicker ad they are in the first stage of growth (the second being the flowering stage)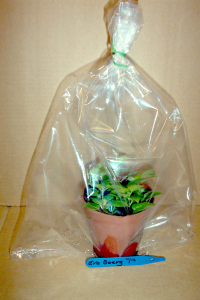 The size of the cutting you're looking to take is around 4-5" – try to remove this from above a leaf join or node, this ensures the parent plant isn't left with awkward wee stems which will die back and not only look unsightly but can also bring disease to the plant and put them straight into the plastic bag and hold the bag closed (this stops the cutting from dehydrating ).
Step 4: Striking the softwood cutting
You need to be quick with this stage, when the softwood cuttings are taken from the bag and placed on the bench they'll be loosing vitality every second!. Follow these steps: using a sharp knife or secretors take a fresh cut below a node or leaf join – the cutting could be 2-4" long (depending on the type of plant etc, but longer than this and the chance of success decreases with softwood cuttings), after you've taken a fresh cut below the node remove the lower leaves, pinch out the centre growing-tip of the cutting and dip the base of the cutting into Hormone Rooting Powder.
What is hormone rooting powder?
Hormone rooting powder is a synthetic hormone which helps to prevent the wound at the bottom of the cutting from healing (if you cut your finger it will coagulate and stop bleeding, same process in a plant), rooting powders contain the hormone auxins, these hormones are naturally found in plants, but in many plants may be found in very low concentrations. These Auxins stimulate the initiation of roots and the growth of lateral roots and causes root cells to grow longer. But they only work if the end of the cutting is dipped in before it starts to heal over.
Step 5: Potting the cuttings
After you've done enough make a small hole in the compost (with a pencil) around the rim of the pot and place the cutting into the potting mix and lightly firm in with the pencil. Repeat this until the pot is filled with cuttings. Water and then place a plastic bag over the top of the pot, secure with a string or elastic band and then place the cutting somewhere warm and out of direct sunlight- under the bench in the greenhouse or polytunnel is ideal, better still if you can provide some bottom heat to the cuttings, so in a propagator below the bench is better still.
What's the point in the bag?
The bag stops the cutting from transpiring or sweating to death. The cutting would otherwise keeps sweating and will dry off as there's no roots to bring more water to the mother ship. Regularly inspect the bag and remove any dead/diseased/dying material as and when it appears.
Remove the bag once there is fresh signs of growth on your cuttings, this can be 3-12 weeks depending on plants used. Pot the cuttings on into individual pots and grow on. A success rate of 50% could be considered good, but some plants will give you 100%.
Can I not root the cuttings in water?
Yeah, but no. Cuttings can generally root in water quite easily, but these roots are different roots compared to the ones which will form in the perlite/compost mixture and if you were to take cuttings in the two methods, one in water and one as described above the method which will produce a better quality plant, easier and quicker is the method outlined here and not the water method.
I've described the use of rooting powder as being somewhat essential to taking cuttings and largely it is very beneficial to use, however too much rooting powder on the cutting and it can do more harm than good. For example, when you dip your cutting in the rooting powder a tiny wee amount is needed, and any excess should be knocked off the stem. If you put too much on the stem the lower part of the cutting can go black and the cutting may root above this black end . Little is more when it comes to rooting powder.
Home made rooting agents:
In a previous post we discussed home-made potions that are useful in the garden, well here we have something easily made which can be great for taking cuttings.  The auxin hormone contained in rotting powder is indolebutyric acid, and this can be found in willow in high concentrations, to make a rooting dip take some willow stems, chop them up and leave them soaking in water for  few weeks, and use this as a 'dip' for any type of cutting, in place of the rooting powder.
And Voila! Free plants….
Again thanks to everyone who's spoken to me about the regular Donegal & Derry Daily feature piece, and to those who came along to the Caw Nelson Community Growing Space, Oakfield Park and the Frosses Fair Day last weekend. I love chatting plants, Horticulture and all things green.
This weekend I'll be at the Robert Kee Garden Centre Plant Fair in Laghey all day Saturday, performing talks and demonstrations on key gardening jobs throughout the day. This super free event kicks off from 10.30, so come along and say Hi! See here for more
Next Week…Roses from planting to pruning and everything in between….
Gareth Austin is resident Horticulturist with BBC Radio Foyle, a member of the Chartered Institute of Horticulturists and lectures in Horticulture with National Learning Network. For more see www.garethaustin.com or join Gareth on Twitter @GardenerGareth .
Tags: