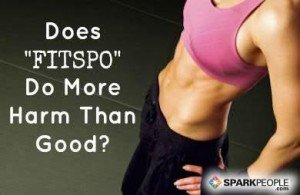 BY EMMET RUSHE: Instagram and Fitspiration go hand in hand these days.
If you have no idea what 'Fitspiration' is, it is the fitness styles inspirational 'memes' that you will see frequently shared all over social media.
These memes are supposed to inspire and also be a call to action for the millions of people on social media.
They are the antidote to the super model inspired 'Thinspiration' of the 90's and early 2000's.
Fitspiration will have tag lines like;
'Strong is the new Skinny' 
'Don't stop until you're proud'
You don't get the butt you want by sitting on it' and 
'Obsessed is a word the lazy use to describe the dedicated'
Fitspiration will have pictures of super-hot models with amazing bodies, 6 pack abs, toned arms and thighs.
They will be wearing as little as possible so they can showcase their God and Goddess like physiques, each one tanned and oiled to within an inch of their perfectly whitened teeth.
Inspirational……Or is it?
What is so different from the 'Thinspiration' that they were trying to dispel?
Remember the tagline, 'Strong is the new skinny', we have all seen it.
The initial idea was that getting in shape and hitting the gym will be better for your health than endlessly dieting and starving yourself to try and emulate a supermodels waif like appearance.
But somewhere along the way things have gotten out of hand.
When you look at the two movements as a whole, there is very little difference.
The Fitspiration movement will tell you that they are absolutely about health and they can prove it by the never ending pictures of their meals, smoothies, shakes and gym sessions that they repeatedly post on Instagram.
But is this health?
They seem to think so.
When you look through some of the leading Fitspiration Instagram users, it is more like an advertisement for soft-core adult films.
The rules seem to be, wearing as little as possible while either squatting or showcasing your butt to the camera.
And you have to squat, because if you don't squat you can't get 'dat ass' that is the newest fashion accessory.
So this brings me back to my original point.
Is this actually inspiring you to get in shape and lose weight?
Social media is all about being accepted and part of a community.
So let me ask you; Do you actually want to create your own Fitspiration, or are you happy to just passively consume someone else's?
We love being associated with these beautiful people but do we secretly hate ourselves for not being more like them?
Do you feel bad about yourself when you scroll down your news feed and see their seemingly perfect bodies and lives?
Claire Mysko a director at the National Eating Disorders Association had this to say;
"Finding a community can be a positive thing." 

"And there are a lot of people who are really using social media to promote body positivity, body acceptance and the kinds of messages that we feel are more helpful and healthy for folks."

" Still, "it's important to be in tune to how much of it you are looking at and how is it making you feel." Plus, the beauty of Instagram is that it's a very visual way to check yourself."

 "If your entire social media feed is filled with dieting and fitness-related messages that might be a signal that you might need to reach out for help or rethink the approach."

"For some people it can actually be dangerous, and can lead to more extreme behaviour."
On the flipside, if you yourself have dozens of Instagram followers just waiting for your next fitspo picture, remember your own influence.
It should be about sending messages that are about body acceptance, and body positivity, versus the 'not good enough until you get here', or 'until you reach this goal' messages that can be gleaned from some pages.
Just ask yourself, 'how is it making me feel'? 
And if the answer to that is, 'Well, I feel really bad about myself and I wish I could look like this', etc., then that's really a sign that you need to change who you are following.
Do what makes you happy. 
And if Instagram and Fitspiration stop being fun, just delete it. Life's too short.
#TrainSmart
To keep up to date with fitness and nutrition tips, be sure to follow me through the link below.
https://www.facebook.com/pages/Rushe-Fitness/120518884715118
Tags: