DONEGAL TO BUST DERRY HOPES
Make way in the Busted (Bursted?) Sofa, the green and gold are coming to claim their place – both there and in the Ulster Final.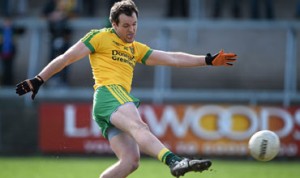 Last time I looked this famous Clones watering hole was still there – last time I looked, also, Derry appear to have seen a few springs of their own burst out through the once tight fabric.
But Ulster football being Ulster football uneven form sometimes takes a back seat – unless you happen to be Armagh – and a derby game is rarely one to disappoint when it comes to close run things.
by Paddy Walsh, Donegal's Most Popular Sports Columnist
And then there's the Brian McIver factor. He could try and convince us that the past is the past and his acrimonious departure from the Donegal managerial post is long forgotten but we're not biting.
First and foremost he wants to see Derry claim an Ulster title that has eluded them since 1998 but at the front of his mind will be his exit from the hot heat in Donegal and the sudden halt to his three year tenure in 2008.
Ironically Donegal had been knocked out of the Ulster Championship that year by Derry and were subsequently dispatched from the All-Ireland qualifiers by Monaghan.
No omens there, of course, for Rory Gallagher's tight knit squad is well capable of advancing beyond both.
While many of the elements of the Jim McGuinness era are still in place, Gallagher has stamped his own authority on this Donegal team and they are still going into games brimming with the confidence that saw them claim that All-Ireland three years ago.
McIver was quick to point to the footballing skills of his opponents this Saturday – a factor that was often overlooked when the Spillanes, Brollys and O'Rourkes and half the national sporting media were complaining about the substance and not the style.
Donegal don't always have to rely on Michael Murphy as the cornerstone of their approach but it helps to have the man on board – described at the weekend by former Tyrone ace, Peter Canavan, as the most influential player in the country at present.
Canavan picked ten of the best in his column in the 'Belfast Telegraph' and Murphy was joined by Frank McGlynn and Patrick McBrearty on the coveted list. Both men will be key in overcoming Derry with McBrearty's scoring prowess proving particularly vital in his county's run to Ulster glory.
We can expect a much closer affair than the one that destroyed the Armagh match as a spectacle but I can't see Derry being able to stop the Donegal juggernaut even if they'll have a bloody good try at it.
RALLYING TO THE CAUSE THIRTY YEARS ON!
It's the Glen stages on Sunday and the Peugeot 307 is only an hour and twenty minutes ahead of Garry Jennings and his Subaru WRC. And plenty of breathing space, too, between it and Declan Boyle's Ford Focus. And Manus Kelly's MK2 Escort.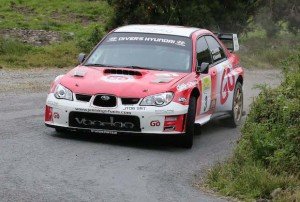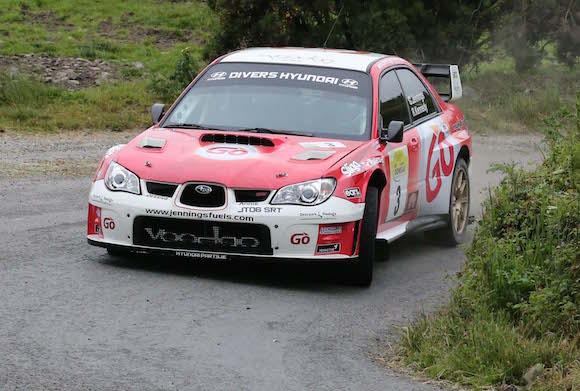 I'm in the passenger seat on the pace notes – only I forgot to bring any. But Brendan Delap is at the wheel and he knows these roads like the back of his house. And knows a decent vantage spot near Coole chapel from where we can watch the Joule Donegal International.
We stop briefly outside the very same church from where emerges Fr. Paddy Dunne to give his blessing to us, as he describes it, "petrol heads". On the other side of the road, former Donegal Clerk of the Course, Matt Doherty, is busy trying to repair a radio in the sweepers car.
A half mile or so on, Brendan parks up and we clamber down through a steep incline (this is why they call it the High Glen) to see where we can watch Stage 15 and, later, Stage 18.
We believe we've got a decent viewing spot when two figures in the field opposite hail us over.
Brothers Garth and Aidan McGlynn invite us to watch the stages from there and furthermore to come into Garth's house – situated close by – for tea.
Before the stage roars into action, we're joined by more members of the family, young and old, and, true enough, we couldn't have a better view.
Not just of the spectacular Mulroy Bay across the way – every so often clouded over through the sporadic showers of the day – but, more significantly, of the cars rounding the corner down below framed by foliage and hurtling up the hill past us and down again in the direction of  Drumfin Bridge.
It's been close to thirty years – even gears – since I last ventured out on to a stage of the Donegal International Car Rally and Brendan, a former Secretary of the Motor Club and a long-time enthusiast of this and other rallies – has warned me that they've upped the speed since those distant days. Quite significantly.
And as the first few cars thunder by and the smell of fuel and rubber hit the nostrils, I see what he means. Even the historic vehicles – Mark 1 Cortinas and Porches and the like – appear faster than they did when they were the kings of the road.
Between the stages – invitations to join the Letterkenny McGlynns and connections to the house still being extended freely – we are left alone – two men outstanding in our own field as Brendan puts it. Or to be more precise someone else's field.
By the end of the second stage, with Jennings and co-driver, Rory Kennedy, holding on to a relatively comfortable overall lead, we are ready for home – after six and a half hours even the picturesque view loses it lure – and Brendan shifts into gear to take us there. My grateful thanks to him and the McGlynn connections for their warm hospitality.
And what a day for the Donegal contingent. Manus Kelly, showing there's more to Glenswilly than a decent G.A.A. team and a couple of class county players, savouring a first national title – after a decade of trying – alongside Milford navigator, Donal Barrett. A truly emotional finish for the pair and their families and friends.
And behind the front two, Declan and Brian Boyle, unable to close the gap but still a rally to remember and the Focus already on the road to next year.
And Fermanagh's Jennings repeating his 2012 Donegal success with a powerhouse performance over the weekend (the Clonakilty Blackpudding Irish Tarmac Championship never tasted so good).
And a particularly moving moment for his Letterkenny co-pilot. Presented with the Jim Kennedy Perpetual Trophy at the finishing ramp – memories no doubt of his late father and the pride he would have felt watching his son reach another milestone as the most successful navigator in the Irish rallying circuit.
Three times Rory sat alongside the late, great Bertie Fisher when he claimed overall titles in Donegal  – and now here he was popping open another champagne bottle at the end of rally weekend.
I can almost see the beaming smile on Gentleman Jim's face.
PLANE TALKING
It didn't or it did take him long – a couple of days or twenty-one years depending on how you look at it – but big Norm has saved a few comments as you may have read already in relation to last week's piece about that 1994 play-off in Cobh when he was between the posts for Finn Harps.
I'd recalled the plane journey home when only he appeared to be in good spirits as the rest of us sunk into chartered despair at yet another slip-up by Harps in a big game.
Contacting the Donegal Daily, he remembered that journey back and his own immediate reactions. "The trip back on the plane that fateful evening was a very sombre affair but sports people react to defeats in different ways.
"My anguish always came the following day and in this case, when I woke up to the reality of having lost an extremely crucial game knowing that so many people in the club were relying on a victory.
I was acutely aware of the effort so many people had put into the club and the absolutely huge following that travelled to Cobh that night. In fact, I remember quite distinctly the look on peoples' faces when I walked down the main street of Letterkenny the following day. It was pure disappointment," big Norman recalled.
Harps and the fans had, he insisted, always treated him with the upmost respect. "It's something I've never forgotten.
I have friends to this day as a result and not a week goes by when I don't check the results to see how Harps did. In fact, it's great to see a fellow Galway and Salthill man, Ollie Horgan, in charge," the former goalkeeper enthused.
Great to hear from you, big man, – see you when we make our return to Terryland Park next season assuming that Galway don't slip through the trap-door.
WOMEN POWER
While the G.A.A. spotlight in Donegal generally shines on the men's game, there's no doubt ladies football has emerged as the strongest of forces in the county. Make that the country.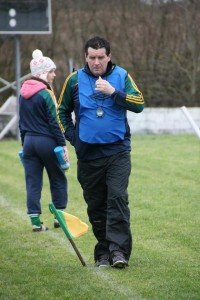 There were the Donegal women clinching an All-Ireland title on Sunday – just a day after the senior ladies delivered one of the trouncings of this or any other year in their defeat of Down in the Ulster quarter-final championship.
And of course behind all these talented women, there's a man in the form of Davy McLaughlin who enjoyed some weekend of it. On Saturday, he was managing the seniors to as comprehensive a victory as you can get – a 10-25 to 0-4 scoreline leaving their opponents Down and very much out.
Six of those goals and five of the points came courtesy of the boot of Yvonne McLaughlin – a starring display in every sense of the term. To his credit manager McLaughlin attempted to play down the score to some degree, suggesting that a number of the girls from Down's Intermediate All-Ireland title winning side of the previous year had walked away from the panel leaving a batch of young players to come in to try and maintain momentum.
"I think if that's what's going to happen, then the Ulster Council need to find a way of seeding teams. That was of no use to us and certainly of no benefit to Down," the manager told Donegal Democrat sports editor Peter Campbell after the match.
No playing down (or indeed Down) Donegal's outstanding win in the Aisling McGing Under 2-1 B All-Ireland Final on Sunday. Amber Barrett lit up Markievicz Park with a stunning display and a personal scoring tally of 2-9 in Donegal's 4-12 to 2-7 win over Longford.
But this was an all-round team performance with Donegal controlling for long spells of the game but Longford battling right to the end. All-Ireland titles don't come easy but they are coming and not a handful of months after Termon Ladies took home an All-Ireland club equivalent.
On Saturday week, the Donegal under-14 girls will go into action against Tipperary in their All-Ireland Final to be staged – just confirmed yesterday – at the Ballymahon G.A.A. grounds in Longford.
Proving again that ladies football, at all age levels, is very definitely on the up.
MEMORY SAVER
Anthony Tohill. Remember him? The bane of many an opponent when wearing the red and white of the Derry senior team including a few Donegal sides in his time.
All-Ireland winner in 1993… two Ulster titles…. four National League titles….four All-Star awards…and representing Ireland in four International Rules Series. The list goes on…
But when the real crunch came, when it was really put up to him, he couldn't put a penalty past Paul Hume. Or so he tells me (that's Paul, not Anthony). A long-time resident in Letterkenny, Humers (as I've just this now christened him) was goalkeeping for Steelstown way back in the day when Tohill's club side, Michael Davitts Swatragh, were awarded a penalty. Up stepped Tohill to take it but could he put the liathroid past our man in goals? No, he couldn't as young Hume flung himself through the Derry air (Londonderry Air?) to spectacularly claw the ball away (to be honest, Paul never got around to telling me how he actually saved it but, listen, he deserves whatever gloss we can add to this story).
HAND OF GOD INTERVENES
So Diego Maradona has put his hand up as a candidate for President of F.I.F.A. (Football Is Financially Attractive).
A long-time admirer of Sepp Blatter – NOT – he reckons he's the man to put the ball in the back of the net when it comes to restoring the organisation's good name (though many would argue that it's difficult to restore something that wasn't there in the first place).
Personally, I still think Roy Keane's the man for the job. No better individual to lead F.I.F.A. into corruption free territory.
Taxi for Zurich for Mr. Keane….
STILL TOP – BUT CAN HARPS STAY THERE?
Never mind, Donegal's clash in Clones this weekend – well, do, but you know what I mean – Finn Harps return to action after their short summer break with a tricky trip to Tolka Park. Note: it's never tricky actually getting there, it's just that Shelbourne invariably prove the toughest of opponents when they do make it.
After at one stage enjoying an eight point gap at the top of the First Division, Harps are now just one ahead of their closest challengers and after two league defeats in a row, the usual pessimists will be predicting doom and gloom for the remainder of the season.
Time to prove them wrong through a stirring response with a victory and retention of that top spot.
CAR SHARE
Interesting feature on radio commentary on G.A.A. games in last Saturday's edition of the 'Irish Times'.
I loved the exchange as quoted between the two commentators on South East Radio, Liam Spratt and Billy Byrne, during a particular match.
"The traffic was crazy on the way up to Parnell Park, especially coming into Donnycarney. How was the traffic for you, Billy?"
"About the same, Liam. Sure, I was in your car.
Tags: