Aodh Ruadh GAA News:
Football
Aodh Ruadh extended their unbeaten league run to seven games in Buncrana, but it required some late heroics from Diarmaid McInerney to secure the points.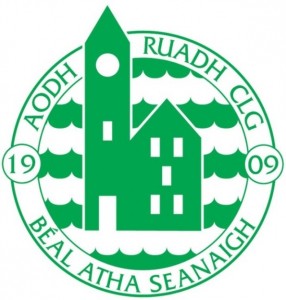 The hosts were in good form and put up a good battle especially in the first half where they ran Ballyshannon ragged.
Aodh Ruadh had opened the scoring with a goal from Barry Mulligan, but after that the Scarvey men took ownership of the game and the interval scores were 1-10 to 1-2 in their favour.
The visitors had the wind behind them in the second period and a Seamus Kane goal provided Aodh Ruadh with the ideal start to the half.
The Ernesiders confined the homesters to just one point in the second 30, while steadily eating into their lead. Diarmaid McInerney got the equaliser with a few minutes of normal time left, before stepping up to nail a tricky 30 metre dead ball to give Aodh Ruadh full points. We have a team sheet and pictures from the game up on aodhruadh.org.
Aodh Ruadh have one of their biggest games of the season to date this Sunday when they host promotion rivals Milford in Father Tierney Park. The senior game throws in at 3pm and is preceded by the reserves at 1.30pm.
Under 14s continue their build-up to the championship game against Dungloe on July 7th. Training this Wednesday at 6.30pm with challenge game for the coming weekend
The under 12s play Four Masters this Wednesday in Father Tierney Park at 6.30pm. The is the last game of the round robin stages of the league and will determine which of the sides enjoys home advantage for the Southern Minor Board league final so a large Aodh Ruadh support for this one would be much appreciated
Our sincere condolences to under 10 coach James Bradshaw on the untimely passing of his brother Stephen. Our thoughts are with the family at this time.
The under 8s had a good outing last Saturday in Donegal town. The As and Bs both had good wins over Dungloe. The Bs maintained their good start to the season with a draw against Four Masters. The As played really well against Four Masters, growing into the game as it went on. Our panel on the day was: Che Barron, Ben Daly, Stephen Doran, Anton Duffy, Cormac Finnegan, James Gallagher, Joseph Gibbons, Tom Holland, Sadhbh Hughes, Toirleach Hughes, Donagh Kelly, Tomás Keown, Sean Maguire, Jayden McGrath-Clyne; Dara McGloin, Garvey Meade, Bobby Melly, Ted O'Donnell, Dara O'Mahoney, Sean O'Neill, Corey Sheridan, Dathai Sheerin, Corey Sheridan, Alan Vaughan and Shay Winters.  We are down a couple jerseys, so if you happen to turn up one in your young fella's gear, let us know! Training continues this Friday for the under 8s and under 6s from 6.30pm to 7.30pm in Páirc Aoidh Ruaidh.
Karl Lacey will be head coach at the Lenovo Skills Hub football camp which commences on Tuesday, June 23rd and runs to Thursday June 25th from 10.30am to 2.30pm in Tír Chonaill Park, Donegal town. The camp is open to 13-16 year olds. Along with playing the games and expert coaching, a section of each day will be used to show best practice in Lifestyle choices such as nutrition, fitness levels, preparation for games, sun smart, and general advice from the inter-county players present. The camp costs €50 for one child with a reduced rate for second, third, and fourth. This can be paid on the day. We encourage all players to attend this camp as it has proven a useful developmental experience for players in the past. If anyone needs a lift contact Alan Sweeny on 0868052816.
Euro-Shot Challenge
Sheets will be going out over the next week to all underage players for Bord na nÓg's inaugural Euro-Shot Challenge. The concept is simple, points win prizes. The more points your team scores, the more chance they have of winning a special team prize. There are three prizes on offer. The under 8s and under 10s will be competing for a team trip to Castle Adventure Open Farm. The under 12s and under 14s will face off for a team outing to Bundoran Cineplex. Meanwhile the under 16s and under 18s are competing for a beach party and barbecue sponsored by Kernan's Spar. Shots are a €1 a go with the Euro-Shot Challenge taking place on Sunday 12th July in Páirc Aoidh Ruaidh. The more lines you sell, the more shots you get. But the important thing is putting the shots over the bar, which makes this fund-raiser a great way to hone one of the most important aspects of our games. All players will have to take a minimum number of shots, so even if you only score one point, it could be the one that wins that wins your team the prize. There are individual prizes for the top scorers in each team, while the overall highest scoring team will take home the handsome Euro-Shot Challenge Plate. To make it easier to sell lines, there are also two tickets to the Ulster final up for grabs, with the winners being drawn on the day of the Euro-Shot Challenge, a week before the final. Our special thanks to Kernan's Spar, Eclipse Cinemas, Castle Adventure Open Farm and the Donegal Democrat for their sponsorship of this fund-raiser. Euro-Shot Challenge sheets can be downloaded directly from aodhruadh.org.
Hurling
Aodh Ruadh senior hurlers returned to Ulster Táin League action on Friday evening against Setanta at the Cross. Lying second and third respectively in the league there was a lot to play for and the Aodh Ruadh men made their presence known from the outset with a well taken point from play by Kieran Kilgannon. Both teams traded points with Conor McNeeley and Jack Matthews getting on the scoreboard before Kevin Loughlin deflected a long range free into the back of the net to give the Ballyshannon men a three point lead going into half time on a scoreline of 1-6 to 0-6. The Aodh Ruadh men found it difficult to maintain the free flowing hurling of the first half and an early goal by the home side drew the sides level. Both sides fought tirelessly throughout the game until a fortuitous goal by Setanta near the end of the game proved the decisive score. Setanta emerged victors at the end of an evenly contested game on a scoreline of 2-10 to 1-10. Despite the loss the Aodh Ruadh men can take a lot of pride in the way they performed on the day. There was some excellent performances from Barry Farragher in defence, Kieran Kilgannon in mid-field and Jack Matthews in attack. Next game is against Strabane's Ná Seamroga on July 5th.
Last Sunday the second All-County blitz for the under 8s and under 10s was held in the Centre of Excellence in Convoy. Once again we had the largest numbers of all clubs present. We had 24 under 8s and fielded three teams. Each of the teams did very well winning the majority of their games. The hard work being put in at training is being reflected in the blitzes this year. All of the squad is doing very well and the improvement over this year is very evident. We had nine under 10s and again they did very well with a very young team the majority in their first year at this level. They won three of their five games. It was the under 8s first time wearing their new jerseys sponsored by Loughlin Heating and Plumbing and they played as well as they looked. All in all it was a great day despite the poor weather. Many thanks to all the parents who brought the lads and lassies to the blitz and gave them great support throughout the day. We have pictures from the blitz up on the Aodh Ruadh CLG Facebook page.
The under 12 and under 16 leagues begin this Thursday with both teams in action at home. The under 12s take on neighbours Four Masters while the under 16s play Letterkenny Gaels.
Training every Sunday at 12 noon for all underage groups. For any information required in relation to underage hurling please contact John Rooney 086-2587793.
Ladies
The under 14s commence their A championship campaign this Tuesday, 23rd June in Father Tierney Park against Naomh Conaill. Throw in is at 7pm, all players to be at the park for 6.15pm. This team has gone unbeaten this year and this game will be a good test of the side's progress. We would like to see a big showing of Ballyshannon support up at the park to cheer the girls on. Under 14 training continues on Tuesdays and Thursday from 6pm to 7pm.
The under 12s hosted Killybegs in Father Tierney Park last Wednesday for an enjoyable game. We have pictures from the match up on aodhruadh.org.
Under 12, under 10 and under 8 training continues on Mondays from 6pm to 7pm.
Summer Camp
Aodh Ruadh Summer Camp 2015 runs on Monday 6th July-10th July and Monday 13th July-17th July. The camp runs from 10am to 3pm daily. Each week the camp will cater for all ages from 6 to 14, both BOYS and GIRLS. Activities include skills training, fun and games, Gaelic football, camogie, rounders, hurling and swimming. Applicants should bring a packed lunch as no one will be allowed to leave camp during the day. The camp runs from 10am to 3pm. Cost is as follows: One child €70; Two children €120; Three children €180; Four children €200. For further information contact Sylvester Maguire on 0860532495.
Reunion for 1990 Community Games champions
There will be a reunion on Saturday 29th August in Bridgend Bar for the 1990 Donegal and All-Ireland winning Community Games team of Aodh Ruadh. The team who won the county title that year were Stephen Ward, Paul Rafferty, Kenneth McGurren, Martin Gallagher, Sean Maguire, Anthony Sheerin, Gavin Rogers, David Greene, James Shannon, Brendan Boyle, Dermot Fox, David Hoey, Sean Perry, Matthew Hughes, Christy Coughlin, Barry Travers and Jamie McCauley. Michael 'Sticky' Ward was captain while Jim Kane was manager. Contact Sean Perry (0879105013) or Jim Kane (0862849425) for further details regarding this event.
Cash for Clothes
Juvenile Hurling Committee are having our annual clothes recycling campaign for the month of June. We are looking for all used clothes, shoes, handbags, bed linen, etc. For any information in relation to this recycling campaign please contact John Rooney 086-2587793, Tara Keenaghan 086-3331903 or Fionnula Gillespie 087-6668634.
Club kit
We now have official club shorts available to order. They are O'Neill's, so top quality kit. Kids sizes (24 and 26) cost €18, while adult sizes (28, 30, 32, 34,  36 and 38) cost €22. We'll have samples available and images on aodhruadh.org. Contact Chris Kelly on 0868813553 to place your order. Our navy blue soft shell jackets are also back on sale. We now have three youth sizes available. Ages 7-8 priced €40; ages 9-10 priced €40; and ages 11-12 priced €45. All jackets will have the Aodh Ruadh and GAA crests, plus the child's initials on the sleeve. We are also able to order Ladies soft shell jackets with pink Aodh Ruadh crest and GAA logo. We are also selling adult jackets. You can check out samples of the shorts and jacket on aodhruadh.org. For further details call Chris on 0868813553.
Folk Festival launch
All are invited to a free concert in the Abbey Centre on Thursday 25th June at 8.30pm to launch the 38th Annual Ballyshannon Folk and Traditional Music Festival. Come along and enjoy a night of music, song agus craic with one of Ireland's most vibrant bands from Belfast – the Rapparees. Enjoy a glass of wine, some refreshments and a great night of entertainment – all brought to you by Ballyshannon Folk and Traditional Music Festival.
Abbey Centre Bingo
The winner of last week's €400 jackpot was Mrs Foley of Kinlough. This Friday is the June Big Bingo at 9pm in the Abbey Centre with a massive €3,000 prize fund Books priced at €15 for full book, €8 for a half bookor get the book and a half summer special for €20. The game seven summer snowball is now €400 on 49 numbers or less. Plus we still have our spot prize on 42 to be won!
Aodh Ruadh Lotto
There was no winner of last week's Aodh Ruadh Lotto jackpot of €6,200. The winning numbers drawn were 7, 8, 9, 12, 13 and 17. In the lucky dip €20 went to: Brendan Barron, Corker; Holly, Emma and Callum O'Neill, c/o O'Neill's; Gethins family, Finner; and Caroline Patton, Creevy. Next draw in The Lantern with a Jackpot of €6,300 on Sunday at 8.30pm.
The lotto team for McCosker's Centra this Saturday is: BORD NA NÓG.
You can receive the club notes by e-mail every Tuesday morning. To subscribe, enter your details on the website, www.aodhruadh.org, or e-mail your request to info@aodhruadh.org.
~~~~~~~~~~~~~~~~~~~~~~~~~~~
This is the weekly e-mail newsletter from Aodh Ruadh GAA Club. If you have received it in error, please contact us at info@aodhruadh.org.
Follow us on the social media
Facebook: Aodh Ruadh CLG
Twitter: @aodhruadh.
Tags: