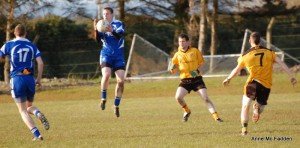 Cloughaneely GAA News:
***Seniors/Reserves***
B'iad foirne Naomh Columba na cuairteoirí go Páirc Naomh Fionán Dé Domhnaigh seo chaite. Bhí an bhuaidh ag foireann tacaíochta Ghleann Cholmcille in éadan Chloich Cheann Fhaola 1-11|0-08.
Ach bhí buaidh mhaith ag sinsir Chloich Cheannfhaola 1-15|0-13 – tá said sa dara háit sa tSraith anois. Tá turas fada ag Cloich Cheannfhaola Dé Domhnaigh seo chugainn – go dtí na Cealla Beaga ar 1:30 agus 3:00!
It was Naomh Columba's turn to make the long trek through Glengesh to face Cloughaneely at Páirc Naomh Fionán, for the 2nd meeting of these 2 teams in the Division 2 league. Our Reserves were unfortunately defeated 1-11|0-08, which is only their 2nd defeat out of 10 games in their league campaign so far. They now sit in 2nd place on the league table; one point behind Glenfin!
After a neck and neck first meeting for the Seniors, this game was sure to be another close encounter. Naomh Columba's Paul Doherty got the visiting side on the scoreboard first with a point, which was quickly negated by a point from CCF's Shaun McGuire. Ciaran Scanlons 6th minute goal was key to Cloughaneely securing a narrow win; Denis Boyle neatly placed a long ball into the goal mouth which Scanlon tipped into the net. CCF's Paul Sweeney made a welcome return to the senior team and managed to secure 3 points in quick succession; before Naomh Columba's Pádraig Ó Beirne converted a free to notch up the visitors 2nd point of the game in the 16th minute, which he followed by another point minutes later. In the 23rd minute Naomh Columba cleverly managed to disperse a Cloughaneely attack and the ball found it's way to Naomh Columbas top scorer Rian Mac Giolla Easpaig who notched up the visitors 4th and last point of the 1st half. Cloughaneely's Denis Boyle and Declan McGarvey also contributed points just before half time
HT Score: CCF 1-07 Naomh Columba 0-04.
Naomh Columba promptly narrowed the gap to 4 points thanks to points from Jamie McGinley and Máirtín Ó Cuinneagáin within the first 4 mins of the 2nd half: however the duo of Paul Sweeney and Shaun McGuire worked well together to register another 2 points for Cloughaneely. The 2nd half continued on very much a point for point basis; with Cloughaneely points coming from Denis Boyle, Darren McGeever, Declan McGarvey and Shaun McGuire; with Naomh Columbas sharp shooter Rian Mac Giolla Easpaig securing a further 4 points, alongside points from Deaglan Mac Guidhir and Caoimhín Mac Anearcain. In the 43rd minute Shaun McClafferty's kick out was well won by Naomh Columbas mid fielder Críostóir Ó Beirne who layed the ball off to Stíofan Mac Seoin who found himself one on one with Shaun McClafferty; but the Cloughaneely keeper skilfully deprived Naomh Columba of a much needed goal; however the ball found it's way into the hands of Deaglan Mac Guidhir who secured a point for the visitors. The visitors found themselves within 3 points of Cloughaneely with a few minutes of normal time remaining, however they were reduced to 14 men at the last minute of normal time, when Deaglan Mac Guidhir was shown a second yellow. Injury time points from Shaun McGuire and Denis Boyle ensured a Cloughaneely vicory.
Final Score CCF 1-15, Naomh Columba 0-13.
Cloughaneely: Shaun McClafferty, Ciaran McGeady, Eamonn Curran, Kevin McFadden, Kevin Mulhern, Eugene McGuire, Lee O'Brien, Martin McGuire, Ciaran Scanlon (1-00) , John Harley, Darren McGeever (0-02), Declan McGarvey (0-03), Shaun McGuire (0-04), Paul Sweeney (0-03), Denis Boyle (0-03, 1F).
CCF Subs: John Harley replaced by Paddy Cannon – 46 mins. Martin McGuire replaced by Joe Friel 50 mins.
***Next Up: Cloughaneely now have to travel to face Killybegs next Sunday at 1:30 and 3:00 PM
**Cash For Clobber**
Cloughaneely GAA are doing a house to house clothes collection in the Falcarragh area next week and Gortahork the following week. There will be a bag drop Monday 29th of June. Any unwanted clothes, bedding, curtains, shoes etc you would like to donate to the club can be put into the bag and we can have these clothes recycled to raise much needed funds for the running of the club. Please leave the bags out for collection a week later on Monday 6th July.
***5K Fun Run**
A 5K fun run will be held in the GAA club on July 1st at 7.30pm. Registration will begin from 6.30pm. 3 euros per child, 5 euros per adult. Family rates will also be available. Your support is much appreciated!
***Donegal U-21 ladies***
Congratulations to our Donegal Ladies U-21 team who were crowned All-Ireland Champions at the weekend when they defeated Longford 4-12 to 2-07! A special mention to our own Roisín Ní Chuireáin and Evelyn McGinley, who are part of this first ever Donegal Ladies U-21 team! Great achievement in their first year together! Maith Sibh!!
***Topaz Cash for Clubs***
The club won €1000 in the recent Topaz Cash for Clubs Draw! Many thanks to McClafferty's Topaz Gortahork and Topaz Falcarragh for their help in collecting the cards and many thanks to those of you filled out cards on behalf of the club!
***Cloughaneely GAA Cúl Camp***
The camp will run from the 20th-24th July. Prices: €55 for 1st child; €45 for the 2nd child; €40 for 3rd and subsequent children. Please contact Declan McGarvey on 086-1009467 to book!
****U-12's***
Our U-12's play at home to Termon on Wednesday, July 1st @ 6:30 PM
***Donegal Seniors/Minors***
Best of luck to the Donegal Seniors and Minors who face Derry in the Ulster Semi-Final on Saturday evening. Good to luck to Cloughaneely's Jason McGee who is part of the Donegal Minor Squad! Minor game is at 5:15 and senior game at 7:00. For those of you travelling to the game, please get there early to support Jason and the minors!
Tags: