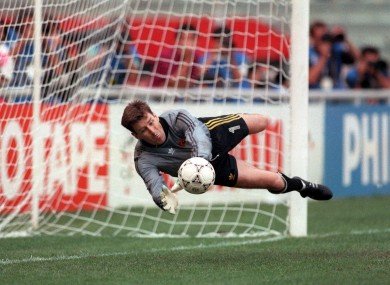 Finn Harps physio Mickey McGlynn has today been reminiscing about the moment twenty-five years ago today when Packie Bonner saved THAT penalty which paved the way for Ireland to make the last eight of the World Cup in Italy. 
The crucial penalty save Bonner made from Daniel Timofte has been played over and over again down through the years and is regarded as one of the most iconic moments in Irish sport.
When George Hamilton ushered those famous words, "The nation hold its breath" and David O'Leary duly slotted his penalty home which set-up a dream quarter-final with Italy the country went into meltdown.
Today, all across the country people have been reliving that moment and sharing their memories of where they were that day when Packie made that save.
One man that was there that glorious June day in Genoa was well-known Finn Harps physio Mickey McGlynn.
McGlynn was behind the goals where Packie saved the penalty and today recalled the euphoria within the stadium in those 'magical' couple of minutes.
McGlynn told Donegal Daily, "For everybody both at home and over at the World Cup in Italy it was just an incredible time.
"I had travelled to Genoa on my own but just before kick-off, I bumped into two neighbours from Milford.
"To be there to witness what happened first hand was something I'll never forget.
"The sheer joy and euphoria amongst the fans inside that stadium was electric and was truly something special.
"Obviously with Packie making the save and being from Donegal it only added to the pride you felt.
"You could see how much it meant to people inside the ground and for those at home.
"Even twenty-five years later when you reflect back on it you see how much pride and joy people still have when they look back.
"A special time that will never be forgotten by those who had the privilege to witness it.
Tags: