Nine RNLI volunteers from County Donegal have been honoured at the charity's annual presentation of awards.
The event which was staged at the Titanic Museum in Belfast on Wednesday night recognised Georgina Houten, Susan Shields, Pat Crean, Andrew and Hazel Alcorn, Derek Little, Heather McBride, Fiona McNutt and Patricia Boyce.
During the ceremony, there were four silver badges awarded to members of the Downings/Carrigart Fundraising Branch.
Guests heard how Heather McBride (her brother Pete collected the award on her behalf) lived and slept the RNLI.
'She has been a fundraiser since 1991 and continues to be involved in Downings events as well as being box secretary,' Darren Byers, RNLI Divisional Operations Manager said. 'She is a strong leader and her motivation skills ensure that people look to her for guidance. She gives of her time and effort in an unselfish manner and is appreciated by all who come in contact with her.'
Patricia Boyce who received a silver badge joined the Downings Branch in 1997 and in 1998 took on the position of box secretary which she still holds.
'She is diligent, trustworthy and ensures that the boxes are emptied in a timely manner and the monies banked in a timely manner,' Mr Byers said. 'In addition she helps out with other branch events and does so without fuss which endears her to others.'
Fiona McNutt, who has been fundraising for the RNLI for over 15 years, was recognised with a silver badge.
Mr Byers said her commitment was exemplary: 'Although she has stepped down from being the honorary treasurer she still assists with counting money and is very actively involved in the branch. She assists with branch events such as the church gate collections and the annual swim.
The fourth silver badge for the branch went to Derek Little who served as Honorary Secretary in Derry from 1998 until 2002. He then moved to Downings where he has been the Honorary Secretary since 2008. 'Derek leads by example,' Mr Byers continued, 'he is diligent, hardworking and maintains the RNLI finances in a true and proper manner. He is always willing to assist with branch events and his enthusiasm is an inspiration to all.'
Susan Shields from the Downings/Carrigart Branch received a bronze badge. Emma Gibson, RNLI Area Fundraising Manager said Susan was a long-time supporter of the RNLI and is currently the assistant secretary. 'She is a dedicated member of the Downings Branch. She makes time to raise the awareness of the RNLI and offers to help where ever and whenever she is needed.'
Pat Crean from the Rosses Branch was also awarded a bronze badge. 'Pat is a valued member of the Rosses Fundraising Committee.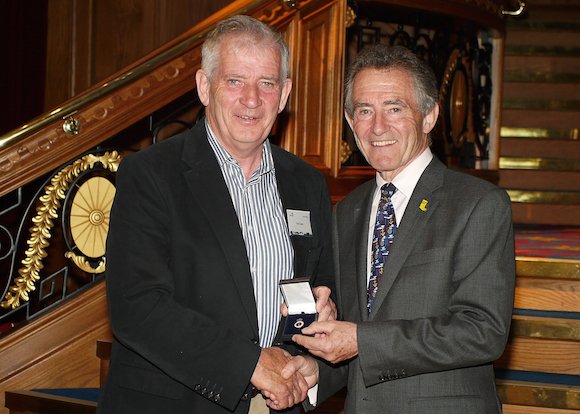 "His commitment is exemplary and when there is work to be done he makes himself available in a quiet unassuming manner. He is there for church gate, flag day, Mayday and other events that the committee organise'.
Georgina Houten from the Carndonagh/Malin Branch was awarded a certificate of thanks from the RNLI. Guests heard how Georgina has a way of making things work.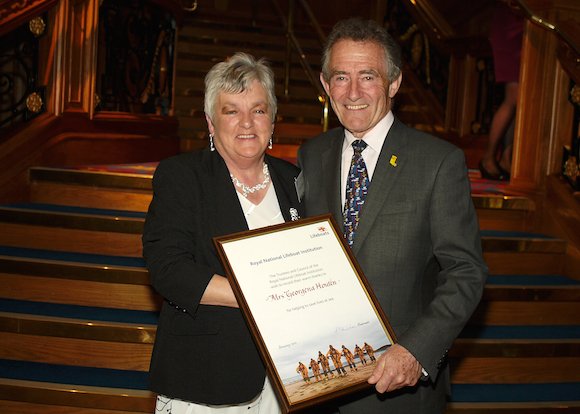 'For a long number of years she with her family has organised a raft race, a sponsored cycle and the Culdaff duck race which consistently raises over €2,500 each year'.
The awards were presented by RNLI Chairman Charles Hunter-Pease who said the RNLI had made an extraordinary difference to people's lives in 2014. Volunteers from Northern Ireland's nine lifeboat stations he said, had rescued 281 people while lifeguards on 10 beaches saved 59 people. Mr Hunter-Pease said this was an extraordinary achievement for the charity's lifesavers – and a life changing moment for every single person they brought to safety.
Praising the awardees he said: 'This evening, we celebrate people. We celebrate not just those whose lives we have saved, but also those who have made this incredible number possible. We celebrate remarkable fundraising feats and decades of lifesaving service given by volunteers. And we say thank you to all of you.'
Tags: