Cathal Mac Suibhne's GAA Diary: Donegal V Derry
The battle we had anticipated to be subjected to in the Athletic Grounds two weeks ago duly arrived in Clones last night.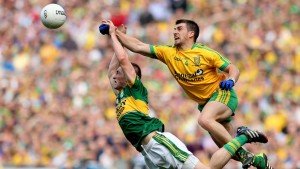 Armagh provided the country with the template of how not to play against Donegal and Brian McIver took note. His side sat back in numbers, dragging his former charges into a tense encounter but experience and class told in the end.
As has been the case thus far this season, Donegal were quickly out of the blocks and built up a healthy early lead.
Derry clawed their way back into the contest though with some well worked points. As their comeback was unfolding at one end of the pitch, Patrick McBrearty limped heavily in front of the Derry goal after picking up what looked like a knock to his calf.
It left Donegal with little or no outlet inside and the team's attacking game struggled in the lead up to half time. Martin O'Reilly was alongside McBrearty but he doesn't possess the natural instincts of a corner forward to make those short sharp darting runs right and left to show for the ball or to create space.
Donegal's primary option was to create shooting opportunities and while they did this successfully, wide after wide slipped by the posts.
With no runners inside it made Derry's blanket effort much easier and allowed them to push out a little more and apply pressure to the man on the ball.
If even a few of these chances had been converted it would've made for a much more comfortable half time chat in the dressing rooms.
Having spent most of his time at midfield until that point, Michael Murphy was sent to the edge of the square and immediately forced an excellent save from Derry goalkeeper Thomas Mallon.
The next time the ball came his way in front of goal, Murphy was being triple marked and this gives ample evidence in supporting the case for him playing so much of his football out the field.
It was a strange call by the management to leave McBrearty on when he was clearly struggling to move freely.
The break and probable medical treatment at the short whistle certainly helped him but he still wasn't his usual explosive self during the second half.
Derry had elected to start with their two best players, Eoin Bradley and Mark Lynch, in a two man full forward line – the latter's placing possibly a ploy for him to escape the clutches of Karl Lacey, who gave a defensive master class against him in Celtic Park last year.
Lynch didn't fare too well with Paddy McGrath for company however; the Ardara corner back was immense from start to finish.
Bradley was well curtailed by Neil McGee throughout and was substituted before the final whistle.
Lynch meanwhile did boom over one trademark score but generally was unable to influence the game.
Derry had identified the Donegal full back line as an area to attack and they rained plenty of high ball into the square.
Paul Durcan dealt with almost everything that came near his goal and was a commanding presence throughout.
It was typical Donegal in the third quarter, that famous blitz that has hit so many teams over the last few years was in full flow again.
The chances that had been sailing wide in the first half started to go over in the second with Colm McFadden, Murphy and Martin McElhinney all registering fine efforts from distance.
O'Reilly then popped up to land the killer blow with a finish that was almost a carbon copy of his goal a fortnight ago and his side had suddenly surged into a five point lead.
The Mac Cumhaills man's reputation continues to flourish; while he seemed a bit uncomfortable inside in the first half playing with his back to goal, it is a different story when he's turned the opposite way and running at defenders.
Derry, to their credit, kept plugging away until the end but never managed to get the margin below two points.
It was a cagey finish but in truth Donegal always seemed to have the composure to see the game out.
Neil Gallagher was a colossus around the middle all game but it is in those final frantic minutes of a match where he really shows his worth.
The big Glenswilly giant can slow the game down, spray the ball around and take the sting out of proceedings.
Gallagher is seeing much more of his clubmate Murphy around the middle sector and aside from those few minutes either side of half time he played primarily as a midfielder.
That doesn't stop him contributing on the scoreboard though and his first point, a seismic missile from sixty yards, almost defied logic.
He notched another magnificent score later on, after a McBrearty free came back off the upright.
There's been a lot written about Michael in recent weeks and he is now regarded as the country's best player by Peter Canavan amongst others; the national media are simply confirming what the rest of us in Donegal have known for the last few years – he is the best in the land.
Matches against Derry have acted as important staging posts along the way for the Donegal captain.
He crashed home a penalty as an eighteen year old in an Ulster quarter final at Ballybofey in 2008 while a year later, all of six years ago, the boy became a man in one of the best performances ever seen in a green and gold jersey.
The River Finn was again the backdrop, this time in a qualifier clash, in what became known as one of the greatest games never seen thanks to the absence of the TV cameras.
Another penalty was dispatched in the Ulster Final of 2011 and Michael will now have a chance in three weeks time to lift the Anglo Celt cup for an incredible fourth time.
Our old foes Monaghan will provide the opposition for the third year running and a packed house will await the players on July 19th.
On the way through Clones' main square yesterday before the game, a rendition of 'Rory's Winning Matches' could be heard from the Creighton Hotel.
Rory is certainly on a roll as he has taken down three Ulster giants in the space of six weeks.
He will now be eyeing up a first piece of silverware as the main man and hoping to make a massive statement of intent.
Tags: