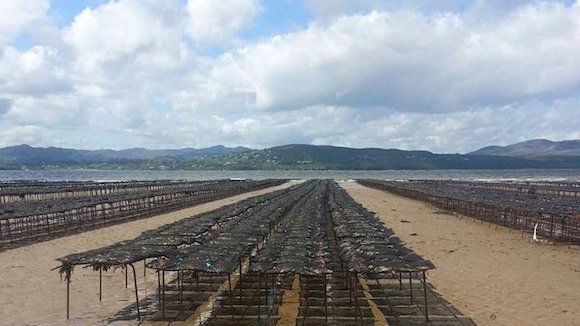 IT may be a day for hitting the beach – but not if you head to Linsfort Beach in Inishowen.
There is anger from locals and visitors alike after planning permission was given for a massive oyster farm on a beach enjoyed for generations.
The once beautiful beach on the scenic Wild Atlantic Way is being ruined by oyster farming, said a spokesman for Save Linsfort Beach.
"A ten year licence has been granted for 42 acres of oyster beds and the beach which is in an Area of Outstanding Natural Beauty is being destroyed.
"This unspoilt sandy beach has already been turned into an eyesore with lines of unsightly metal cages. The beach is now practically unusable by the local community and public who have for years walked along the shore and enjoyed recreational activities on the beach during the summer months.
"As unsightly as the metal cages are at low tide they are also unmarked at high tide when submerged just below the surface and and present a real safety hazard to children, swimmers, kayakers, boats and local wildlife.
"Environmental impact studies suggest that the use of non-native species (pacific oysters) for aquaculture purposes is of significant concern. Pacific oysters can overgrow resident species and affect their growth and cause widespread environmental changes that threaten biodiversity and ecosystem services."
More information on a petition and a campaign can be found here
https://www.facebook.com/savelinsfortbeach
Tags: