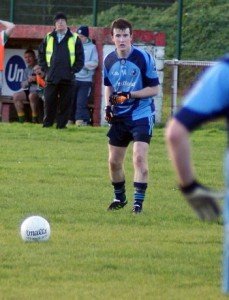 Milford GAA News:
Urris v CLG BnaG
Crampsey Park, Sunday @ 1.30 & 3pm
Our Seniors and Reserves have two more tough games this weekend when they make the trip to Clonmany on Sunday.
Having come away with a great win from Ballyshannon last Sunday the Seniors will be hoping to build on that result with another victory, while the Reserves will be looking to bounce back from their first defeat of the season to Aodh Ruadh at the weekend. Throw in times on Sunday are 1.30pm for the Reserves and 3pm for the Seniors. All support greatly appreciated.
*Seniors*
Aodh Ruadh 1-7 CLG BnaG 0-14
Aodh Ruadh's winning run in division three was brought to an end in Father Tierney Park, after a powerful Milford side took the honours winning by four points. Ballyshannon were first on the board, Diarmaid McInerney slipping over the first point from a free in the first minute. The next spell of play was very defensive from both sides, but great work from Johnny Gallagher created some space and he slipped a great fist pass across the face of goal to the unmarked Shane McGrath who palmed home. Milford got off the mark after nine minutes, with Cathal Mc Gettigan landing a placed ball from 30 metres, but Diarmaid McInerney answered with an excellent free from the right wing. The visitor's first score from play came from the boot of Pauric Curley after 12 minutes and was followed four minutes later by a spectacular free from McGettigan. A routine Kane Barrett free after 22 minutes closed the gap to just a point. Barrett then added his second a minute later to tie the game up. Aodh Ruadh struck from the kick out with the ball being raked up the pitch and David Dolan powering over a point. Then after 27 minutes Kyle Black and Ronan Drummond had a clash of heads and Cathal McGettigan capitalised on the confusion in the Aodh Ruadh defence to drop a shot just over the crossbar to level the game again. The hosts sneaked back into the lead with the last kick of the half, Michael 'Sticky' Ward firing over an elegant shot from the left wing to make the half time scores Aodh Ruadh 1-4 Milford 0-6. Cathal McGettigan opened the scoring in the second half with a long range free. Aodh Ruadh hit back immediately though with David Dolan lofting over. Milford won the kick out and found Joey Cullen who swung over to make it a draw game at 1-5 to 0-8. Then at 38 minutes Cathal McGettigan took the visitors into the lead for the first time. Aodh Ruadh needed a score and Sticky Ward kept his composure to hit another leveller on the next attack. Pauric Curley then capitalised on a refereeing blunder which saw Milford awarded a free after an Aodh Ruadh player was clearly pulled to the ground. The visitors worked the ball quickly up the pitch and Curley pointed. Tj Evesson then pushed the visitors two points into the lead with 12 minutes left. Aodh Ruadh passed up a couple of decent placed ball scoring chance before Christopher Barrett pointed from play and Cathal McGettigan added a free to put four points between the sides. Diarmaid McInerney popped over a free, but Milford won the kick out and strolled the ball up to Pauric Curley for the insurance point a minute into added time. A disappointing defeat for the hosts, but there were good performances from Johnny Gallagher at centre back where he got good defensive cover from Michael Ward and Callum O'Halloran. Meanwhile Diarmaid McInerney and Sticky Ward both worked hard front. Cathal McGettigan was star of the show for Milford with his six points. Caolan Mc Gettigan; Gavin Grier, Gary Merritt, Brandon Toye; Kieran Mc Laughlin, Enda McHugh, Tomas Evesson (0-1); Jonny Logue, Joey Cullen (0-1), Pauric Curley (0-3), Christoper Barrett (0-1), Kyle Black; Paddy Peoples, Kane Barrett (0-2, 1f), Cathal McGettigan (0-6, 4f). Substitutes: Sean Black for Kyle Black 28m blood sub; Adam Serrinha for Kyle Black 49m. Match report courtesy of Aodh Ruadh.
*Reserves*
Aodh Ruadh 7-12 CLG BnaG 2-5
Aodh Ruadh hit seven goals as they cruised past Milford in this reserve clash in Father Tierney Park. Aodh Ruadh got the ideal start with James Kelly pointing and then finding the net after good work from Aidan Murray. Milford hit back with a point from Hugh Mc Menamin, but Aodh Ruadh continued to dictate with Anthony Coughlan and Matthew Maguire pointing and passing up a number of excellent goal chances. One finally fell to Anthony Coughlan and he dispatched it with great polish. However Milford's Adam Serrinha went straight upfield and hit the net. Aodh Ruadh still had the wind at their back though and hit a series of unanswered points from Coughlan (2), Slevin (free). Milford hit back shortly before the break with a point from Jamie Heena, but the last say of the half went to James Kelly who pointed at the referee's short whistle to make it 2-7 to 1-2 at the turn over. Immediately on the restart Niall Thomas went on a mazy run and sold a lovely dummy before rifling in low and hard at the keeper's right post. Then Anthony Coughlan fed James Kelly who was unceremoniously upended in the area for a penalty, but Dermot Slevin's spot kick was well saved. The keeper had to be smart a couple of moments later when Jamie McDonald drew another fantastic stop from Gavin McFadden. There was no stopping McDonald 39 minutes in though. He hit a rocket of a free kick straight to the net from a good 25 metres out to put 14 points between the sides and the hosts in total control. Nickey Sheerin got off the mark in 41st minute with a free and then seconds later capitalised on a poor kick out to blast to the net for the Ernesider's fifth major. It was 13 minutes into the second half before Milford opened their account with a long range point from the boot of Dean Burgess. Not long after that Mark Flood hit the net and Hugh McMenamin popped over a point as Aodh Ruadh took their foot off the gas. Still, as the game moved into the final quarter fortune was still smiling on the Ernesiders. A howler from Milford netminder Gavin McFadden seeing him fumble an Aidan Murray shot into his own net. Hugh McMenamin swung over a point shortly after, but that was to be as good as it got for the visitors. Aodh Ruadh responded emphatically with a goal from Dorrian 13. Then Matthew Maguire added a point and then a rasping goal. There was a free from Aidan Murray and then a point from play by Niall Thomas. That was to be the final scoring action as Aodh Ruadh dominated through to the final whistle. Best for Aodh Ruadh were Matthew Maguire who impressed on his return to club colours. Ryan Patton and Darren Gethins also starred in the defence. At midfield Aidan Murray and Niall Thomas were totally dominant and the whole Aodh Ruadh attack with in fine form. Gavin McFadden; Dean Boyce, Eddie Boyce, Emmet Conaghan, Dean Burgess, Shay Durning, Caolan Bolton, Mark Flood, Adam Serriha, Hugh McMenamin, Jamie Heena, Paddy Mc Carron, Ciaran McHugh, Patrick Ferry. Match report courtesy of Aodh Ruadh
*Senior Ladies*
A depleted Senior Ladies team lost out to Termon in the Preliminary Round of the Championship on Sunday. With a lot of girls injured and two away to the US for the summer it was always going to be a tough ask against the All Ireland Champions but they put up a good performance.
*Minors*
CLG BnaG 2-17 Muff 2-8
Our Minors got their Championship campaign off to a winning start  last night with a very good performance against Muff. Bar Adam Serrinha getting the first score of the match on 2 minutes it was a fairly slow start with both teams going for a route one approach which yielded little result in the first 10 minutes, however Muff did have an effort come back off the post early on. Luke Trearty and Connor Gormley began to get on top as the game progressed and won some great ball too set up scores for Kane Barrett and Gavin Grier. Na Galloglaigh were 0-5 to 0-1 up with 5 minutes of the half remaining before 2 Muff scores and a late free from distance ended up in the back of Gavin McFadden's net to put the Muff men into the lead for the one and only time in the match. The boys rallied well to this setback and more scores from Gormley, Barrett and Serrinha left the half time score 0-8 to 1-3. Kane Barrett added a score immediately after the restart and a few minutes later Shane McNamee had an effort come back off the post, but a minute later Adam Serrinha did have the ball in the back of the net with a fine strike. Muff came back into the game with 3 unanswered points while in the meantime Barrett smashed another effort off the crossbar. Kieran Sheridan in full back alongside Shay Durning and Patrick Ferry coped well with whatever Muff threw at them, while the breeze was picking up in favour of Na Galloglaigh. Ronan Docherty and Cormac Toland used this breeze to take some impressive scores from distance, while the runs of Ryan Mcmahon were constant threat. Odhrán Coll and Conor Mc Hugh were as tireless as ever in the half forward line and covered a lot of ground, while Martin Doyle also came off the bench to score. Na Galloglaigh will be disappointed with the second goal they conceded when they completely switched off for a free which Muff took short and finished to the net with 8 minutes left, which closed the gap to a handful of points. Once again though the boys reacted very well and points from Gormley, Barrett, Serrinha and a Barrett goal sealed the deal for the boys and set them up in a good position in their group. Ryan Toye, Andreas Afxentiou and Hayden Curran also came off the bench late on to see out the match. Next up for the boys is another home game against Naomh Colmcille on the 13th of July. Team: Gavin McFadden, Patrick Ferry, Kieran Sheridan, Shay Durning, Cormac Toland (0-1), Ronan Docherty (0-1), Ryan McMahon, Connor Gormley (0-3), Luke Trearty, Conor McHugh, Adam Serrinha (1-3), Odhran Coll, Shane McNamee, Kane Barrett (1-6), Gavin Grier (0-2). Subs: Martin Doyle (0-1) for Ferry (40m), Ryan Toye for McHugh (45m), Andreas Afxentiou for McNamee (58m), Hayden Curran for Coll (59m), Ryan Spike Flood, Jamie-Lee Blaney, Peter Curran, James Mc Callum, Paddy Mc Carron, Kyle Macaulay, Dane Dunworth
*Minor Ladies*
Dungloe 2-5 CLG BnaG 2-14
The Minor Ladies also got their Championship campaign off to a winning start with a good win away to Dungloe. The girls are in a group along with Fanad Gaels, Cloughaneely, Gaoth Dobhair and Naomh Mhuire and will now play Cloughaneely at home this Thursday at 6pm.
*U14 Ladies*
Our U14 girls beat Urris in the County Semi Final on Friday night in Milford. It was a comprehensive win & an excellent team performance. This is a great squad of girls with a brilliant attitude and totally deserve to be in County Final. They will now play Gweedore in the final on 12th July in MacCumhail Park
*Donegal*
Hard luck to Kane Barrett and the rest of the Donegal Minor panel who bowed out to Derry in cruel circumstances on Saturday evening. Well done however to the Seniors who advance to yet another Ulster Final against Monaghan in a few weeks time. Well done also to Paul Fisher of Paul Fisher Strength& Performance who has been doing great work with both panels for the guts of the last year.
*Gaelic Life Team of the Week*
Having scored 2-9 in Donegals All Ireland U21 Final victory over Longford at the weekend it is probably no great shock that Amber Barrett has once again found herself on the Gaelic Life Team of the Week! Amber is corner forward and is joined by fellow Donegal player Rose Boyle in the half back line.Well done Amber!
*TG4 Visit Moyle Park*
The Donegal U14 Girls team trained in Milford recently and were filmed by TG4 News in a preview to their upcoming All Ireland Final against Tipperary on the 4th of July. The pitch as always is looking well and it is always great to see Donegal teams using our facilities with the Donegal Senior mens team having trained here several weeks ago. We have 5 girls in the Donegal panel for the All Ireland with Megan Ryan, Maria Afxentiou, Claudia Ward, Kellyann Buchanan and Bronagh Durning pulling on the green and gold on Saturday. In the clip from TG4 news we can also see the girls getting a pep talk from Donegal U21 and Senior star Amber Barrett who is also on the Gaelic Life Team of the Week having scored 2-9 in the U21 All Ireland Final. Best of luck to the Donegal team and management on the 4th
*Donegal U14 Ladies in All Ireland Final*
Good luck to the Donegal U14 Ladies team and management and especially our own Maria Afxentiou, Kellyann Buchanan, Claudia Ward, Bronagh Durning, and Megan Ryan as they prepare for their All Ireland U14B Final this Saturday 4th July. The venue for the Final v Tipperary is the Ballymahon GAA Club in south Longford with a 4pm throw in. Good luck to all involved
*U8s & U10s – Summer Break*
U8 and U10 training has now finished until late August. We hope everyone enjoys their summer break.
*Lotto*
This weeks lotto numbers were 1-6-10-23. No jackpot winner, 6 match 3 winner win €15 each. John Martin, Martin Barrett, Jason McCann, Mark Farren, Malachi Eastwood and Joan O'Donnell. Next weeks Jackpot is €620. Don't forget you can enter the lotto from the comfort of your own home by playing through our own FREE Club App. Usual rules apply, pick 4 numbers per box, €2 and €5 options available. Numbers must be entered before 10pm or else they roll over to the next week. Perfect way for our many supporters and exiles overseas who would like to continue to support their Club.
*Gaelic 4 Mothers & Others*
Gaelic 4 Mothers & Others resumes training next Monday, 9th March at 8.15pm. Open to all newcomers and past players who are over 18 and not currently playing competitive football. These trainings are fun orientated with the focus on learning the skills of the game and interacting with other women/mothers in the community and providing opportunity to be physically active.
*Training Schedules*
Seniors – Tues & Thurs @ 7pm (Pitch)
Senior Ladies – Mon & Wed @ 7pm, Sat @ 10am (Pitch)
Minors – Fri @ 8pm, Sun @ 10am (Pitch)
U16s – Fridays @ 7pm (Pitch)
U16 Ladies – Mon & Wed @ 7pm, Sat @ 10am (Pitch)
U14 Ladies – Mon @ 5pm (Pitch).
U12 Mixed – Wed @ 6pm (Convent Gym)
*Underage Coaching*
Anyone interested in getting involved in the coaching of underage teams are asked to contact Shaun Paul Barrett on 086-6052169
*Lotto Database*
Lotto database players are reminded that end of year payments are now due. Anyone wishing to join the lotto database in 2014 can download the standing order form from the Club website or contact Joe McNulty. The benefits of joining the database are:
– Full family membership for 2014 included
– Entered into every draw every week
– Automatically in Christmas hamper draw (One for database members only)
– 11 weeks free entry to lotto draw
*Lotto Sellers Required*
The Club is seeking lotto sellers in the Milford, Ramelton and Rathmullan areas. If you are interested contact Joe McNulty on 086-8547114
*Contact Us*
For all information and queries contact MilfordDonegalGAA@Gmail.com, follow us on Twitter on @CLGBnaG, and on Facebook on www.facebook.com/clgbaile.nangalloglach or see our website www.clgbnag.com
*CLG BnaG Club Gear*
A selection of club gear is available to order. Photos and prices of these items are on the club website and on the new Team App. Orders can be placed with Agnes Ryan 0868194751
Tags: