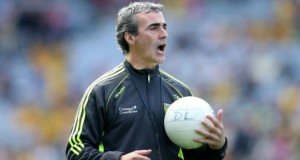 Jim McGuinness has delivered a fascinating and in-depth analysis into the changes Dublin have made to their defensive system – and it doesn't make for good reading from a Donegal perspective.
Last August, Donegal delivered one of their greatest ever performances and defeated the so-called invincible Dublin side in a match that stunned the GAA.
McGuinness masterminded that famous victory, but has said the system they adopted last year won't work against Dublin this time around time.
In his column with The Irish Times, McGuinness disclosed the changes Dublin have made to their tactical approach and believes Jim Gavin's side could be unbelievably difficult to stop this year.
McGuinness wrote, "For Dublin, Cian O'Sullivan was the sweeper dropping back to cover space in front of the Kildare full forward line.
"Nothing radical in that. But it was the Dublin defensive system that fascinated me. They had spoken a lot about core values and man to man defence and the principles of Dublin football.
"But there has been a definite paradigm shift which I feel will make them very hard to beat.
So Dublin went man to man with O'Sullivan sweeping – and occasionally Jack McCaffrey.
"But the interesting thing was that when Kildare attacked them, they left their men and stepped off them and drifted from that into protecting the D, like an arc which is a zonal system.
"If the ball was pushed out to the wing, they sometimes stepped up again and went man to man.
"The other thing they were doing defensively is they were passing players on. If someone ran across the D and, say, the ball was on the left wing, they would pass that player on and keep the pressure on the ball in a zone format.
McGuinness also said they appeared to have strengthened their structures going forward which will give headaches to full-back lines all across the country.
"So that philosophical shift they have made – and the defensive adjustment they have made – are massive changes.
"The other thing is – bad news for all full backs – they appear to have become even better inside. They had three men inside – rotating between Dean Rock, Bernard Brogan and Kevin McManamon.
"Normally two full forwards would play inside the large square and the other on the D in a conventional triangle.
"But they were stretched 50 metres apart and the other near the '45'. That creates a horrible problem for the sweeper.
"So where does he position himself? He cannot cover that ground. Even with a double sweeper, the space is incredible.
"Then what impressed me was the aggression and length of the runs made by the inside men.
"Forty metre sprints to win the ball and winning the ball at full speed: the Dubs were doing this again and again. That ability to win the ball at full speed is very difficult to coach – and to defend against.
McGuinness also said the scary thing was he felt Dublin were only in third gear which makes apprehensive for Donegal and other counties plotting the downfall of Dublin.
"I am not saying Dublin are invincible. But I am honestly not sure right now how they can be beaten with what they can bring to the table.
"What we did last year clearly won't work this time around.
"They have taken zero away from their strategy but have devised a new system. They looked more like a team on Sunday too.
"You could see the communication and the passing on and that they were working in concert. You can argue there was a gulf in standard on Sunday.
"But what could Kildare have done differently? How do you take that athleticism on? How do you stop Cluxton's precision?
"How do you break them down? The list of questions they pose for all teams is very, very long now.
"Dublin cast a very long shadow before the championship started but, at times on Sunday, it looked more like an eclipse.
Tags: