AND NOW FOR SOME POST MATCH REACTION FROM BLAKES…ZZZzzzzzzzzzzzz
Into Blakes Bar on Letterkenny's Main Street for the cure on Saturday evening. The cure for insomnia, that is, otherwise known as the Ulster SFC semi-final.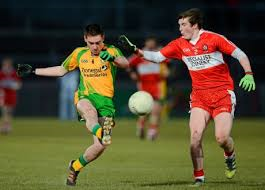 For truly that was hard to watch at times with an atmosphere to match as the television coverage appeared to indicate.
Donegal just about got there and that was the sole purpose of the exercise so job done. But not done very emphatically even if the pre-match predictions were that Brian McIver's side would put it up to them.
That they did and indeed had they managed to net in those closing minutes they, and not Donegal, would be preparing themselves for a tilt at Monaghan in the Ulster Final.
True, there was always the belief that the green and gold could, if necessary, apply the necessary gear change but that's a dangerous game particularly when you're facing a neighbouring county managed by your old boss.
McIver described himself as "absolutely sick" at the end of the game, summing up how close he felt his side were to ending Donegal's domination in reaching Ulster Finals.
Neutrals and indeed fans of either side – the occasional groans inside Blakes told some of the story – can't have been feeling too well either such was the quality, or lack of, on show. Errors were never too far away from this slow burner of a game that never ignited into anything much.
But aided by the inspirational Neil Gallagher in the middle of the field – fittingly he provided the searching ball that found Martin O'Reilly for the only goal of the game – and a couple of hefty scores from Michael Murphy, Donegal survived a relatively poor showing and opponents who didn't give up until the end.
And hopefully also survive the injury to Patrick McBrearty who, much to everyone's surprise, remained on the field despite it.
Best thing for them, the argument has surfaced. Had they delivered a trouncing to Derry, they would have been returning to Clones for the Final with an over abundance of confidence and cockiness. Now they know they have plenty of work to do before even considering what lies beyond Ulster.
All true in its own way but nevertheless we surely expected more from Rory Gallagher's men in an Ulster semi-final.
What a complete contrast to Sunday's gem of a game at Croke Park. Westmeath and Meath had been described as the curtain-raiser to the "main event" of the day, the clash of Dublin and Kildare but it managed to take centre stage long before a ball was kicked in that second Leinster semi-final.
It appeared to be business as usual as Meath steamed along with gusto in the opening half and when they headed in at the interval comfortably in the driving seat at 2-12 to 1-7, they can only have been close to starting work on the match programme for the Final.
But what a turnaround in the second period – the Westmeathers achieving their first ever win over their fierce rivals (difficult to believe that but the record books don't lie) and restricting Meath to a solitary point in the last twenty minutes as they rattled in a tally of 2-9 with John Heslin and Kieran Martin leading the scoring charts.
Stunning was the word for it though there are invariably others better suited to describe an astonishing comeback (astonishing, see, there's another one…).
And now they face the mighty Dubs who ballooned the Lilywhites into the qualifiers with a nineteen point victory (were we really expecting anything less?) and have set up an intriguing Croke Park showdown.
Dublin will be expecting – even if they'll be playing it down somewhat – to march all over Westmeath on July 12th and with the playing personnel at their disposal and a massive home support will be most pundits favourites to do so while the rest of us will be rooting for the rank outsiders.
A couple of months ago, 'Irish Times' columnist and former 'Donegal Democrat' reporter, Keith Duggan, questioned the viability of allowing Dublin play every Championship game at H.Q.
"The argument is that they are such a big attraction that Croke Park is the obvious venue. From a financial perspective, the logic here is unimpeachable. The Dubs bring a crowd, even for games which they are heavily favoured to win," the 'Times' man conceded.
But he argued the principle of counties having to travel for Championship fixtures should apply across the board and Dublin should be no exception in this case. "It would serve to end the lingering sense of unfairness that exists," he maintained. Right on, Keith.
Not that the forthcoming Leinster Championship Final or indeed last Sunday's semi should be played anywhere but at Croker of course but, surely, for next year, even if the G.A.A. stand to lose out at the turnstiles, those counties drawn at home against the Dubs should not be expected to have to take their chances on the Blues home territory on each and every occasion.
Difficult enough – as eleven Leinster Final appearances out of the past dozen –
GLASS BLOWER
Crushing disappointment for the highly fancied Donegal Minors in their Championship semi-final in Clones where the impressive displays of previous rounds were left behind on the team bus.
A one point defeat it may have been but it could just as well have been twenty-one such was the dominance of Derry for much of this game.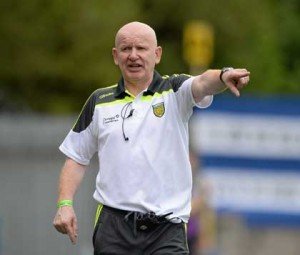 And helping to shatter Donegal hopes was ace marksman, Conor Glass, who returned a personal tally of seven points, and looked like a man who can rise to the very top of the game if it wasn't for the fact that he is set to move to Australian Rules football.
But whlle it was a good day for one Conor, it was a less memorable one for another one, Donegal's Doherty seeing his last gasp penalty kick make its way over the crossbar when it needed to go under it.
But he should hold no blame for this defeat – it was just one of those days and have no doubt that Declan Bonner and his team will be back on the Championship trail again.
ALL-IRELAND TITLE CHASERS
The nerves are stretched.  Heck, they could reach Longford all on their own at this stage but we'll be travelling with them in any case and hoping to leave them there as we return with some coveted silverware on board.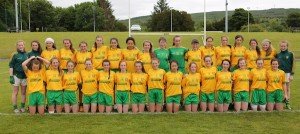 After months of preparations carried out down to the last detail, training sessions, challenge matches, fun day outs (yep, that should be all part of the game), and highly competitive fixtures, the Donegal Under-14 girls will take to the field at Ballymahon on Saturday (throw-in 4.p.m.) for the All-Ireland Final against their counterparts from Tipperary.
It's been a long journey right through from county trials and whatever the outcome this weekend the squad under manager, Greg Harkin, and a highly dedicated team of coaches, have earned the plaudits of all from County Board to county supporters.
They've done their clubs and areas proud and all we need now is for them to make a little piece of history and have a lasting memory of the day and the time they got their hands on an All-Ireland title.
Go for it, girls…!
SEAMUS TO GET HITCHED AGAIN?
Seamus Coleman got united last week but will United get him? Fresh from the chimes of wedding bells in his native Killybegs  – and belated congratulations to him and his bride, Rachel Cunningham – comes more speculation that the current Everton full-back may be Old Trafford bound.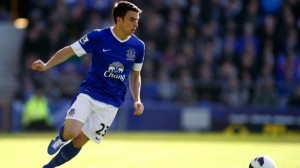 That speculation has been circulating for some time but this is the first sign that Louis van Gaal is actually contemplating  a bid – believed to be in the region of £15 million – for the 26 year old. Naturally, Everton are determined to hold on to him with manager, Roberto Martinez insisting his prized asset is going nowhere at any price.
Kicking ball as a young lad in the fishing port, Coleman would have been imagining himself in the colours of his then beloved Red Devils – and despite his manager's assertions, he may not get closer than this to fulfilling that dream.
Former Republic of Ireland and Manchester United defender, Paul McGrath, rowed in yesterday to this latest round of rumour by urging the Donegalman to pack up his boots and head for Old Trafford.
Insisting Coleman would be "a good fit" for United, he maintained: "He works so hard, is a good defender and has got an engine like no other."
And is one of the top scoring defenders in the English Premiership, he forgot to mention.
Watch other spaces for more on this story.
MAGEES TAILORED FOR MORE MEDALS
Difficult to believe that one family can produce so much talent but then it is the Magees so perhaps it shouldn't be that hard to take on board.
In the world of Irish badminton they hold court over all of their rivals but in the wider world they have also proved themselves and once again the haul of medals was added to at the weekend following further impressive performances by the Raphoe dynasty.
Double Olympian Chloe Magee did lose out in the singles tournament at the European Games in Baku but, along with brother, Sam, took home a bronze in the mixed doubles event.
Victory over the Polish pairing of Pietryja and Wojtkow ensured the Donegal combination of at least a bronze medal but the silver went out of reach following a straight games defeat on a scoreline of 21-12, 23-21 to their French opponents, Fontaine and Mittelheisser.
And not Sam's only triumph as along with brother, Joshua, he claimed another bronze in the men's event after the Raphoe men overcame the Belgian duo of Dierickx and Golinski at the quarter-final stage.
The Magee trio arrived back at Dublin airport on Monday in the company of other Irish medal winners at the Baku Games including the golden girl of the boxing ring, Katie Taylor, who overcame a scare in her semi-final bout to claim the ultimate prize at the end.
But Raphoe still got the bulk of the Irish medals haul.
REMEMBERING THE BIG FAT ZEROS IN THE GOALS AGAINST COLUMN
Ah, remember the days. A lifetime away now. And yet it only seems like last week.  Great times.            Will we ever see the like again?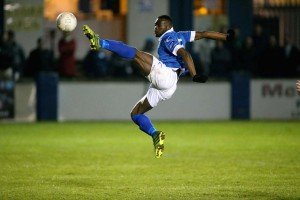 When Finn Harps defence was as unyielding as an E.U. bailout package and went eight games without conceding a solitary goal at the start of the season. Undoubtedly comes under the bracket of 'where are they now?'.
Three more goals conceded at Shelbourne on Friday night – albeit two of them from the penalty-spot – continues a run that has seen Ollie Horgan's team breached far too freely and frequently when at one stage they looked close to incapable of conceding.
But it's not as if Harps are playing badly. In each of the past four games, including the Cup replay against Longford, they've performed well, playing the game the way it should be played.
That point was reinforced by manager Horgan who, in light of the latest result setback, has suggested that his team need to reach a happy medium – tightening up at the back again and plugging those gaps that can come from playing too much football.
This weekend's opponents, Cabinteely F.C., went close to dropping a spoiler into Wexford Youths' promotion hopes at the weekend only to allow a 2-1 lead slip in the closing stages and lose to a stoppage time goal.
The Dubliners will arrive at Finn Park with some measure of confidence, however, having been enjoying a decent spell and will believe that a confidence dented Harps are there for the taking.
But the home side will be unveiling new signing, Nathan Boyle, the striker who has arrived on loan from Derry City and also including additional arrivals, Kieran McDaid from Buncrana Hearts – the midfielder who never signed for Exeter City! – and Oisin McMenamin in the squad.
One suggestion for Harps: Persuade their sponsors McGettigans to cough up the cash for a daring swoop for League of Ireland bound, Damian Duff.
The former Republic of Ireland winger has confirmed in recent times that he wants to end his career here following his stint in Australia and rather than signing for one of the big Dublin clubs as the national media have been mooting for some weeks, Finn Park could represent a real challenge for a player who still has a lot to offer.
What a boost that would be for Harps promotion aspirations and for the gate receipts (never mind the reputation of this humble column,…!).
FIRST DIVISION STUNNER
So just during a spell when Harps are losing all around them, R.T.E. opt to decide to start a section on the previously ignored First Division on their 'Soccer Republic' package on Monday night? Typical. Where exactly were they when Harps were sitting pretty at the top and the table made for sound reading?
Mind you the brief highlights of Friday night's match at Tolka Park didn't give us a chance to see the penalty box offences that resulted in the awarding of the two spot-kicks for Shelbourne and ultimately the sending-off of Keith Cowan that evened things up player-wise following the earlier dismissal of home striker, Mark Sandford.
The panel's in depth knowledge of the First Division was, however, reflected in the comment from Stuart Byrne that Harps were currently "going well" and Ballybofey was always a difficult place to go.
Going well? After four defeats on the bounce?
And as for Ballybofey always being a difficult place to go, I've generally found it relatively easy to get there which is more than can be said for R.T.E. and other broadcasting outlets.
AND ANOTHER ONE COMES ALONG!
Planning Notice: St. Eunan's G.A.A. Club wish to apply for permission to construct extension to their under-age trophy cabinet. Submissions in relation to this application may be made in writing, social media, local radio and any communication you care to consider in acclaiming another magnificent performance over the weekend.
It was always going to be hard to follow in the boot steps of the Letterkenny club's hurling and camogie teams who claimed national Feile Shield titles the previous week after respectively stirring performances. Indeed the big achievement up to that was the fact that no less than four teams from the one Donegal club had won through to the national finals.
But hold hard, another All-Ireland crown arrived back in Letterkenny late on Sunday night, cavalcaded through the town to the clubhouse at O'Donnell Park and carried proudly by the under-14 boys team who earlier in the day had claimed the All-Ireland Feile Division 2 title at the Wicklow Centre of Excellence following a 2-14 to 1-2 victory in the final over St. Paul's from Laois.
Three All-Ireland titles in the space of seven days and a close run thing in the girls equivalent football tournament last weekend.
The female black and amber won all four of their games in the run-up to the semi-final where they narrowly lost to Mungret St. Paul's from Limerick.
A hearty well done to all concerned, players, coaches, mentors and families for a double weekend of crowning glory
BALDING IN SPORTS COVERAGE SHOCK!
Herself's been asking me about the life-sized photograph of Maria Sharapova on the bedroom wall.
I'm telling her it's just to remind me that Wimbledon is starting but she insists: "You may as well put Clare Balding up there – she's going to last longer at Wimbledon than Sharapova…".
Tags: