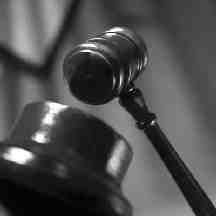 A MAN who feigned illness to escape garda custody has been fined for being drunk.
Owen Hannigan, 33, appeared at Letterkenny District Court charged with entering a house at Ballyraine Park – near his home – with intent to commit an offence.
He was also charged with being intoxicated in a public place on February 5 this year.
Inspector Goretti Sheridan told Judge Paul Kelly that Hannigan was extremely drunk and local people had called gardai.
The home owners had asked him to leave, but Hannigan had refused.
He was arrested and taken to Letterkenny Garda Station.
However once there he appeared to take ill, said the inspector.
"He was taken by ambulance by Letterkenny General Hospital but he later admitted he had feigned illness to escape garda custody," said Inspector Sheridan.
Hannigan apologised to Judge Kelly.
He said he had been "extremely stupid" and "extremely drunk".
He said he had been at a house party at the address the day before, had lost his phone and his coat and had gone back to get them.
Hannigan was fined €150 for being intoxicated.
Judge Kelly struck out the charge of entering the premises without consent.
Tags: