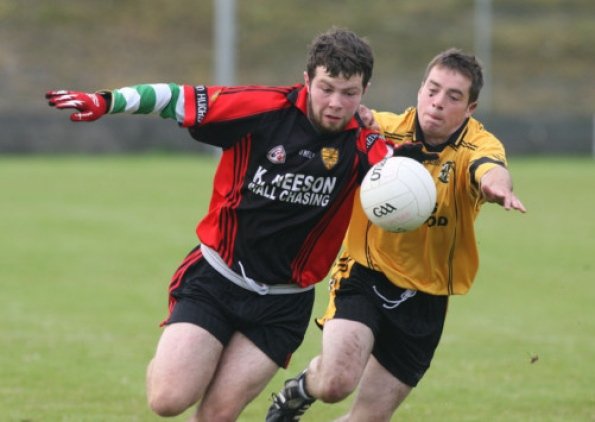 Red Hughs GAA News
Senior Men
On a perfect evening for football the Red Hughs hosted Pettigo in the opening game of their championship. With the Reds not having a win in the league so far this season the Pettigo lads were hopeful of an upset. The home side opened the scoring in the 2nd minute with a pointed free from Damien Browne. Damien made it two a minute later before Paul Murphy pointed for the visitors. The Pettigo men equalised in the 9th minute from a free from Paul Robinson. Gary Kelly made a surging run forward to end up on the end of a great move to tap over to put the Reds a pint up again before Robinson tied it up again from a free kick. In the 15th minute Calvin Bradley fired the ball to the net finishing off a great move. Two minutes later Colm Melaugh had the ball in the net for the Reds second goal to fire the home side 2-3 to 0-3 in front. Another free from Paul Robinson in the 22nd minute was to be Pettigo's last score of the half. Thomas Mc Menamin and Calvin Added two more for the Reds Before the break. Half time score Red Hughs 2-5 Pettigo 0-4
The Killygordon lads took the game to Pettigo right from the throw in of the second half. Calvin Bradley was on fire and added another 2 points to the Reds tally. Robinson and Ciaran Mc Ghee pointed for Pettigo before Bradley got his second goal of the game after cutting through the Pettigo defence. A free from Damien Browne and two from Colm Melaugh opened the gap further. To Pettigo's credit they never gave up and kept plugging away Kevin Kane and Robinson added 3 more before the Reds took total control and finished the game strong with scores from Damien Browne,Veteran PJ Gallagher and 2 from Colm Melaugh put the gloss on a great performance from the home side. Calvin Bradley was the outstanding player on the night scoring a personal tally of 2-3
Final score Red Hughs 3-14 Pettigo 0-9
Next game for the lads is a league encounter with Letterkenny Gaels this Wednesday at home. Reserves throw in at 6.30pm and Seniors at 8pm.
Minor Boys
The minor boys were in action tonight in their first game of the division 2 championship group stage. In difficult conditions both teams were finding it difficult to keep control the ball. The Red Hughs lads started the game brightly and were 4 points to no score up after ten minutes. The Mc Cumhaills lads gradually got themselves into the game and narrowed the gap to 2 points.By the end of the first half The Reds had restored their 4 point advantage Red Hughs 0-7 Mc Cumhaills 0-3
The Reds took the game to Mc Cumhaills in the opening ten minutes of the second half but were wasteful in front of goal. Mid way through the second half Mc Cumhaills were reduced to 14 losing a player due to dissent. But as happens regularly seemed to raise their game and rallied to the end of the game. A goal line clearance from Micheal Mc Colgan proved vital at the end of the game. The Final score was Red Hughs 0-11 Mc Cumhaills
The lads now play Burt away from home next Monday evening.
Under 14 Boys
The young lads overcame Malin in a thrilling game at home last Friday evening on a scoreline of Red Hughs 4-12 Malin 4-10. It was a high scoring and very sporting game and a great advertisement for the game.
They now play Muff at home this Tuesday evening in the semi final. Good luck to the lads and management.
Cul Camp
Red Hughs Cul Camp on Monday 13th of July to Friday 17th of July from 10am-2.30pm.  The cost is €55 for 1st. child; €45 for 2nd child; €40 for 3rd and subsequent children.  The children are asked to bring Packed lunch + drink, Mouthguard, Sun cream, Suitable playing gear, tracksuit, shorts, runners, boots, Rain jacket and changes of gear on wet days.
Register Evening for the Red Hughs Camp on Thursday 9th July from 7_8pm  or the morning of the camp from 9.30am. 1st Child €55,2nd €45,3rd €40
Contact number 0861635726
Under 12 & Under 16 Girls
U16 girls training on Wednesday evenings from 6.15-7.15pm.Need all the girls out as the matches are starting on 21st of July.
U12 girls training on Monday evening from 6.15-7.15pm.
Lotto & 100+ Club Results
Number Drawn 6,2,1,4,5,3,7,8  There was no winning sequence
Eileen Griffin Ard Mc Cool was the lucky dip winner of €30
Next weeks jackpot is €5,475
This weeks winner of the 100+ club was number 107 Brendan Quinn Monellan
Thanks to everyone for your continued support.
Ulster Final Tickets
Ticket Orders for the Ulster Final (19/07/15) will be taken in the clubhouse tomorrow night Tuesday the 7th July from 8pm to 8.30pm, or via e-mail to [email protected] or text to Kathy on 087 764 7186. All e-mail & text orders to be with Kathy for 7pm Wednesday 8th of July. No late orders will be accepted & Only place definite orders please.
Info on prices:
Hill/O'Duffy Tce – adult €18, u16s €5, students & Senior citizens €16.
Gerry Arthur – adult €30, Senior citizen €18.
Pat Mc Grane – adult €30, u16s €5, Senior citizen €18.
Eastern Stand – adult €25, u16s €5, Senior citizen €18.
Other News
Well done to club coach Maura Mc Crudden who almost created history on Saturday with the under 14 Ladies All Ireland Final. The young Donegal girls were almost home and dry only to see Tipperary getting two late goals to force a replay this Saturday again in Tuam with a 2.30pm Throw. Good luck once again Maura and all the other coaches and girls on Saturday From all at the Red Hughs Club
Tags: