Former Donegal player and two-time All-Star Kevin Cassidy had said it's time for club players in the county to stand up and be counted, instead of bowing to the county senior set-up.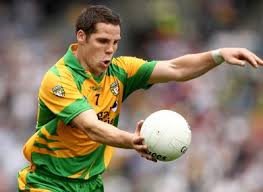 Club players in the county face the prospect of having just ONE round of club fixtures between now and the end of August.
The decision is scandalous according to Cassidy which he sees as yet another kick in the teeth for the ordinary club players who make huge sacrifices to turn out for their club all year round.
Cassidy says with virtually no club football now on offer for clubs players in July and August the time has come for club players all across Donegal to stand up together and say enough is enough.
Cassidy feels structures should be put in place at the start of the season so everybody knows when exactly they'll be playing and says county management should have no say whatsoever in calling off club fixtures.
Cassidy suggested that NO club games should be played the week before a county match and if a county player doesn't want to turn out for his club then that should be his own prerogative.
Cassidy wrote the following in his column with Gaelic Life.
Last week the county board here in Donegal along with the clubs voted to put an end to club football altogether until the end of August. There will be one more league game played on the 26th of July and that will be it until the end of August. Having already taken the decision here last year not to play any club championship football until the county teams participation in the race for Sam is over they are now denying club players league football as well.
"We are now left with the situation where there will be virtually no club football here in Donegal during the  months of July and August.
"A new rule must be implemented in all counties where club games league and championship will be played right through the summer with county players expected to play for their clubs. A one week rule should be implemented when there will be no club football the week before county matches and at least everyone knows where they stand from the off."
And Cassidy, who was player-manager with his Gaoth Dobhair club last season, believes that the buck should stop with the county players when it comes to appearing for their clubs.
"County management should have no say whatsoever in relation to getting games off or telling county players they are not allowed to play, if the county player doesn't want to play himself them let him stand up in the dressing room surrounded by his mates and neighbours that he grew up with and tell them he doesn't want to play for them and that he would rather save himself for the county team.
"Without your club you would not have been given the opportunity to play at that level in the first place and when you make it at that level you become a role model and leader for younger players in your club so grow a pair of balls and stand up for your club.
"This would put an end to the smoke and mirrors carry on which we have at the minute where everyone seems to be blaming each other for not being able to play."
Tags: