It's all about the waste …….not the waist!
Well many thanks for the fantastic response to last week's article.
I was overwhelmed by the amount of shares, comments and the feedback that I received .
This week as promised we are going to talk about the waste in your kitchen and I have a wee recipe for you as well .
Being a chef is not all about the cooking it's all about the numbers too.
There is no point in running a food business if you can't make a profit. You have staff to look after, taxes to pay, a living to make for yourself and of course you want to be able to buy the best food to sell to your customers.
Making lists is very important and keeping an eye on the food that is in stock at all times. There is no point in purchasing cases of tomatoes for them to over ripen and then end up in bin .
I pride myself on the fact that we achieve less than 1% worth of food wastage a week across my food businesses.
You may find this hard to believe but we never overproduce, in fact, in some cases we run to the last portion before preparing fresh food .
Shopping daily and receiving fresh deliveries from local suppliers is just one of the keys to our success. Of course this may be difficult for you with your hectic life but with a bit of thought you can reduce your wastage.
Here are some tips .
Make a good shopping list and try and stick to it.
Plan your week if you can, making sure a visit to the butcher is included .
Do a dry shopping once a week. What I mean by dry is non perishable items, long life or things for your cupboard .
Twice a week do a fresh shop, meat, vegetables, milk etc lots of these items will last for 3 days or more .
Try not to give into the temptations of buy one get one free. These are usually high sugar processed foods anyway.  You'll never see a special offer on fillets steak!!
You usually end up dumping the one you got free or end up eating the same food for two or three days. Frozen foods on special offer are okay as you can use them a week or even up to 3 months afterwards. Personally I keep an eye out for special offers of luxury Icecream that never goes to waste !!
If you're buying fresh meat make sure there is a good date on it and don't over purchase. I know it's exciting seeing a 20lb turkey for special offer but who's going to eat a 20lb turkey in one go if it's not Christmas yet.  If buying fresh fish, buy it towards the end of the week because traditionally fish on Monday is left from the weekend .
Take a look at the reduced section for fruits and vegetables as usually there's nothing wrong with them – nothing a wee bit of trimming and peeling won't fix and they're just as fresh and as good as their perfect cousins on the shelves .
France has made it illegal for supermarkets to dump fresh fruit and vegetables and believe it or not curly cucumbers taste just the same as straight cucumbers.
We have been brainwashed today by the idea that our potatoes , carrots , tomatoes all have to be the same size this is untrue they all taste as good no matter what shape they are .
Visit a fresh vegetable stall or market if you get a chance it's fun and you get to meet the growers too .
So put down the phone or tablet and get into the fridge or cupboard and take stock of what you have.
Make a major clear out and start fresh with your next shop , defrost that freezer and see what is good or out of date. Plan a family dinner and get that food used up .
Next week I'm going to give you some ideas on how to spice up your evening meals .
A wee recipe just for you
Here is a wee recipe for your evening tea.
It's a great salad for adding to tossed leaves, filling for wraps or if you wish gently warm in the microwave and use as a topping for fish or your own homemade pizza.
Red onion and olive salad.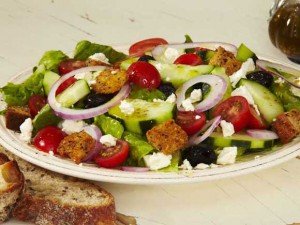 You will need.
Red onion thinly sliced.
Stoned olives, either sliced of cut in half. Black or green olives you decide , they are both the same just a different colour due to the ripening process.
Fresh chopped herbs , I like coriander & basil
Cherry tomatoes, washed and sliced in half.
Dash of Rapeseed oil.
Lemon pepper. You will find this in health food or Asian shops
Method.
Combine all your ingredients together and season.
Make this salad a couple of hours in advance to allow all the flavours to mature.
Tags: