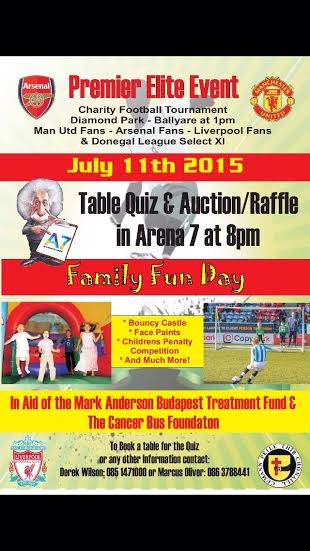 CHARITY: A charity football tournament has been organised to raise funds for the Marc Anderson Budapest treatment fund and the fantastic cancer bus service.
The four-team tournament is being held in Ballyare and will be made up of supporters from Liverpool, Arsenal, Manchester United and the Donegal League.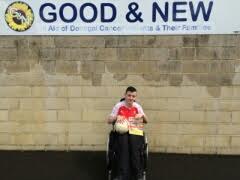 The games are 11 a side and kick-off for the first game is 1:00pm.
It's a family orientated event and there will be plenty for the kids with bouncy castles, face painting and a penalty kick competition with prizes.
There will also be food and refreshments for all.
Ballyare has a stand with plenty of seats to enjoy the games in comfort.
In the evening in Arena 7 we will also be holding a quiz, raffle and auction for some excellent prizes including something special for the winning quiz team.
Prizes and auction items include a signed Damien Duff jersey, Donegal team signed jersey, 2 x Ireland team signed jerseys, a Seamus Coleman signed jersey and Shay Given signed goal keeper gloves and many more.
Contact Marcus on 0863788441 to book a quiz team.
Organisers of the event would like to thank Fintan Houston of FM cleaning who kindly sponsored the match balls for the day.
Tags: