COUNTDOWN TO CLONES: Jim McGuinness says Monaghan have been preparing for the challenge of Donegal on Sunday by playing 15 v 20 in training games.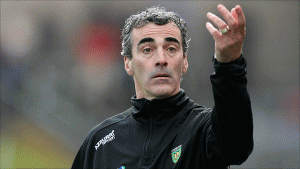 In his weekly column with the Irish Times, McGuinness said he had been told that Monaghan had been playing 15 versus 20 in training to help them breakdown Donegal defensive structures.
Monaghan defeated Donegal in the Ulster SFC final in 2013, but Donegal retained the Anglo Celt in a close game last July.
Another very close contest is expected and there will be very little between the sides when they clash at Clones on Sunday.
McGuinness never revealed his source that Monaghan were implementing such methods at training but says Malachy O'Rourke will have his troops well versed for what they will face at the weekend.
McGuinness said, "I heard during the week that Monaghan were playing 15 versus 20 in training matches and were filming it so they could study it afterwards.
"Malachy O'Rourke knows what is coming down the track in the Ulster final next Sunday and needs to know that his players are practiced in coping with it.
"Being able to think and play your way through extreme pressure – which Monaghan will expect in the Ulster final against Donegal – is something you have to work on."
Tags: