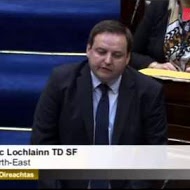 Donegal Sinn Féin TD Pádraig Mac Lochlainn has this evening repeated his call for a Mica Redress Scheme for families, whose homes are affected by defective blocks caused by Muscovite Mica.
He raised the issue in the Dáil chamber with the Government, following the published findings of a Preliminary Engineers Report for Donegal County Council on the impact of Muscovite Mica on some council homes in the county.
He said the government must repeat the scheme for families in Leinster whose homes were affected by Pyrite.
Deputy Mac Lochlainn said: "My colleague Cllr. Albert Doherty has relentlessly pursued the need for Donegal County Council to carry out testing of their housing stock for defective blocks caused by Muscovite Mica. Thanks to his endeavours and supported by other councillors, the council have now published their Preliminary Engineers Report which confirms the presence of Mica in some council homes.
"This report has now clearly led to the announcement by the Government of the establishment of an Independent Panel of Experts to examine the issue.
"My concern is that that a Panel of Experts was also established in relation to the Pyrite crisis. Will this new panel be re-inventing the wheel? How long will this new panel take to report back?"
"There are families in Donegal living in terror that their gable wall or ceiling will collapse on them. There are also families in Donegal who cannot get their home insured. They cannot wait for much longer. They desperately need a Redress Scheme and they need it as soon as possible.
"I therefore repeat the call of my party for the Government to immediately introduce a Mica Redress Bill and then a Mica Redress Scheme to support the affected families in Donegal as they did with the Pyrite Redress Scheme for families in the council administrative areas of Dún Laoighaire/ Rathdown, Fingal, Kildare, Meath, Offaly, South Dublin and Dublin City".
Tags: