BY PADDY WALSH: DONEGAL AND MONAGHAN TO GIVE US A FINAL WORTH REMEMBERING
When the pundits predict that Sunday's Ulster Final is going to be "very tight" as many have done, you can almost hear the groans from the neutrals. Is this another way of telling us it's going to be a bit of a washout as far as entertainment value goes, they'll ask?
Well it's an Ulster Final and not every one comes with a "thrills and spills" tag attached to it. Except for this one.
Somehow or other – it could be the other – I believe we may be in for the proverbial cracker. Yeah, I know, the last meeting between these sides produced a spectacle that attempted to re-invent the word dire and was so miserably bereft of any footballing entertainment that even the sheep on the faraway hills overlooking O'Donnell Park were turning away in despair.
But this one – Anglo Celt trophy at stake and everything – may live up to the billing it's not quite getting.
There's no doubt that the best two teams in the Province are contesting it. And equally no doubt that they both have the calibre of player to make it more than interesting.
In Darren Hughes and Conor McManus, Monaghan have two men who can, and will, cause the Donegal backline no end of trouble throughout while Ryan McAnespie is another who knows where the target is and how to get there.
On Ulster Final Day they won't be found wanting and Malachy O'Rourke's team will be as well prepared as any side Donegal have met to date – and perhaps much better so.
And what of this talk, suggested by Jim McGuinness this week, that they have been playing fifteen against twenty in training sessions in an effort to counter the Donegal system? Not sure if that's the right way to go about things but an interesting scenario nonetheless though it'll hardly catch on as any great method of combatting specific systems in actual match time.
Perhaps, Monaghan need only reflect on the words of Donegal boss, Rory Gallagher, for some measure of hope. "Every day we go out to play, we are beatable," he insisted.
But under his guise there's a great deal of the teak and toughness that marked the McGuinness regime to ensure more victories than defeats and with the best midfield giant in the country on board in the form of Neil Gallagher and the best forward in Michael Murphy, you'd have to be confident of the latter picking up the Anglo-Celt cup at the end.
But not before a match that will help chip away any doom laden "death of Gaelic football" comments. Remember Jarlath Burns and his attack after the Derry/Dublin game back in March– one man who came out strongly against the remarks was Monaghan veteran Dick Clerkin who labelled them ill-advised.
His team can contribute to a memorable Ulster Final which might – I say, just might – even have the R.T.E. studio panel drooling.
THE MILE CHALLENGE
So where you last Friday night when history was being made? Unless you were one of the estimated 300 or so genuine sports lovers who turned up for the Sub 4 Minute Mile Challenge at Letterkenny Athletic Club, you were somewhere else and decided that an international class field wasn't good enough along with the potential for a slice of local glory.
We may not have had the mile challenge breakthrough duplicated from last year – though American athlete, Jon Peterson went, oh so close to breaching it – but we did have a trio of our top female competitors, Kerry O'Flaherty, Michelle Finn and Sara Treacy securing Olympic qualifying times for Rio 2016 in the 3,000 metre Steeplechase – the first time it is believed three athletes in this country ever managed making the standard in the one specific event.
That was one highlight of the night's action – another was the new stadium record set by England's Joe Dunderdale in the men's javelin, his throw of 67.16m completely obliterating the previous best. Strabane's Sean McBride threw 62.23m to finish second in the competition.
The Mile Challenge featured a host of international performers including apart from Petersen (just missing out in a time of 4:00:41) New Zealander, Julian Oakley, and Clemens Bleisten from Germany who finished second and third respectively in times of 4.01.45 and 4.01.65.
We did have local interest in the Mile event – Danny Mooney from the host club hoping to create his own little piece of history by becoming the first Donegalman to breach the mile under the magical four on home track but had to make do with 4:08:89.
And as pacemaker, another local favourite, Ruairi Finnegan, ran superbly in an effort to bring them home.
In the 400 metres, Kate McGowan from the Tirchonaill club finished second behind Dundrum South Dublin A.C. rival, Sinead Denny while another outstanding local performance came from young Kelvin Crossan who finished not far off the international trio of Lebakeng Sesele (South Africa), Tatenda Tsumba (Zimbabwe) and last year's winner of the event, Philip Redrick (U.S.A.) in the 100 metres.
Needless to say with Marty Gormley as M.C. for the two hour track and field event, there were few dull moments. In the 800 metres, Patrick Schoenball was hailed, perhaps for pronunciation reasons, as the 'German runner" once or twice throughout the race though Stephen Maguire of this particular parish insisted he was describing him as the 'Termon runner". But I know all the Schoenballs in Termon and none of them can run.
And, no, Marty informed us that wasn't Shane McGowan of the Pogues in the same race unless he's signed up for City of Derry Spartans A.C.
Each and every one of the visiting athletes – and there quite a few who had returned from last year – were full of praise for the organisation and can this column join in that. Credit to all involved for bringing this to Donegal.
Just hope that many of you who will be boarding buses for Clones this Sunday or participating in the numerous 5ks that are run in every corner of the county might consider jogging along to the Danny McDaid track next year for some highly competitive international athletics action right on your very own doorstep.
TIPPED AT THE LAST
"Name – On – The – Trophy!." I.T.V. football commentator, Clive Tyldesley's famous reaction when Teddy Sherringham grabbed a stoppage time equaliser for Manchester United against Bayern Munich in the 1999 Champions League Final somehow bounced around inside this head in the immediate aftermath of last Saturday week's All-Ireland Under-14 Final in the much more humble surroundings of Ballymahon in County Longford.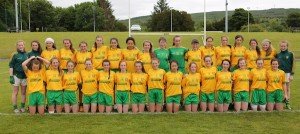 The Tipperary girls had scored two late goals to deny their Donegal counterparts the title and send the tie into a replay. Greg Harkin's team had looked the odds on favourites before that to clinch the coveted 'B' Final trophy having recovered from a blistering start by their opponents to dominate for long spells of the remainder of the game.
But it wasn't to be and off we went to Tuam Stadium on a wet – and as it turned out miserable – Saturday afternoon for the replay. Once again, Tipperary – what are they doing playing football anyway, isn't that hurling territory? – got off to a whirlwind start but this time, despite a courageous clawback by Donegal, there was to be no rainbow in among all the clouds and the stoppage-time goal that the Munster county scored only served to confirm the inevitable. "Name-On-The-Trophy" and no doubt about it.
Though there might have been some shade of doubt had the authorities gone from appointing the previous weekend's less than impressive officials to a referee and umpires who somehow seemed to have been absent from class the day they were explaining the basic rules of the game such as less than four steps is not deemed as over-carrying and the ins and outs of the square ball ruling, Donegal being denied what looked a perfectly good goal in the first half that might have swung the tie in their favour!
To be fair, Tipperary were forced to come through a couple of more games than Donegal to get to the Final and they were the better team on the day but you couldn't have consoled the group of green and gold clad girls lain prone on the soggy pitch at the final whistle with that. Heartbreak hotel and all rooms fully booked up.
But what an adventure along the way. Right through to the Ulster Final win over Antrim – a title that shouldn't be forgotten in the shadow of last weekend's disappointment – at Drumragh Sarsfields ground  in between a glut of challenge and competitive games and training sessions all over the county and beyond.  And an All-Ireland Semi-Final success over Roscommon at St. Aidan's club venue in Bawnboy, County Cavan, to earn the right to contest the ultimate.
Some of us have been at more G.A.A. grounds in the past few months than Moville's Liam Skelly has managed selfies over the same period.
TOUCH OF THE BLUES FOR RODDY
So now another reason for the Copeland Crackpot (aka Roddy Collins) to wish Finn Harps were no longer playing in the League of Ireland. Or indeed that he is done with the very same league as he had suggested just before taking on yet another managerial post.
It's not long ago that the man who has, over the years, single-handedly put Louis Copeland coats in the shop window was proposing that the Donegal side be sent out to pasture. Arguing, as he did, that Derry City and Sligo Rovers (whatever happened them?) should be the standard bearers for the North-West.
His latest stint as a football manager has brought him to Waterford United where Harps travelled last weekend and came away with a solid 3-0 win. Not quite as comfortable as it might seem on paper or, in this case, on screen given that the home Blues dominated for much of the opening half and only give up the ghost when Raymond Foy netted the second.
That goal was sandwiched between two strikes from new signing, Nathan Boyle, who already looks a highly capable replacement for the departed Ruairi Keating.
I saw all three of Harps goals on Monday night's 'Soccer Republic' show and all were well taken with Foy looking like he can emulate fellow midfielder, Mickey Funston, as someone who can find the target – something that has been often all too missing from that particular department in recent years.
Two games, six points, and no goals conceded – Harps hopefully have overcome that series of defeats that knocked them off the summit.
They host Cobh Ramblers in Ballybofey this Friday evening and have a chance of climbing back on top with the U.C.D./Wexford Youths fixture postponed as the students continue to keep one eye on Europe.
Shamrock Rovers are the only other L.O.I. side to progress in the Europa League and now have the added boost of having ex-international Damian Duff in their ranks – the former Chelsea and Newcastle United ace opting this week to sign an eighteen month contract with the Hoops.
Not just a boost for Rovers but for the league in general given that the likes of Liam Miller, Keith Fahey and Colin Healy are already playing on this side of the water. Duff is certainly the most high profile of any of the signings to date. Hopefully we'll see him in full flight in Finn Park next season.
AND THE WINNERS ARE…
Just how long more are the G.A.A. authorities going to persist with the Leinster Football Championship in its current format?
When Westmeath pointed early on how many of us really believed an upset was on? Or when the teams trotted in at half-time with just a four point gap separating them, did we seriously think the Dubs were going to succumb to an outfit that had a taken a couple of thousand years to beat Meath. Meath? Their own under-age sides would dispose of them these days.
Credit where due – Tom Cribbin's team did well to make it through to a Leinster Final but the bus was always going to stop there. And those two quick-fire goals at the outset of the second half put the barriers well and truly up and ensured Dublin were heading for their fifth Leinster title in succession and their 10th in eleven years. Yawn. And more yawn.
They'll be back next year for another stab at it. Kildare, perhaps, this time. Or, maybe Meath will find some of that spark that once upon a time lit up Croke Park and other venues. Or Laois. Or Wicklow. Or Louth (sorry, only jesting). Or here's an idea. A combination of the best players from the Province to try and put it up to the boys in blue.
You won't, of course, get too many Dubs complaining about the set-up at it is. It's merely a stepping stone to much greater things for them but they've now reached a stage where it's as old hat as a second hand clothes shop. For sale: Leinister Football Title. Just one previous owner in past five years.
Let's be fair, however, Dublin can only beat what's put in front of them and generally do so – at least in their own Province – with conviction.
"Dublin win their games by an average of 23 points," Pat Spillane declared in the R.T.E. studio prior to the throw-in at Croker.
You could have knocked Joe Brolly over with a whiff of aftershave. "Wwwwhattttt…?," he responded, as if someone had told him Derry were a free-flowing attacking team.
The Dubs didn't quite hit that average against Westmeath but had it really been put up to them, you felt they could have cantered to it.
And canter they will continue to do with the likes of Diarmuid Connolly, Ciaran Kilkenny and Jack McCaffrey on board and a host of apparently emerging talent coming through.
But what, at the end of it all, is the benefit for Leinster football as a whole? Or for the entire All-Ireland series?
BLOOD SPORT
No, seriously, I still don't get it.  Truth is I wasn't intending to sit up – or even get up – at five in the morning to watch when I could just as easily have ventured along at any point before that to the outer fringes of a Saturday night street in any town in Ireland and watched something similar unfold.
Anyway, I did neither and waited for the highlights package on television the following night though I wouldn't have complained had I been forced to wait two nights. Or two months. Or two years. Or basically forever.
Bloody hell in other words. Come on, now, is this really sport? And if it is, is Conor McGregor the real deal?
For it appeared to this viewer at least that he was getting a bit of a clobbering from his hastily arranged rival. Chad Mendes seemed – and not being too rounded on the rules (are there any?) I could be wrong about this – to be on top in every sense of the word for much of the opening and second round before the Dubliner squirmed out from underneath and back to his feet to finally deliver the flurry of punches that ended his opponent's ambitions on the canvas (I've seen butcher's shops with less blood on the floor).
To give both fighters credit they were mutual in their respect for one another at the end, Mendes even going as far as saying he wished he could have had the backing of an Irish crowd in the way McGregor did.
Much movement on Twitter this week from fans irate at the B.B.C. for seemingly attempting to claim McGregor as "the first UFC champion from the United Kingdom and the Republic of Ireland".
Blood IS thicker than water.
ANOTHER FLEECE FOR JASON
Boxing, Now there is a sport I'll begin to really appreciate. And we have a star in the making in the form of Ballybofey's own Jason Quigley.
Showing a neat pair of gloves since turning professional, he disposed of Tom Howard in the second round in Los Angeles at the weekend to extend his winning sequence to seven on the undercard to the super-lightweight bout pairing of Henry Lundy and Mauricio Herrera.
Quigley was just too powerful for his opponent and once again claimed a victory inside the distance.
Undoubtedly a world champion somewhere down the line and not too far down the line at that.
GONE TO POTTERIES
And still on the subject of glove wearers, great to see Shay Given extend his career in the Premiership by at least another two years following his decision to sign for Stoke City, a team that Mark Hughes could lead into Europe next season.
It will surely mean a lot more regular football than he got at Villa Park and keep his hands in for that international jersey.
A BANKER
No Rory McIlroy at this year's British Open (I'm sorry, I can never get around the arrogance of simply billing it as The Open) but we will have a late replacement, this column is reliably informed.
None other than one Brian Cowen –  though you'd have to hope he'd view it as more than just a "social occasion".
Still good to see him already looking ahead to the 19th "if only for the optics" as he likes to putt it.
Tags: