DDTV – UFC FIGHT NIGHT: Donegal MMA star Joseph Duffy believes he could be in for a very tough fight against Ivan Jorge on Saturday night but is confident he can get the job done.
Duffy was giving his first interview as part of the preview for the UFC Fight Night in Glasgow which will be screened live on BT Sports.
Duffy made a sensational UFC debut in March – destroying Jake Lindsey with a first-round TKO.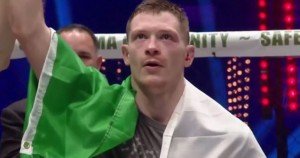 A relaxed Duffy says he's looking forward to Saturday's fight and says it will be another brilliant experience of front of a packed house.
Duffy is expecting a large crowd of supporters from Wales and Donegal to be in Glasgow for the fight and says that only adds to the excitement for him.
Duffy says he expects the fight to be tough but feels he has the skill set to trouble Ivan Jorge, and believes if he's given the opportunity can stop him inside the distance.
To watch the full interview – simply click play on the video link above.
Tags: