COUNTDOWN TO CLONES: Donegal GAA supporters can breathe a huge sigh of relief after it was revealed that Patrick McBrearty has been passed fit to play in Sunday's Ulster SFC final.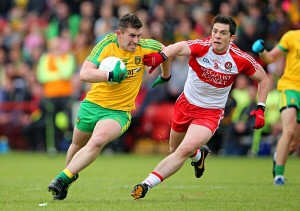 McBrearty initially strained his hamstring in the second-half against Armagh in the Ulster SFC quarter-final.
However, he started against Derry and fired over a couple of lovely early scores before suffering what appeared to be an injury to his knee.
It looked likely that McBrearty was going to be withdrawn but he seemed to shake it off and continued to play on.
He wasn't replaced until late on by Hugh McFadden in the Ulster SFC semi-final win over Derry.
However, doubts emerged after the game that he may miss the Ulster SFC final entirely which would have been a huge blow for Donegal.
McBrearty hs enjoyed a superb season to date and is flourishing as being the main vocal point of Donegal's attack.
McBrearty has been monitored closely by Donegal's medical staff and the Kilcar man has thankfully been passed fit to play in Sunay's crunch clash with Monaghan in Clones.
Donegal have also been boosted by the news that both Daniel McLaughlin and Darrach O'Connor are back in full training after troublesome injury problems.
Tags: