In recent days local Gardai have been receiving an increasing number of reports of a number of burglaries to homes in the County where access has been gained via rear windows and doors.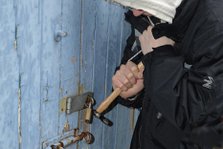 With the long summer evenings now upon us, local Garda Sgt Paul Wallace has issued this advice to people to ensure they are safer in their homes.
Key Points:
In Good weather we are inclined to be more trusting leaving doors and windows open to promote air flow through the house.
Criminals have been targeting the rear of houses and gaining access via open or un secure windows and doors. Keep Vigilant if you are out in the Garden.
Make sure Garden tools i.e. spades, hoes etc are not left lying around when you finish your work these can aid the criminal gain access to your house by forcing a window for example.
Keep in mind that restricted views by walls overgrown shrubbery can assist the burglar – not deter them – Burglars less likely to be seen.
Public are encourage to make reports as it gives Gardai best idea of emerging patterns in different areas.
Remember the rear of your home is the most vulnerable approximately 52% of homes are burgled from rear windows or doors – Remember burglars like seclusion.
Text Alert:
Text Alert is designed to facilitate immediate and cost effective communication from An Garda Siochana to the public working in conjunction with Community Crime Prevention initiatives i.e. Community Alert & Neighbourhood Watch .
People in the Community are particularly asked to become more vigilant for the movement of cars & vans in particular which would be categorised as 'strange'/ not from the area. Registration numbers, colour and if possible make should be forwarded to local
District Headquarters stations (see below) which are open on a 24/7 basis should be contacted so that this information can be considered for further dissemination amongst the community via the Community Text Alert Scheme which are in operation in conjunction with Community Alert in various areas throughout the County.
Your Local District Headquarters 24/7 Service Garda Stations are:
Letterkenny 91-67100 / Buncrana 93-20540 / Milford 91-53060 & Ballyshannon on 071-98-51102 Remember 999/112 in cases of emergency
Intruder Alarm Systems:
Intruder alarm systems should only be purchased from reputable dealers & those operating from an established business address that can be verified. Reputable dealers are registered and will offer a back up service to customers, which is very important in a county like Donegal because of the nature & severity of winter weather.
Crime Prevention Officer Sergeant Paul Wallace based at Letterkenny said, " The good weather and warm evenings get us out of the house more socialising or gardening. This message is just a reminder for people to keep the security of their homes in mind. If you are going on holiday let a neighbour or local gardai know. If you have an intruder alarm – use it!
It is important for home & business owners to ensure that they deal only with reputable installers in this important area. Purchasers should also ensure that the product they are purchasing meets the standards of the regulatory body N.S.A.I (National Standards Authority of Ireland). Installers have now to be on a register maintained by the P.S.A (Private Security Authority) info @ HYPERLINK "http://www.psa.ie" www.psa.ie . It is actually an offence to use an unregistered contractor. – This is your protection'.
Customers should shop around, educate themselves in relation to current market prices & in particular specifications of the equipment offered, the cost of monitoring the alarm.
N.B: The Gardai do not monitor alarm systems but provide a response if the system meets the requirements of the Garda Siochana Intruder Alarm Policy.
Not all Alarm Installations are to this standard.
It is one of these situations where the advice is "Buyer Beware & pay attention to the small print"
By investing in Security Equipment and remember quality & efficiency comes at a price you may beat the criminal.