A community united in grief yesterday to say a final farewell to schoolgirl Tory Johnston who was taken from them in the most tragic of circumstances.
Gardai, doctors and her own family still do not know how 17 year old Tory died.
The happy-go-lucky teenager collapsed after apparently suffering a seizure at Voodoo nightclub in Letterkenny in the early hours of Wednesday morning last.
She died at Letterkenny General Hospital just after 6.30am despite valiant attempts by doctors to keep her alive.
St Eunans Cathedral was thronged with hundreds of schoolchildren all searching for the answer to the same question – why?
Tory, who had just been made a prefect at Loreto Secondary School, had everything to live for.
She had no medical history and was in great spirits on the night she left her home in Grieve, Glebe for the last time on Tuesday last.
Tears tripped down the cheeks of her school-friends who lined the route to the steps of St Eunans Cathedral in their familiar brown uniforms.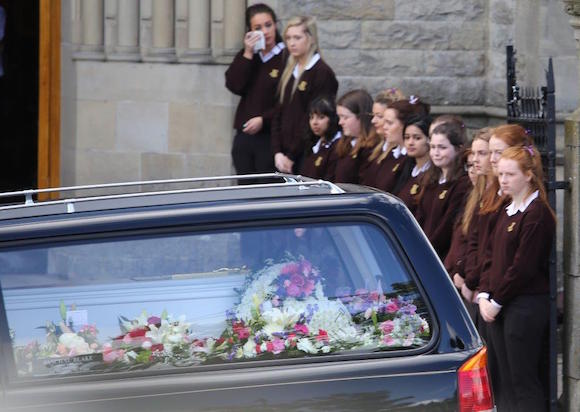 Tory's heartbroken family including mum Helen and only sister Amy wore purple ribbons in her memory while her dad Sammy proudly wore a purple tie.
Fr Eamonn Kelly said Tory's death had left the community shocked and stunned.
He said her life had been captured in series of photographs – one more captivating than the next.
"Life's bitterness struck on a night of enjoyment, on a night out with friends. The harshness of life was struck into our people as sadly Tory's young life was cut so short.
"The photographs on the wall of Tory's room are almost in competition for attention, each one capturing a moment of joy, an expression of life, a smile, a laugh, a time of fun with family and friends.
"With fashion and outfits, trends and styles, Tory was full of life and splendour and goodness, full of the vigour of youth, the holding of beauty, packed to overflowing with kindness, goodness, warmth and loveliness. But you already know that," he said.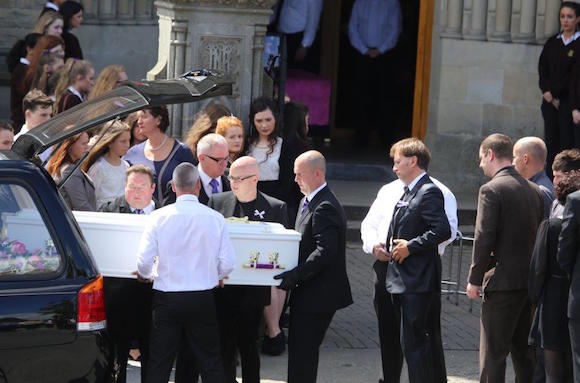 He added that he, like everyone else present, did not have the answer to the question that everyone was asking – why?
"You, her beloved family and deeply held friends, you her relations and her schoolmates, you know what she was and how she was, how she captured life in a lovely personality. But what you do not know is why did she have to die so young, why did she have to be taken from us in the prime of life? And I do not have the answer either. All I know that somewhere in the terrible pain of Tory's death the crucified Christ is with us, that in the brokenness of this hour the broken body of Christ is revealed and that in the shattered empty feeling in our gut the dying Christ is present here and now."
He added that Tory had grown so much in recent years and was now looking forward to doing her Leaving Cert and deciding on a career.
Be that a career in fashion or as a dentist, Tory, like so many others, had not made up her mind just yet.
"Tory was entering her final year in Loreto Secondary School. Not that long ago a letter arrived in the post, addressed to her. She was to be a prefect this year. What joy she experience on opening that letter. What an amazing amount of thrill she got in sharing that joy with her parents and with Amy and with her friends. That letter was just reward for the hard work that Tory had put into her education."
Tory loved life, loved family, loved friends, loved living, the teary-eyed congregation heard.
Fr Kelly than pleaded with them "Enrich her memory by living your life to the full potential, by telling those around how much you appreciate them and care for them."
For many t was simply too much.
A young friend, who had written a special tribute to Tory, simply broke down half-way through and could not continue.
Among the gifts brought to the altar was a recent picture of stunning Tory as well as a little teddy bear.
And just as they had done as she entered her funeral mass, Tory's heartbroken friends led her from St Eunan's Cathedral.
They guided the hearse down through Letterkenny's Market Square as she had walked so many times on her lunch break-from Loreto Secondary School – this time to her final resting place at Conwal Graveyard with her friends all still asking the same question – why?
Tags: