Sure go on have a wee bit of cake, it'll do you no harm!
A nice fresh scone with jam & cream , a traybake , cupcake , muffin or wadge of red velvet, warmed brownies, melting ice cream & even more chocolate sauce, homemade apple crumble & lashings of custard – the list is endless.
The tradition of eating dessert, something sweet, a sugar boost or just any excuse at all to have cake has been around since records began.
by chef Martin Anderson
Wild berries, fruits & honey were the first hint of sweetness in our lives and with the discovery of sugar desserts made a grand entrance.
Our French cousins really excelled at the art of pastry with the finest pastry & dessert chefs in the world originating from France, real butter, real chocolate and litres of fresh cream !!
Personally I'm an apple pie & ice cream kinda guy – fresh cream or custard doesn't do anything for me.
My aunt Eileen makes the best apple pie you've ever tasted, real apples, cinnamon and a crusty crunchy pastry. Warmed through in an oven none of this microwave carry on to make the pastry soggy.
Now there's a tip for you. Serve apple crumble fresh from the dish when you make it but apple pie is best served a day later. This allows the pastry to cool and retain the flavours of the apples. Remember though to make sure it is well cooked…. as Mary Berry says – no one likes a soggy bottom.
Not all desserts have to be rich & exotic though. Something as simple as fresh fruit folded with whipped cream and crushed meringue can make a wonderful after dinner treat and is cheap and easy to make .
There are so many desserts on display in stores, the good, the bad & sometimes the ugly, it's hard to beat making your own sometimes .
Take a visit to a real bakery if you live near one. Try a fresh donut, cream slice, ask do the make pavlova, even a lemon meringue pie, so tasty.
There are also muffin mixes available if you wish to go the sneaky route. I have tried these but actually poured the mix into a Swiss roll tin and made one large muffin , great for cutting into tray bakes , have a go and see how you get on , there will be tubs of icing somewhere on the shelves too, great for topping them off.
Here is a simple wee dessert for you to try , use fresh strawberry as the are in season now and will be bursting with flavour , make sure you follow the instructions of you will end up eating this with a straw !!
Next week ………The Art of Parties !!
Red berry terrine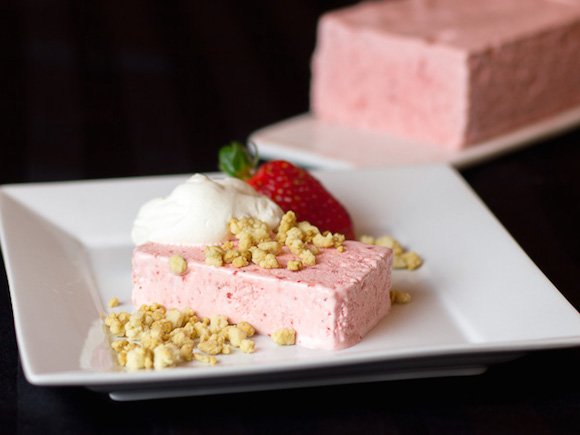 This is a simple and easy dessert.
You will need.
1 packet of Red jelly , strawberry for this recipe
500mls of low fat yogurt.
200gs of strawberries
You will also need a loaf tin lined with cling film, make sure you don't have any wrinkles in the cling film.
Method.
Make the jelly using ¼ of the boiling water required; allow to cool until just warm.
Chop your strawberries or crush them with a fork.
Mix the berries with the yogurt and then add the jelly mix, stir gently.
Pour into your lined tin
Allow to set for 12 hours in the fridge .
Turn out and decorate with whipped cream and fresh berries, slice as required.
This is so simple and will keep for up to 3 days in the fridge, but it will be gone before it goes out of date.
Tags: