Last week we chatted about why you should get out and about and visit gardens, apart from the great gardens in the Donegal Garden Trail, there are countless great gardens to visit to get inspiration for your own plot.
Last weekend I had a great time visiting the fabulous Ballywalter Park, located in the Ards Peninsula in County Down, which has a fabulous Georgian designed landscape and wonderful productive walled garden.
The Ballywalter estate covers nearly 1000 acres and apart from this fabulous garden they also have one of the largest dairy herds in Northern Ireland, so the visit was interesting on so many levels!
I also visited the National Trust Mount Stewart Estate, which has just been added to with the purchase of the remaining estate, bringing the total estate up to 1000 acres.
The new purchase brings many fabulous features within the National Trust management remit, including a sprawling farm complex, apple houses, piggery, garden follys, old shoot buildings and even charcoal pits.
There are some ambitious plans involving re-instating tree belts, tree coppices, walking trails, education centre and much more. So in addition to the amazing gardens, wonderfully maintained by Neil Porteus, there is now more walled gardens and the afore mentioned estate to explore over the coming years as different areas come on-line….watch this space!
Here in Donegal we are blessed with so many great gardens to explore, one such garden is Ros Ban in Raphoe. Before I explained this as a 'game changer' for me, Ros Ban is a fabulous garden, spread out over 1.5 acres.
The garden is open from dusk to dawn, 7 days a week (contact details on www.donegalgardentrail.com) and is a joyful garden to visit.
The owners, Bob & Ann Kavanagh, are fabulous knowledgeable guides – Ann with her medicinal plant knowledge and Bob with his agricultural scientist background bring the whole garden to life with stories, tales and background information.
Ros Ban is located a mile or so from the centre of Raphoe, however when you're in the garden there are so many trees that you'd think you were miles from anywhere!
The garden starts off with various medicinal plants in containers, and then leads onto an archway with stained glass on the curve, this leads you to a woodland area which houses shade-loving plants.
Carrying on the lawn-path it takes you down through the garden to a hidden stream, on the way there are info boards on native irish grasses, irish moths, ladybirds and much more. As the path winds down to the stream Ann points out various medicinal plants and weeds, highlighting their use and best times to harvest.
As you carry on past the stream you go through a copper beech circle, past a display of Donegal rock forms, past many displays of old irish words and symbolism, and this leads you to an enclosed vegetable & herb garden at the back of the house, with extensive stream-side planting including some stately Gunnera plants.
Ros Ban is a garden full of self-seeding and easily propagating plants, many of these Ann pots up and at the rear of the house there is a 'free plant zone', where visitors are invited to take a memory home with them (this is where I picked up a micro Gunnera, Honesty and Mouse Plant for my own garden).
If this isn't enough for you Ann & Bob are regular garden visitors themselves and will talk wonderfully about gardens they visit, things they find interesting and with Ann being an active member of the Irish Garden Plant Society she is super knowledgeable about old Irish cultivars.
Again all details on www.donegalgardentrail.com – Ann & Bob can be contacted on 0749145336 if you fancy visiting this inspirational space.
In my own garden things are bursting at the seams! Loads of tasty stuff coming out of the polytunnel, and some planting going in for the Autumn/Winter.
Roses are looking amazing (they're looking great this year), Perennials such as Lillies are in full flower and the grass is looking great. If you've been following our weekly adventures here your garden should be looking as good!
Remember I can be booked for garden consultations if you want a full advisory report for your garden – drop me an email gareth@garethaustin.com or 0877803991 to get booked in over the coming months.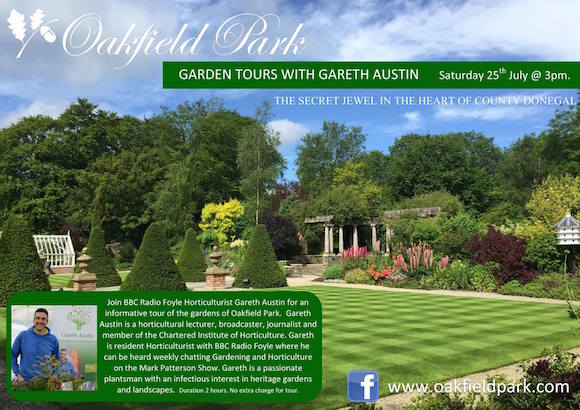 This Saturday I'll be hosting another guided tour of the fabulous gardens of Oakfield Park in Raphoe. We'll be kicking off from 3pm at the train station, this is a fabulous 2 hours experience taking in the upper gardens of the Oakfield Demense.
Next Week….We'll be chatting more great Donegal gardens.
Gareth Austin is resident Horticulturist with BBC Radio Foyle, a member of the Chartered Institute of Horticulturists and Horticultural Lecturer with the National Learning Network. For more see www.garethaustin.com or join Gareth on Twitter @GardenerGareth .
Tags: