The decision to schedule Donegal's All-Ireland qualifier clash with Galway at Croke Park on Saturday night looks set to backfire on the GAA with clubs reporting a very poor demand for tickets.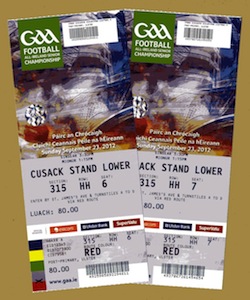 Donegal fans expressed their angry at the decision by the GAA to drag supporters to HQ this Saturday evening when they felt a ground between Donegal and Galway would have been more sufficient.
The game is a double-header and with neighbouring counties Sligo and Tyrone also in action at Croke Park on the same day – some have found the decision baffling.
Rory Gallagher sympathised with Donegal fans last week when the details of the fixture where announced.
However, while he said he felt sorry for Donegal fans having to make the long trip to Dublin, Gallagher was delighted that his side were getting the opportunity to play at Croke Park.
It seems more logical to most to have possibly played the game at a neutral venue in either Ulster or Connacht, but GAA powerbrokers decided to host the double-header at Croke Park.
It now seems Donegal may struggle to sell their ticket allocation for the game with clubs all across the county signalling that there has been a significant drop in demand for tickets.
Another possible factor for the drop is the fact that if Donegal do win on Saturday against Galway they will be back in Croke Park for the All-Ireland quarter-final against Mayo the following Sunday.
What's your view on the game being played at Croke Park?
Are you happy to be heading back to HQ? Or would you prefer the game to have been played closer to home?
Tags: