CATHAL MacSUIBHNE'S GAA diary: Despite plenty of faith and optimism amongst Donegal supporters prior to Saturday's match, in the end it was a somewhat meek surrender by their team on the field.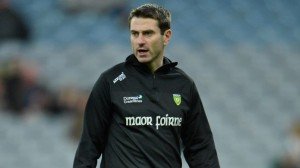 Rory Gallagher's charges weren't playing all that well in the opening half but they were still actively in the contest and after previous strong second half showings they would have been satisfied with that.
Aidan O'Shea's goal just before the half time whistle was the killer blow; the difference between a one point deficit and a four point one as regards the manager's team talk is massive.
O'Shea would have been talked about quite a bit at training sessions during the week so for Donegal to concede a goal via something they would have worked specifically on stopping is disappointing.
Neil McGee had a good battle with the towering Breaffy man and won his fair share of ball. For the goal itself though he needed help and his sweeper riding shotgun with him, Mark McHugh, was pushed off the ball far too easily.
To tackle a bigger man, it makes more sense to go low rather than high so trying to push him back at chest or shoulder height isn't going to work.
The sweeper system employed by the two teams offered an interesting contrast – McHugh is a small player but one who reads the game wonderfully and hoovers up a huge amount of ball. Mayo on the other hand had the giant figure of Barry Moran standing sentry in front of Michael Murphy meaning that even when the Donegal captain did claim ball that came his way he would be met with the imposing figure of Moran – fighting fire with fire.
Goals generally decide the big Croke Park games these days; such is the claustrophobic nature of matches over the past few years, green flags are attached with even more importance.
Criminally another one followed soon after the change of ends, with Lee Keegan's effort settling in Paul Durcan's net as opposed to going over the bar. Just like we saw with Fionn Fitzgerald's equaliser in the Munster Final – when the corner back was aiming to hit a long ball into Kieran Donaghy but it instead split the posts – these are the breaks that big teams get in the course of a championship campaign.
Keegan had a fine match and even though his defensive tendencies are questionable and he can be vulnerable, when he's in the mood and allowed to attack he's lethal.
That goal ended any semblance of thought about a Donegal comeback and the game petered out with mistakes aplenty on both sides. A more clinical outfit may have clocked up a bigger tally but while Mayo failed to post a big number when the chance was there, they certainly illustrated their intent to score goals. Earlier in the first half they took a quick free when there was just a sniff of a chance of getting a shot at Durcan and it was this type of quick thinking, even devilment that was lacking from Donegal's display.
One of the key tactical calls Rory made before the game was the decision to concede the kick outs to Mayo. There was certainly merit in the idea, as Mayo's bulk and physical advantage around the middle make them favourites to win their own restarts. If Donegal had pushed up and still lost possession they would be leaving themselves open at the back. With Mayo looking to play high ball into O'Shea though, the tactic allowed them to work the ball past midfield following an uncontested kick out and then start the aerial bombardment. Two teams that have successfully overcome Mayo's dominance in this midfield area are Kerry last year, through matching their physicality and Dublin in the 2013 final, who used pacey midfielders to run their less mobile opponents out of position.
Martin McElhinney made a big difference when he entered the fray, winning the first four restarts that came his way. Three of these were balls that he broke but typical of Donegal on the day none of his team mates were there to collect. It is fairly basic stuff that half forwards and half backs need to be under their midfielders to win breaking ball; the midfielder has done his job when he gets something on the kick out or if he ensures his opponent doesn't.
There were plenty of other schoolboy errors that plagued the Donegal performance – seeing such an accomplished footballer as Karl Lacey playing a hand pass across his own penalty area in the second half defied belief.
Lacey and the rest tried their hardest in the closing stages and there was no sense of the utter collapse that we witnessed against the same opposition two years ago. Hugh McFadden worked tirelessly throughout and despite his lack of confidence on the ball and reluctance to go forward when in possession he will have learned from this year and his game will improve.
As usual it was Murphy who led from the front with an exceptional performance culminating in a total of eight points. It is the great conundrum for his managers – forward or midfield? Michael produced a fantastic display yet if he were at midfield could he have brought that presence that could have tipped the scales and made for a different strategy on kick outs? It is a tricky one but at the same time it's a great problem for a manager to have, having to pick where to play the game's best player.
Allied to the differences in opposing sweepers, another contrast between the sides that doesn't reflect well on the Donegal players and management, is the quality of ball played into their respective dangermen. Throughout the match, Mayo played excellent ball into O'Shea; ball that often gives him the advantage over his marker – a few yards in front of him, good height and supplied from an angle. At the other end of the field, Murphy deals with good ball, bad ball, high ball, low ball and every kind of Hail Mary ball in between. It often is 50-50 at best at makes Michael's job extremely difficult and of course this gives great encouragement to opposing teams. While Michael isn't far off being Superman, he still needs more care and precision to be taken by those delivering the ball to him.
Murphy was needed to carry the scoring burden with Patrick McBrearty and Colm McFadden both misfiring. The huge promise shown by McBrearty all year had us all thinking that he was about to make the step up from good to great but when it came to Croke Park he just wasn't able to do the business. Granted he has been troubled by numerous niggles since the Armagh game and like many Donegal players it has hampered both his preparation and his performance.
Others like the McGees, McElhinney, Lacey and Murphy suffered injuries in the past few weeks and it is another example of a wee bit of luck that has eluded Donegal this season.
So where does this leave the team for 2016 and beyond? The easy synopsis is that Donegal were a tired team after travelling such an arduous route to get to the quarter finals whereas others like Mayo and Dublin have had it much easier. Monaghan suffering defeat as well at the weekend against a Tyrone team who have had a straight forward run through the qualifiers adds credence to that claim – is it that simple though? Mayo impressed in many aspects of their game but still didn't seem a vastly superior outfit; basic errors from Donegal and killer goals were the difference. Is that directly correlated to tiredness versus freshness? If the answer is yes then an incursion through the back door seems to be more beneficial for any Ulster county – the fact that both finalists bowed out of the championship within hours of each other doesn't say much for the provincial competition but such is the folly of the system.
There will no doubt now be talk of retirements and of eras ending. These conversations follow any championship exit but the future is bright for Donegal football. Even if some of the elder statesmen on the panel decide to call it a day there will remain an outstanding bunch of young, talented players like Odhran MacNiallais, Ryan McHugh, Darach O'Connor, Martin O'Reilly and of course Murphy. Others such as Eamon Doherty, Eoin McHugh and Ciaran Thompson will don the Donegal jersey with distinction in the years ahead.
As has oft been the case in recent times, there is a lot to be learnt from our neighbours in Tyrone, their play-acting antics apart. After their opening day league defeat to Monaghan there was talk of a crisis and the same chat started again after their capitulation in Ballybofey in March. On each occasion they went back to basics and worked their way back to form and now find themselves facing a clash they will relish – Kerry at Croke Park. In the games following the defeat to the Farney men, against Mayo and Dublin, they made themselves hard to beat and ground out league points. In the qualifiers they were efficient without ever really moving through the gears.
Since 2011, when this Donegal team began to realise its potential, they were hard to beat. Donegal were horrible to play against. They were feared. Everyone knew what they were going to do but few knew how to counteract it. They have moved away somewhat from what made them successful. That stubbornness, that thou shalt not pass mentality needs to be rediscovered. Be hard to beat and then the attacking play, slickness and confidence will follow. Time to go back to basics.
Tags: