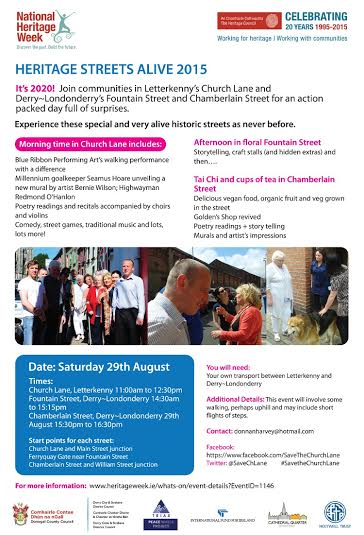 LETTERKENNY and Derry are coming together this Saturday to mark Heritage Week in a unique cross-border event.
The Heritage Streets Alive 2015 project is set to host a special day of culture from 11.00 – 4.30 pm in Letterkenny's Church Lane and Derry's Fountain Street and Chamberlain Street.
The day of culture and events is open to all communities and is the perfect opportunity to experience three special and historic streets in Donegal and Derry.
The Heritage Streets Alive day of culture will be broken into three parts starting at Letterkenny's Church Lane from 11.00am – 12.30pm, Fountain Street, Derry from 2.30 – 3.15pm and Chamberlain Street, Derry 3.30 – 4.30pm.
The day will include a world premiere of Blue Ribbon Performing Art's walking play written by Evelyn Cullen – specially created for the day. Millennium goalkeeper Seamus Hoare will unveil a new mural by artist Bernie Wilson.
There will also be performances from Breakout Youth Group and singer/songwriter Maria McCormack, poetry readings and recitals, comedy sketches, traditional music, storytelling, home industries and crafts, dancers, visits along the streets and sampling of difference produces and art collections.
The Heritage Streets Alive 2015 project was launched in June and is lead by Built Environment Educator and Creative Visionary, Mary Kerrigan. The idea behind the project was to invite local people from the three historic streets in Donegal and Derry to inquire into the strengths of their streets and later co-creating a better future for them. Since meeting workshop participants in Letterkenny and Derry have shared great stories of the things that make them special and unique – past and present.
Commenting on the day of culture and events throughout Donegal and Derry, Mary Kerrigan said, "The workshops were a great success and when we met the people who lived, worked or owned properties in Letterkenny's Church Lane and Derry~Londonderry's Fountain Street and Chamberlain Street, we discovered common key underlying contributory factors.
"These included things like great people, close networks of family, friends and neighbours and strong mutually supportive community ties. Other special things included still largely intact terraces of solid Victorian and Edwardian houses – some brick, some stone – and other buildings full of character and architectural richness.
"With all that specialness in their back pockets the mixed groups have leapt into a better future in 2020. Part of Heritage Week, the sequence of events presents each street's 2020 vision in fun and creative ways – the very best of what these historic streets have to offer. We're looking forward to a great day and we hope as many people as possible come along to experience it."
Adding to this Cathedral Quarter secretary, Donnan Harvey, said, "The interest from the public has been brilliant with lots of organisations and individuals getting involved and giving their time in a voluntary capacity. None of the visions would be possible without them.
"Everyone involved appreciates the contributions from the public and the day of culture on 29th August will see an overall vision for each of the three streets. We hope to see a great turnout and we'd like to invite as many people as possible to come along and be part of the transformation."
The Heritage Streets Alive event on Saturday, 29th August will involve some walking and may include uphill and short flights of steps. Anyone coming to the event will also have to arrange their own travel arrangements between the three streets. For further information on the event visit www.heritageweek.ie/whats-on or contact Cathedral Quarter secretary Donnan Harvey on 086 345 2457 or donnanharvey@hotmail.com. Follow the Cathedral Quarter committee and their campaign on Facebook or on Twitter @SaveChLane.
This project is funded and supported by: The Heritage Council, Derry City and Strabane District Council, Donegal County Council, Cathedral Quarter community group, Letterkenny, Peace Walls Project, International Fund for Ireland and Holywell Trust.
Tags: