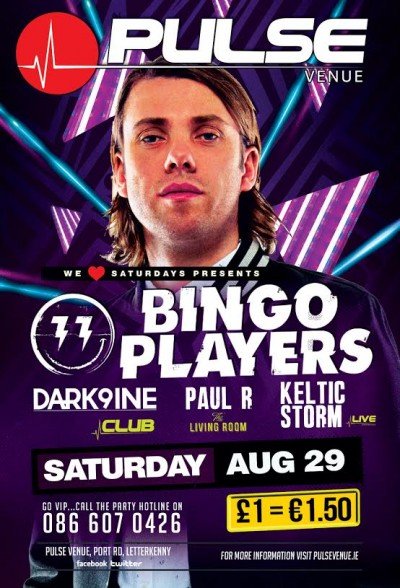 INTERNATIONAL DJ Bingo Players (Maarten Hoogstraten) is a Dutch dance and electro house DJ and record producer and he is bringing his authentic sound to THE PULSE VENUE this weekend.
Bingo Players – are best known for their hit songs "Cry (Just a Little)" and "Rattle".
Cry (Just a Little) was a Top 40 hit in the Netherlands, Belgium, United Kingdom, and other parts of Europe and Australia, in addition to an international club hit.
Bingo Players were ranked number 52 in DJ Mag's Top 100 DJs list for 2013.
The Bingo Players was founded by Dutch DJs, Maarten Hoogstraten and Paul Bäumer, in 2006.
Stylistically, The Bingo Players utilized a choppy form of tech house until 2011, where they would shift into the modern-day EDM scene seen presently.
They went on to record their own remixes of several songs over the years.
In addition to DJing and producing, Bingo Players own and operate Hysteria Records.[2] The label releases many of The Bingo Players' singles in addition to tracks from up-and-coming electro house producers, including Bassjackers, MAKJ, Sandro Silva, Ralvero and Gregori Klosman.
In May 2011, the Bingo Players released "Cry (Just a Little)", which borrows lyrics from Brenda Russell's "Piano In The Dark". In the same year, the Bingo Players had a hit with their original record "Rattle".[3] The song charted in the Top 40 in the Netherlands, France, Sweden and Denmark.
In 2013 a revamped version of Rattle titled "Get Up (Rattle)"[4] was released and became a number one single in the United Kingdom in addition to being a Top 10 hit inGermany, Austria, France, Australia and other parts of Europe. The single has been certified gold in Canada, silver in the UK, and four times platinum in Australia.
Bingo Players Will Play Main Club This Saturday Night 29th august  At Pulse Venue.

https://www.youtube.com/watch?v=8rItjtkz4-Yd
Tags: