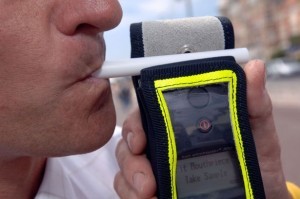 DOZENS of prosecutions for drink driving in Donegal are set to be thrown out of court because print-outs of alcohol readings were not given out in Irish AND English.
A High Court judge had ruled defendants should have been given the breath test print outs in both languages.
It means high profile cases like the one against Senator Brian O Domhnaill are likely to be dismissed.
The issue arose earlier during a prosecution of Romanian man Mihai Avadenei, 29, from Lioscianan, Swords for a drink-driving offence last July.
His lawyers argued that he should have been given a read-out of his breath test from the intoxilyser machine in both Irish and English. He had failed the breath test.
They argued that the print-out submitted to the court was not a duly completed statement within the meaning of the 2010 Road Traffic Act as it was only in English.
It was submitted that the rules required it to be in both English and Irish and that the document was therefore not a duly completed statement and not admissible in evidence.
In a submission to the High Court, Judge Conal Gibbons said he sided with the accused on the case, but asked for a ruling from the higher court.
In his judgment today Mr Justice Seamus Noonan said a breath alcohol test statement is not a valid piece of evidence if it is in English only.
Judge Noonan said that in April last year, a first breath test had been performed on Mr Avadenei after he had been stopped by Garda Francis McMahon for driving at 80km/h in a 50km/h zone.
The judge said that Garda McMahon had got a strong smell of alcohol from Mr Avadenei's breath and had performed an Alcotest which result had been "fail."
Garda McMahon arrested Mr Avadenei and brought him to Store Street Garda Station where a further test, Evidenzer Irl, performed by another garda, revealed a concentration of 54mcg of alcohol per 100ml of breath.
Judge Noonan said there was no ambiguity in the Act that when performing the Evidenzer test, the garda must supply statements in Irish and in English.
"Once the breath specimen has been given which indicates a possible contravention, the person providing the specimen shall be supplied immediately by a member of the Garda Síochána with two identical statements in the prescribed form," the judge said.
"In my view, what arises in this case, being a failure to reproduce an entire half of the prescribed form, could not be regarded as 'mere deviation' from the form prescribed.
"It is not evidence at all and cannot be admitted," Judge Noonan said.
A spokesperson for  the Department of Justice said tonight the terms of the judgment were now being considered by An Garda Síochána in consultation with all relevant agencies.
Dozens of Donegal cases have been hold pending the High Court ruling, the latest involving a Lithuanian national.
Tags: