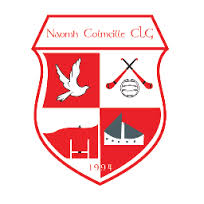 GAA NEWS: NAOMH COLMCILLE
It was a fantastic weekend on the pitch for Naomh Colmcille,
highlighted by the seniors' victory in the Intermediate Championship
quarter final and the U11s winning a 24-team tournament at Strabane.
There were also league wins for the reserves and U13s.
Naomh Colmcille advanced to the semi-final of the Intermediate
Championship by virtue of a 10 point win over Carndonagh under lights
at Convoy on Friday evening.
A minutes silence in memory of Patrick Dowds of Burt, tragically
killed during the week, preceded the match.
Carndonagh opened the scoring with a point and Ryan McErlean was
forced to leave the pitch injured in the opening minutes. Joe Donaghy
got the leveling score and this was followed soon after by a stunning
long range free from Michael Lynch, who had just come on in place of
McErlean. Carndonagh replied with a point before Joe Donaghy restored
Naomh Colmcille's lead with a pointed free from the left after Willie
Gillespie had been fouled. Carndonagh made it 3 points each in the
13th minute, before Don Hegarty got in for a Naomh Colmcille's first
goal to put them back in the lead. Joe Donaghy replied with a pointed
free after a similar score for Carndonagh had reduced the deficit, and
a point from Daniel Clarke stretched Newtown's lead to 4. Joe Donaghy
then raised the second green flag for Naomh Colmcille in the 20th
minute of the half. Carndonagh scored another pointed free before
things got even better for the Reds when Joe Donaghy got his second
and Newtown's third goal, taking the scoring pass from Willie
Gillespie. Another pointed free in first half additional time for
Carndonagh left the interval score Naomh Colmcille 3-5 0-6 Carndonagh.
Carndonagh got off to a great start to the second half, raising the
green and white flags in the opening 6 minutes of the half. Joe
Donaghy scored another pointed free following a foul on John Fullerton
, before Carndonagh added another two scores, one from a free. Willie
Gillespie had a goal effort well saved by the Carndonagh keeper.
Michael Lynch added another stunning long range effort from the
resultant 45 in the 21st minute. Mark Dowds hooked over a close range
point and a foul on Michael Lynch gave Joe Donaghy the opportunity to
add another pointed free. Willie Gillespie took a pass from Daniel
Clarke to register Naomh Colmcille's 4th goal as the match entered
it's final minutes. Black and red cards were shown to Carndonagh
players before Joe Donaghy scored the final point of the match in
second half stoppage time. Full time score Naomh Colmcille 4-10 1-9
Carndonagh.
Naomh Colmcille: Tony Blake, Alex Devenney, John Fullerton, Ricky
Hegarty, Gerard Curran, Michael Friel, Paul Friel, Ryan McErlean,
Ciaran Devine, Don Hegarty (1-0), Daniel Clarke (0-1), Eddie
Gillespie, Willie Gillespie (1-0), Joe Donaghy (2-6, 0-4 (f)), Mark
Dowds (0-1). Subs used: Michael Lynch (0-2, 0-1 (f), 0-1 (45)), Oran
Hilley, Stephen Gallagher, Jordan McDaid.
The U11s won the Gerard O'Doherty cup in the Strabane Sigersons
tournament on Saturday.
Having beaten Omagh in the semi final Naomh Colmcille proceeded to
beat Carrickmore in the final. They held great composure throughout
and played all the games in great GAA spirit on the eve of the All
Ireland. Well done to all the young men.
The reserves defeated Letterkenny Gaels in Newtown on Saturday
evening. Full time score Naomh Colmcille 5-12 1-7 Letterkenny Gaels.
The U13s got their first league win with a well deserved victory at
Muff on Sunday. Well done to all the boys.
The Junior Strictly Come Dancing fundraiser will take place on
Saturday 14th November at the Halfway House in Burnfoot. This should
be a great event so mark the date in your calendar now!
There are a limited number of season tickets now available for free
entry to all adult Donegal club league and championship matches
(excluding Naomh Colmcille home games). €30 for the ticket or €50 for
the ticket and Donegal club gear. Contact Alison Ferry.
Naomh Colmcille CLG's child welfare officer for 2015 is Breda Friel.
If you or child have any issues through out year with coaches or
bullying or other child issues please feel free to contact Breda on
0876393503 and she will try and address the issue. Everyone involved
in coaching or helping out at underage level needs to have completed
the child protection/awareness course. If you have not completed this
course previously, please contact Breda ASAP.
Naomh Colmcille CLG would like to extend sympathy to the family and
friends of the late Patrick Dowds, Toulette, Burt. Ar dheis De go
raibh a anam.
Check out the club's new Facebook page (Naomh Colmcille CLG – Donegal)
for latest updates on training, match times etc.
Training and Match Schedule.
Information here is correct at the time of compilation of the weekly
notes. Check the Training Schedule section on the club website for
latest updates on training for all age groups. The page will be
supdated regularly throughout the week. Updates also on the club's
Facebook page.
Subscription of €2 per player (up to and including minors) per week
for training. Please make sure you bring your full kit (shorts, track
bottoms, boots, sports top/hoodie/coat, drink). Remember a mouth guard
is needed for training sessions as well as matches.
Seniors / Reserves. Check the Facebook page for latest update.
U21s. Check the Facebook page for latest update.
Minors. Check the Facebook page for latest update.
U16s. Check the Facebook page for latest update.
U13s. Training Friday at 7:00 pm. Check the Facebook page for latest update.
U11s. Check the Facebook page for latest update.
U10s. Check the Facebook page for latest update.
U8s. Check the Facebook page for latest update.
Girls. Check the Facebook page for latest update.
Reminder that the use of mouthguards is now compulsory for all players.
Naomh Colmcille Weekly Lotto.
This week's numbers will be included in next week's notes.
Naomh Colmcille CLG are in need of more lotto sellers. The lotto is
the bread and butter of our club. If you don't drive we can set up on
a team with a driver. Please contact Breda Friel (0876393503) if
anyone is willing to help. Thanks.
The Club would like to take the opportunity to thank everyone for
their continued support of the Lotto as it gives the club the
essential means of continuing to give our local kids and adults the
chance to avail of a great and healthy pastime.
Tags: