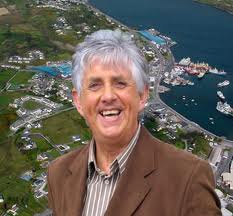 NOEL Cunningham has announced he won't run for the Dail at the next general election – but may consider running for President in four years' time.
In a statement tonight the Harvey's Point Hotel manager and TV3 celebrity expert said he had decided against running for Renua or as an independent.
But he might consider a run for the Aras.
"After a great deal of careful thought and discussion with family and friends I have decided not to put myself forward as a candidate in the next general election," he said.
"I had initially decided against running but after presenting a well received paper on the challenges facing rural towns in Ireland at the recent Renua collaborative gathering. it was suggested I re-consider . That I did and realising that I could not give one hundred and fifty per cent to such a challenge I decided against running."
He went on: My focus has and will always be my beloved Donegal … Community … My charitable endeavours as Patron of various causes .. Harvey's Point and the promotion of all matters tourism . I have my heart and soul immersed in all things  Donegal. The many commitments to my own causes which include in the months ahead trips to London and New York  for Irish Community matters … Trips all over Ireland this winter for several charitable causes .. And a number of home based community issues requiring my in-put in my own Donegal ,which is above all else my main focus in life. These endeavours I engage in are done for neither financial gain or ego .
"And of course there is my main job. Harvey's Point is for me the perfect fit for all matters relating to promoting Tourism and  the best Donegal has to offer. This Hotel is a huge part of my life . I am delighted to lead the  Team at this Hotel which is No 1 in Ireland and a huge local employer."
Noel added: "I wish everyone putting their name forward the very best. As far as my own voting intentions .. The vote will go to the candidate who has Donegal and the many challenges we face in The Northwest as key to their campaign. In closing I say a huge thank you to all who so very kindly with sincerity and affection advised me and helped me arrive at my decision . The Aras …. Mmmmh that's another story !!!!"
Tags: