Ok vegans and felxitarions look away now!
There is a saying that the only part of a pig you couldn't eat was its oink! That's actually another name for its snout and when cooked properly it can be tastE. It'll take you a wee bit of time to get the meat out but it can be done .
Before the days of modern convenience foods the craft butcher would use every single part of the animal – from head to tail as the saying goes.
Silverhill duck farm even use the quak as their ringtone!! The down is used for quilts etc and well ducks' feet are a delicacy in many countries.
I've eaten chicken feet myself , not much meat on them and you need to eat plenty to get a proper portion! Boiled and then stir fried, dipped in soy sauce. Just make sure you clip the toe nails first though!
Unfortunately we have forgotten just how tasty various parts of the animal are. Many of the internal organs are used for dog & cat foods when in actual fact they are cheap and tasty , rich in vitamins , minerals and very low in fat .
A favourite of mine is lambs' liver, served rare with crispy bacon & sautéed onions, costing roughly €1.50 for a portion, what a bargain.
In my time as a chef I've cooked pigs heads , a long process and getting the meat out again is a long arduous task but when set in jelly and sliced as a terrine it's well worth it .
Veal brains can be lightly boiled , remove the skin afterwards and then sliced thinly and pan fried , Hannibal lector style if you've seen that movie .
Veal Sweet breads are also tasty , Sweetbreads are an organ meat from the thymus gland and pancreas. The easiest sweetbreads to find are from veal, ris de veau; or lamb, ris d'agneau, although beef and pork sweetbreads are also available.
Ask you butcher for them it'll take them a week or so to get them but it'll be well worth it, lightly dusted in flour and shallow fried until they are crispy , served with a garlic mayonnaise or on hot buttered toast .
The heart of an animal can be boiled , sliced & pan fried. Diced and added to casseroles , blood sausages or minced and added to a meat loaf mix .
Kidneys must be well washed, sliced in half and the centre Vienna removed , again pan fried but served rare to make sure they are tender of you can dice them and add to a steak pie!
Pigs ears are usually boiled and given to dogs or cats to chew on ……a messy job in fairness !!
Pigs intestine is often used as the casing for sausages as if the lambs caul , often wrapped around various meats to give flavour , add fat & protect the meat during the cooking process !
The first ingredient in black pudding is blood from the animal and to be honest it's not real black pudding if there is no blood in it !!
I'll draw the line at eating the eye balls or any other spherical parts of the animal , I believe they are tough anyway , you can watch I'm a celebrity get me Otta here and see how they enjoy eating them !
So the next time you are in the butchers or supermarket , have a look at the offal section you will be surprised at how reasonable they are in price & how tasty too !!
The chart below give you an idea of what can be eaten just ask the Google for some recipes.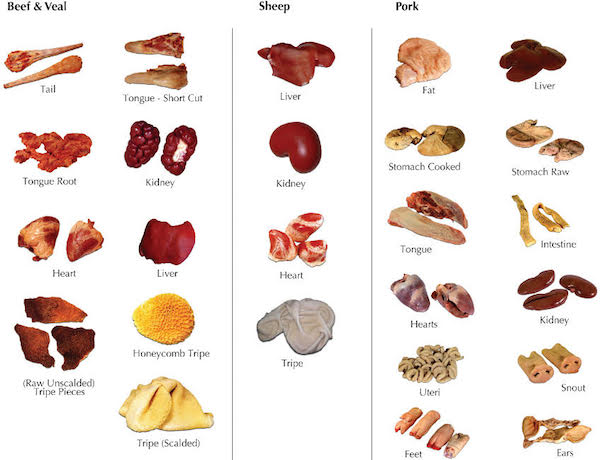 This weeks recipe is for my Chinese style roast loin of bacon , a recipe from my Fat Chef Slim cookery book .
No offal in this recipe but it is do tasty , served with boiled rice , sauté Pak Choi and make sure the fat is crispy .
Chinese roast loin of bacon.
You will need.
Loin of bacon, with a good layer of fat. (Allow 6oz of raw meat per person).
4 cloves of garlic , chopped
Red food colouring ( powered or paste is the best )
Chinese five spice.
Grated ginger or ginger paste.
Lemon pepper.
Rapeseed oil .
Method.
In a large bowl mix your marinate. The measurements will depend on your taste. But don't over do the colouring!!
Score the fat of the bacon and place into the marinate and coat well, you may wish to use gloves to do this as the colouring will get everywhere.
Allow to marinate for at least 12 hours.
Heat your oven to 180c, good and hot.
Place your bacon onto a wire rack and then into a roasting dish.
Roast for 25 minutes per pound and 25 minutes over.
Remove from the oven when done and allow to rest before carving.
For Char Sui rice, allow the pork to cool and chop into small pieces.
Adding to the rice at the end to reheat.
By marinating the pork you are giving that extra bit of flavour , the only fat in this dish is the natural fat from the bacon which will melt away while roasting , try not to over cook the pork as it will dry out.