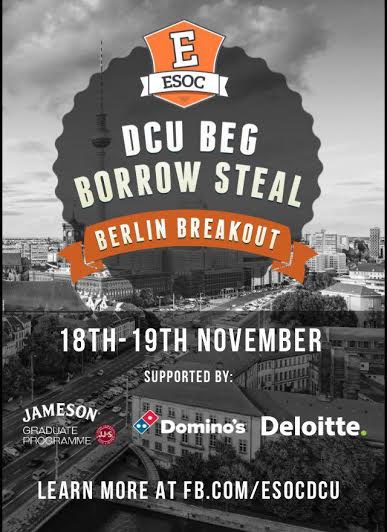 A DONEGAL student is hoping to get from Dublin all the way to Berlin – without spending a cent…..and raising as much money as possible to help battle cancer!
Shannon Welby is a 19 year old student from the Old Golf Course Road in Donegal Town. Up until 2014 she was a student in the Abbey Vocational School and now studies in DCU.
Explained Shannon: "I have been selected to take part in 'Beg Borrow Steal'. This involves racing other teams to Berlin within about 48 hours with no money or items of monetary value in hand.
"We will be given riddles to solve to get to certain checkpoints, meaning you cannot pre-organize.
"This takes place on November 18th and is in aid of The Irish Cancer Society and Movember Ireland. The event last year trended on Twitter, not just in Ireland but in the UK and further afield. It is sponsored this year by companies such as Jameson & Deloitte.
"This challenge will without a doubt have myself and my team mate sleep deprived in the middle of Europe, depending on the kindness of others. But it's all worth it because of the fantastic contribution to charity. It will be tough, but in the hardest moments we will know that this little challenge is so worth it to make even just a tiny difference for those fighting one of the biggest battles of all."
Shannon is looking for donations as fundraising in advance for the Irish Cancer Society is a huge part of this.
So come on Donegal – get behind Shannon – if you can donate anything email her on shannon.welby2@mail.dcu.ie
Tags: