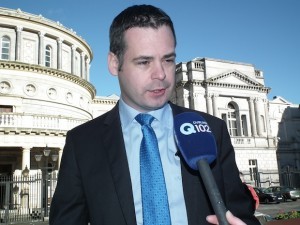 Sinn Féin Finance Spokesperson Pearse Doherty TD has said the government's freezing of the Local Property Tax until after the election "will fool nobody".
Deputy Doherty was speaking after the government published its legislation to give effect to the freeze.
He says his party will abolish LPT if elected at the next general election in February.
The Donegal South West TD said: "The freezing of the Local Property Tax for three years is a cynical move that will fool nobody. Many people have seen their house price rise and now face a sudden increase in their tax in 2019. There is no logic for this move other than a cynical and desperate government trying to reduce the impact of a tax it championed before the election.
"Rushing this Bill through both the Seanad and Dáil in one week shows just how cynical this move is. They are admitting the model is broken but are pretending this sticking plater will fix it.
"Sinn Féin will abolish the family home tax if elected to government in the election. That is a firm commitment.  This cynical attempt by Fine Gael and Labour to be seen to be mitigating the impact of tax they introduced will fool nobody. It is an admission that this is a failed tax that is still deeply unpopular with the people. It is a cowardly move which shows that they do not have the courage of their own convictions.
"It is also a decision that freezes funding for Local Government for three years. The link between LPT and local authority funding is one Sinn Fein would break but under current conditions this move means local authorities will continue to be starved of funding without any say.
"The Bill also seeks to amend the exemption scheme for homes infected by pyrite. Given that I recently discovered that only 80 family homes have actually been to avail of this scheme it is long overdue. The Bill fails however to deal with the residents of Longboat Quay or Riverwalk Court who deserve an exemption given their homes are valueless at this moment through no fault of their own. I will also seek to raise the issue of the homes in Donegal which are affected by the Mica Muscovite problem."
Tags: