Do you want Santa to bring you coal?
Well that's what happens if you don't buy your turkey from a local butcher or producer!
That doesn't really happen but at this time of year there are so many local turkey producers relying on your support. After all, nobody buys turkey in the summer.
I know there are cheaper turkeys sitting in freezers all around the country but have you ever looked at the country of origin? Turkeys can't fly very far but some of these have made some journey to get to Ireland…
Remember if you buy local you are supporting local jobs. It's a short season for local producers and they deserve the support .
All turkey producers are inspected by the department of agriculture and the EHO and I have been informed that each turkey will be tagged for proof of quality but you'd better ask to be sure.
The same applies for your gammon. I always reccomend getting a gammon that is low in salt. Mass-produced gammon is pumped full of salty water and chemicals during the packing process and when cooked the salt comes out of it shrinking the meat. There are plenty of pig farmers around the country so give them your support too.
Personally I don't cook a gammon. I roast a loin of bacon, easier to work with and when free range it has a fantastic flavour and a good layer of fat for decorating .
So here you go print out this article and keep it safE as I'm not giving it out again here. I will post it on my facebook page the week before christmas though.
Next week i'll give the stuffing recipe, vegetable ideas and cranberry sauce.
Roast turkey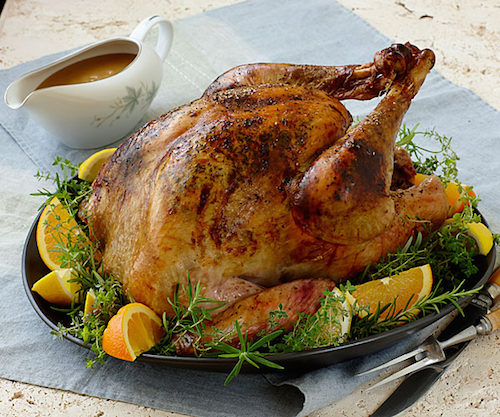 Allow 1lb of turkey on the bone per person, for turkey breast allow ½ lb per person.
A rough guide is a 20lb turkey on the bone will feed 20 people.
A 6lb turkey breast will feed 10/12 people.
You will need.
Your turkey.
Whole carrots, celery, leeks, onions, lemons or oranges.
A good bunch of fresh herbs but do try to include thyme, sage, rosmary or parsley.
Good quality tin foil.
Streaky bacon.
Real butter.
Seasoning.
Water.
Chopped fresh herbs.
Red wine or sherry.
plain flour to make a roux for the gravy
A deep roasting tray, the turkey should fit into the tray with plenty of room to spare.
Make sure your oven is big enough to hold the turkey and make sure if you are cooking with gas that you have a full tank !!
Method
Pre-heat your oven to 200c.
Remove the turkey from its wrappings and make sure the giblets are removed, trim off any excess fat or feathers, wash the turkey if you wish!
Wash and roughly cut the carrots, celery and leeks, this is called a mirepoix of vegetables.
Place the vegetables into the roasting tray.
Cut your onions and lemon in half and stuff into the cavity along with the herbs. (If using a whole turkey)
Place the turkey onto the vegetables and rub well with butter, get into all the nooks and crannies. Season and cover with the streaky bacon.
Pour a pint of water into the tray and cover completely with the tin foil.
Cook for 20 minutes per pound and 20 minutes over at the end. Reduce the temperature to 180c after I hour. Remember to remove the tin foil 1 hour before the end of the cooking time. You may baste the turkey during the last hour if you so wish. Remove the turkey from the oven and allow to rest for at least 20 minutes before serving. Cover with tinfoil it will stay hot and this will give you space in the oven to finish off the rest of the dinner.
Heat 100g of butter in a pot , when melted and add 100g of flour and cook until brown.
Strain the stock from the roasting tray and make up with hot water to at least 1.5 pints and add a good dash of sherry or red wine.
Add to the hot roux mixing well and cook until thickened.
Strain if desired and add the chopped herbs.
if you are using a turkey crown follow the same method make sure it is well wrapped in foil though it will cook quicker .
if using a turkey breast fillet use the same recipe but but leave out the orange or lemon there is nowhere to stuff them !!
Glazed gammon
You may use plain of smoked gammon.
You will need.
Your gammon.
Wood cocktail sticks.
Brown sugar.
Honey.
Pineapple rings.
Whole cloves.
Whole cherries.
English mustard.
Method.
Remove the gammon from its wrapper and soak over night , changing the water several times .
Place into a pot of cold water and bring to the boil. Remove the fat as it comes to the top and simmer until cooked.
Allow 20 minutes per pound, personally I only just cook the gammon, if you over cook, it will fall apart when you roast it.
Allow the gammon to cool over night.
Trim the fat from the gammon leaving a layer for glazing.
Score the fat and rub with the mustard and then the sugar.
Decorate with the pineapple rings, cloves and cherries. Securing them with the cocktail sticks.
Cover again with sugar and honey roast at 180c until golden and heated through, basting with the honey at regular intervals.
Slice and served as desired. Be careful with the cocktail sticks.
if using a loin of bacon simply roast it at 180c on a wire rack , remove from the oven and allow to cool slightly finish as you would the glazed gammon . You may prepare the gammon a day in advance , slice and reheat it as required ,it'll be tight for space in the oven on christmas day otherwise .
Tags: