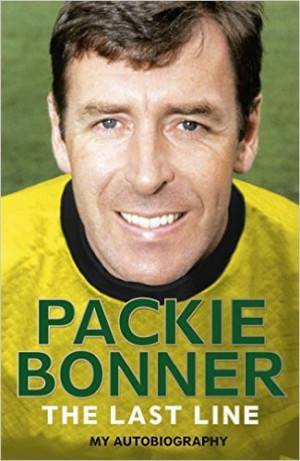 Crowds braved the strong winds and rain to attend the launch of soccer legend Packie Bonner's book 'The Last Line' in the Viking House Hotel in Kincaslagh on Friday night.
One of those there was well-known businessman and sports fan Charlie 'The Yank' Boyle.
Charlie paid a unique tribute to the Burtonport man and his exploits between the posts for Celtic and Ireland over the years.
"It was a reminder to all of us of the journey of a young 18 year old from Cloughglass, our area, our School, our County and Country to Celtic FC ..matches against Rangers and in Europe, League titles and Cups, Euro 88 and that never-to-be-forgotten win against England…then two World cups in 1990 and 1994.
"Big Packie's success allowed many to believe that being from a rural rugged community is no barrier to success in any field and Packie had an in-built confidence…but also worked hard at his game. It was a golden era where we ran buses over as well as taking a sod of turf as well.
"That penalty save in 1990 replaced the "Where were you when JFK was shot" as the "where were you" of our generation. Big Jack and the squad of that era gave hope to a nation when politicians failed….and the Big Packie was central to that squad."
"Thanks for the memories……memories few will forget."
Packie Bonner – "The Last Line" is ghost-written by Gerard Mc Dade.
Tags: