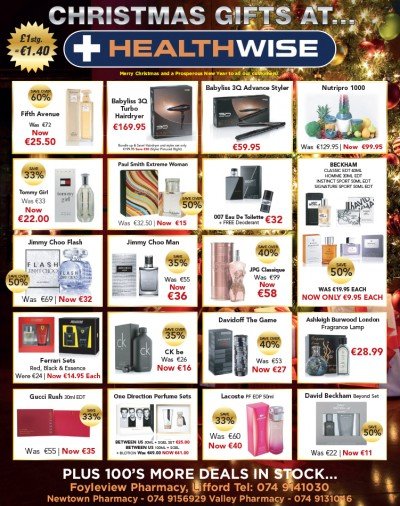 BUSINESS: Caith go hÁitiu'il  (or Shop local) is the cornerstone of the Healthwise Pharmacies ethos.
With their commitment to providing a range of products,services, and gift ideas, to better anything on offer on the high street, Healthwise are ideally placed to lead the shop local campaign throughout Donegal.
It is often said that shopping locally saves jobs and services within communities,however James Cassidy from Healthwise Pharmacies maintains they must do more than just ask for support.
James told Donegal Daily, "If we ask for support, we must offer customers a range of quality products, at prices better than those of competitors in towns or cities.
"We have always sought to deliver exceptional value, and have price checked our Christmas gift ranges to ensure we offer the best prices available.
"We offer fragrances and sets, electrical, and gift lines right in the heart of our local communities.
"We have received great support and feedback on our prices , products, and the friendly shopping experience in Healthwise Pharmacies.
"We believe if we provide choice and value, people will choose to support us locally and would like to thank all of our customers and patients for their continued support."
Click on the link below to see a selection of Healthwise special offers:
Click here to see range of gifts ….   http://healthwisepharmacies.ie/productsoffers/latest-offers/
Click here to see our range of photo gifts http://healthwisepharmacies.photokio.sk/
Tags: