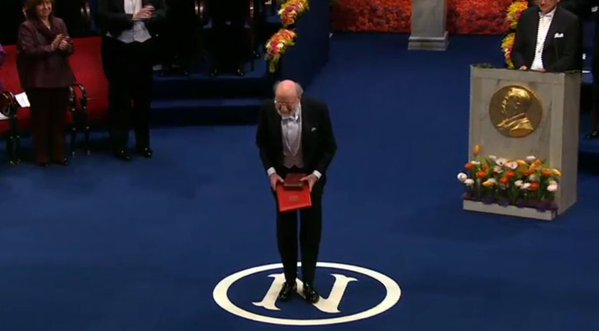 DONEGAL scientist Professor William C Campbell has been presented with this year's Nobel Prize for Medicine at a ceremony in Stockholm.
It's a proud day for Donegal – and his native Ramelton.
The 85-year-old – known as Bill – was jointly awarded the accolade for his discovery of the drug ivermectin.
Members of his family joined him at the awards ceremony.
Professor Campbell became the second Irish person to win a Nobel Prize for Science after Earnest Walton collected the physics award in 1951 for his work on splitting the atom.
Taoiseach Enda Kenny and President Michael D Higgins have both sent their congratulations.
Locally Donegal TD Joe McHugh said: "I wish to congratulate William Campbell, who was one of three scientists awarded the 2015 Nobel prize in October for Physiology and Medicine, as he prepares for tonight's award ceremony in Sweden.
"Prof Campbell, born in Ramelton, and currently a Research Fellow Emeritus at Madison, New Jersey, was jointly awarded the Nobel Prize for his research on therapies against infections caused by roundworm parasites, which has proved remarkably successful at treating diseases like river blindness. His work is already bringing benefits to people across the world.
"William is only the second Irish scientist to win a Nobel Prize, which is a massive achievement for him and his colleagues, and his success can be viewed as a great time in Irish Science. I hope this will also encourage young people to believe that they can achieve whatever they want, no matter where they are from or what their passions are.
"I wish to again congratulate Professor Campbell on his huge success in receiving the Nobel Prize, and I want to relay every best wish to him for the celebratory ceremony in Stockholm tonight , and wish him all the best for the future."
Tags: