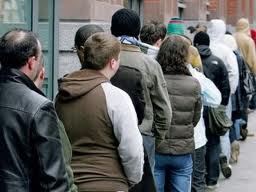 Councillor Gary Doherty has criticised the Government over the slow progress made during its time in office to address the high levels of unemployment across the Finn Valley.
The Sinn Fein politician said the percentage drop in the number of people signing on the Live Register in the region during the period was lower than that of the average across the county.
Cllr Doherty said "Shortly after the current Fine Gael/Labour government came to power the total numbers signing on the Live Register in the Finn Valley was recorded as 2,674 as of January 2012 – this includes claimants of both Jobseeker's Allowance, Jobseeker's Benefit and other registrants."
"Since then, and despite the much lauded economic recovery and the constant government hype that unemployment levels are falling, the latest figures reveal that there are only 521 fewer people on the Live Register series in the Finn Valley following the most recent data recorded in November 2015."
While the amount of people registered in Donegal who were in receipt of Jobseeker's Allowance and Jobseeker's Benefit is down overall since 2012, the total percentage reduction in the Finn Valley is lower than the county average which means that the region continues to have a disproportionately high number of people signing on.
Cllr Doherty added "In fact, between April 2012 and April 2015 the total numbers receiving Jobseeker's Benefit in Ballybofey fell by only 241, while during the same period recipients of Jobseeker's Allowance dropped by a mere 204 claimants."
"According to last month's data, there are still 2,153 people on the Live Register across the Finn Valley, and any reduction to these numbers since the coalition's time in office must also be viewed in the context of the numbers of people who have emigrated in search of work, the total numbers of whom aren't known."
"These Live Register figures tell a very harrowing picture of the extent to which unemployment continues to affect the Finn Valley and the spin which the government continues to propagate about the economic recovery proves beyond all reasonable doubt that the only jobs which they care about saving are their own."
Tags: