Brace yourselves folks the New Year New Me brigade are on their way!
The new year is the busiest time for gyms, health clubs , slimming clubs and couch to 5k memberships.
And a sincere well done to everyone who takes up the challenge in the New Year – stick at it and don't give up after the first few weeks.
We all start off with wonderful intentions and of course my colleague Emmet Rushe will advise you for all your new exercise challenges and also Emmet gives good nutritional advice.
My job will be to guide you through the minefield of new foods that you'll be trying out while you're trying to get into shape , remember round is a shape but I don't think that counts.
Personally I actually lost weight over the Christmas , I increased the amount of food I was eating and that helped speed up my metabolism …….. of course I was eating good food and not grazing as was suggested , it proves that eating good food on a regular basis can help as part of your new healthy lifestyle.
So here are some helpful tips to get you started when you take that Lifestyle challenge.
Eat a variety of nutrient-rich foods.
You need more than 40 different nutrients for good health, and no single food supplies them all. Your daily food selection should include fibre , whole-grain products; fruits; vegetables; dairy products; meat, poultry, fish and other protein foods.
How much you should eat depends on your calorie needs.
Enjoy plenty of whole grains, fruits and vegetables. Surveys show most Irish people don't eat enough of these foods. Do you eat 2-4 servings of fruit and 3-5 servings of vegetables per day ? If you don't enjoy some of these at first, give them another chance. Look through cookbooks for tasty ways to prepare unfamiliar foods.
Maintain a healthy weight. The weight that's right for you depends on many factors including your sex, height, age and heredity. Excess body fat increases your chances for high blood pressure, heart disease, stroke, diabetes, some types of cancer and other illnesses. But being too thin can increase your risk for osteoporosis, and other health problems.
Regular exercise is also important to maintaining a healthy weight.
Eat moderate portions. If you keep portion sizes reasonable, it's easier to eat the foods you want and stay healthy. Did you know the recommended serving of cooked meat is 4/6 ounces, similar in size to a deck of playing cards? A medium piece of fruit is 1 serving .
Eat regular meals.
Skipping meals can lead to out-of-control hunger, often resulting in overeating. When you're very hungry, it's also tempting to forget about good nutrition. Snacking between meals can help curb hunger, but don't eat so much that your snack becomes an entire meal.
Reduce, don't eliminate certain foods. Most people eat for pleasure as well as nutrition. If your favorite foods are high in fat, salt or sugar, the key is moderating how much of these foods you eat and how often you eat them.
Identify major sources of these ingredients in your diet and make changes, if necessary. Adults who eat high-fat meats or whole-milk dairy products at every meal are probably eating too much fat. Use the Nutrition Facts panel on the food label to help balance your choices.
Choosing skim or low-fat dairy products and lean cuts of meat such as skinless chicken , grilled steak and lean pork or turkey.
Balance your food choices over time. Not every food has to be "perfect." When eating a food high in fat, salt or sugar, select other foods that are low in these ingredients. If you miss out on any food group one day, make up for it the next. Your food choices over several days should fit together into a healthy pattern.
Know your diet pitfalls.
To improve your eating habits, you first have to know what's wrong with them. Write down everything you eat for three days. Then check your list according to the rest of these tips. Do you add a lot of butter, creamy sauces or salad dressings? Rather than eliminating these foods, just cut back your portions. Are you getting enough fruits and vegetables? If not, you may be missing out on vital nutrients.
Make changes gradually. Just as there are no "superfoods" or easy answers to a healthy diet, don't expect to totally revamp your eating habits overnight. Changing too much, too fast can get in the way of success.
Begin to remedy excesses or deficiencies with modest changes that can add up to positive, lifelong eating habits. For instance, if you don't like the taste of skim milk, try low-fat. Eventually you may find you like skim, too.
Remember, foods are not good or bad. Select foods based on your total eating patterns, not whether any individual food is "good" or "bad." Don't feel guilty if you love foods such as apple pie, chips, chocolate or ice cream. Eat them in moderation, and choose other foods to provide the balance and variety that are vital to good health.
Follow emmet at for exercise tips and advice and start to change your eating habits next week I'll start to give you recipes on how to prepare your favourite foods in a healthy style .
Here is one to start you off for a healthy hearty noodle broth , use gluten-free noodles if you are coeliac it's so tasty and add extra chilies if you like it spicy.
Chicken and noodle broth.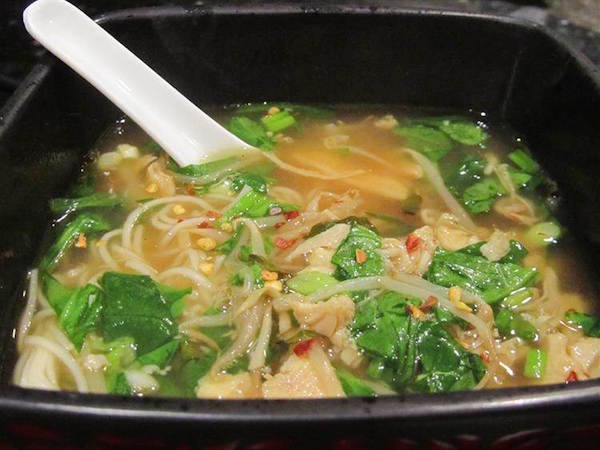 You will need.
200g of noodles of your choice, try to get the thinnest you can.
3 pints of chicken stock.
2 chicken fillets trimmed and thinly sliced.
1 small red onion, finely chopped.
1 inch piece of fresh ginger, peeled, thinly sliced (you may use paste)
1 large fresh red chilli, deseeded, thinly sliced.
100g of Cherry tomatoes, halved.
100g of mange tout, sliced.
Small bunch of Fresh coriander leaves.
Small bunch of Fresh basil leaves.
Method
Break your noodles into small pieces and cook in boiling water.
Refresh under cold running water, and set aside.
Place the chicken stock in a large saucepan over a high heat and bring to the boil.
Stir fry the chicken and add to the stock, add the onion, ginger and chilli, bring to the boil and simmer for 5 minutes.
Add the tomato's, and cook for 2 minutes.
Add the mange tout and cook for 1 minute.
Add the noodles, basil and coriander to your bowls and ladle the broth on top.
You may if you wish use, strips of beef, pork, lamb, shelled cooked prawns or even a poached egg for this recipe .
However the egg should be cooked separately and added just a minute before the end of the cooking process.
If you are a vegetarian or vegan use vegetable stock cubes and loads of fresh vegetables for this recipe, stir-fry them off first and add them to the stock and finish off the recipe as stated.
Tags: