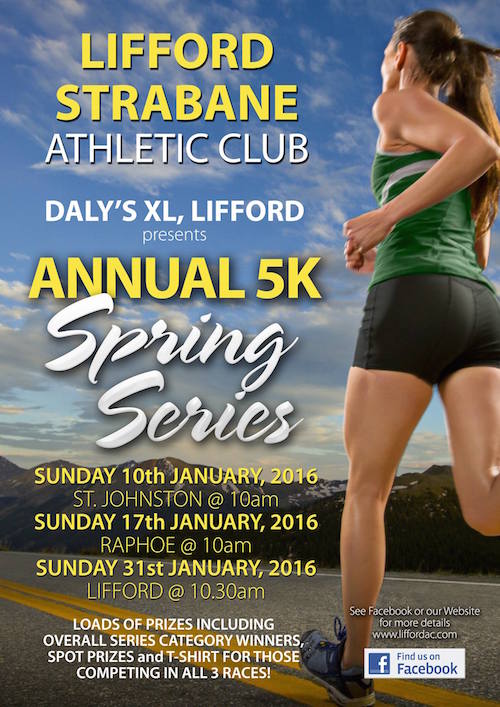 Lifford Strabane AC is delighted to announce the Fixtures for its annual Spring 3 Race Series for 2016.  
This is the fifth anniversary of the Series and is now firmly embedded within the sporting calendar in the North West. It is also the traditional kick start for 5K runs, pre season training and burning off the Christmas turkey.
In 2015, the club had its biggest numbers ever taking part with nearly 400 participants at each race, from the serious runner through to recreational runners, joggers and walkers.
Yet again, the club is delighted to have Dalys XL Supermarket, Lifford on board as partners and sponsors for the Series.
The Series itself sees three races held in three different venues, St Johnston (10th January), Raphoe (17th January) and Lifford (31st January), from which the club draws much of its membership and support.
All three events also provide a unique opportunity for the local communities to come out and take part in a family friendly environment promoting health, fun, and providing no small measure of entertainment.  Each race participant will receive points, which are accumulated towards the overall Series winners across a range of race categories.
All three courses are AAI certified for accuracy and with chip timing at each of the races, participants can be assured of accurate times for each 5K event.
The Lifford club is constantly striving to enhance the quality of its event experience with some of the key features including
Quality Technical T-Shirt for participants who compete in all 3 races
Chip Timing
Prizes for Senior, Junior, 40+, 45+, 50+, 55+, 60+
Spot Prizes at each race randomly drawn from all race participants
SMS result for each athlete to mobile phone
Perpetual Shield for Overall Senior Men and Senior Women categories
Prizes for first 3 in all categories
First Aid
After Race Refreshments
Courses Officially Measured with Km markers
AAI Permit
Early start times
For all those looking to kickstart 2016 on the right footing, this is the Series for you.
3 races, 3 venues and an opportunity to benchmark a time in January against the same courses later in the year.
For any queries, please contact Race Director Brendan O'Donnell on 086-6007847, email liffordstrabaneac@gmail.com or Facebook Lifford Strabane AC
Tags: