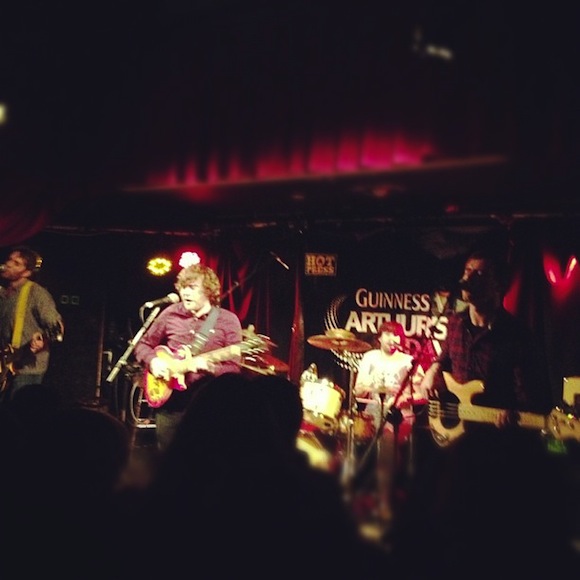 Donegal band In Their Thousands will make a welcome return to the singer's club Clubeo at Leo's Tavern in Meenaleck, Crolly next week.
Following yet another sold out show at their fourth annual Christmas concert at An Grianan Theatre, Letterkenny, the band starts the new year by headlining the free monthly event hosted by Clannad's Moya Brennan on Friday, January 22.
2015 was another successful year for brothers Declan and Aidan McClafferty from Downings and their cousin, Fanad man Ruairi Friel, which saw them go on a national tour of Germany, concerts around Ireland and the release of two new singles, Four In The Morning and Woodcutter.
The band, who are members of the artist collective Andromeda Artisans, last performed at Clubeo in August, 2013 and so their return is eagerly anticipated.
Following their last performance at the home of Clannad and Enya, Clannad's road manager, Leon Brennan said: "Just watching In Their Thousands deliver the most amazing set in the intimate surroundings of Leo's. It makes me proud to know that a band as talented as them are going to travel the world and bring distinction to themselves, Donegal and Ireland, because if everything goes according to plan they belong to the masses!"
Moya's right-hand man for Clubeo, well-known Raidio na Gaeltacht broadcaster Dónall Mac Ruairí said at their last performance in the world famous pub 'we will always remember the time we saw In Their Thousands play for us in Leo's'.
Clubeo has gone from strength to strength since it first started nearly two years ago with young singer/songwriters as well as more established artists gracing the famous pub's stage. The event was started by Moya in 2013 to give emerging talent a regular platform to showcase their talent and own music. People have travelled from all around the country at Leo's.
Find 'Clubeo' on Facebook and Twitter: @clubeosongs and keep posted on this fantastic monthly event. The event begins at 9pm sharp, so please arrive early to support all acts performing.